Strong, passwordless authentication is an inevitable trend in cybersecurity and is being supported and promoted by major technology firms under the leadership of the World Online Authentication Alliance (FIDO). Alliance).
To fully solve the problem of applying strong passwordless authentication in businesses and organizations, it is necessary to have platforms and services that are compatible with international technology standards and deployed in multiple forms. different formats, at a reasonable cost for each customer group.
On January 26, 2021, following the announced series of products and services with strong authentication according to international standards FIDO2, VinCSS Network Security Services Co., Ltd. (under Vingroup) continued to launch the service. passwordless strong authentication cloud (VinCSS FIDO2 Cloud). This is the first strong authentication cloud service in Vietnam that helps customers integrate and apply strong, passwordless authentication into their digital ecosystem quickly, easily with the most reasonable cost.
VinCSS FIDO2 Cloud service is an Authentication-as-a-Service platform that simultaneously supports FIDO2 standards and system-based authentication standards (OAuth2, SAML2 and OpenID Connect), translation service provides a single sign-on user experience and Federated Identity management capabilities across the enterprise digital ecosystem with safety is much higher than today.
Strong passwordless authentication is especially useful for large businesses, with multiple users and application products, when it saves a lot of authentication time. The VinCSS FIDO2 Cloud service will provide these customers with a private cloud service or inside an on-premise (on-premise), significantly shortening the deployment time, simplifying the administration. and significantly reduces costs.
Even for small and medium enterprises, startups or freelance user groups, VinCSS FIDO2 Cloud will be provided as a public cloud service at extremely low cost. to be able to access and benefit from this strong, passwordless authentication technology.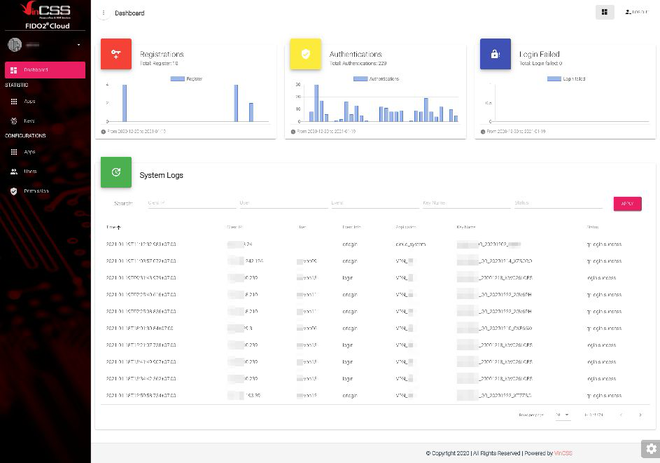 Previously, Vingroup Group announced the VinCSS FIDO2 Ecosystem including key types (hardkey / softkey), authentication servers / services, and types of cloud services (public / private / on-premise). , programming and utility libraries, consulting services, integration, support and FIDO2 technology integration products (phones, smart cars, IoT). VinCSS FIDO2 has been granted 4 international FIDO2 certificates, with a product recommended by Microsoft for use on the Azure AD platform.
On the occasion of launching, VinCSS provides free Trial package of VinCSS FIDO2 Public Cloud service to the first 100 corporate customers who register for the experience *. Users can visit https://passwordless.vincss.net/fido2cloud/ for more details.