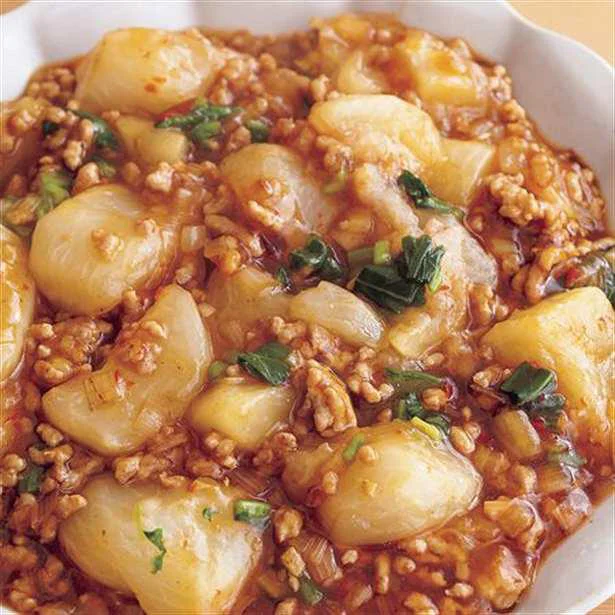 Mapo tofu
Mustard sauteed chicken breast and turnip
Sautéed thick-sliced ​​bacon and turnip
Grilled turnip cod roe
Stir-fried pork and turnip miso
Did you know that turnips, which are in season in winter, are ideal for short-time cooking? Turnips are soft = they pass through the fire quickly, and even when fried or simmered, they are slightly sweet in half the time of radish. The leaves are green and yellow vegetables and are rich in vitamins and minerals. It's useful to remember the dishes made with turnips in case of emergency!
Mapo tofu
[Materials for 2 to 3 people]
Minced pork … 150g, Kabu (with leaves) … 4 pieces (about 400g), coarsely chopped long onions … 1/2 chopped, chopped garlic … 2 tbsp, chopped ginger … 2 tbsp, soybean paste … 1 tsp 2, combined seasoning (Oyster sauce … 1 tbsp, soy sauce … 2 tbsp, water … 1 cup), water-soluble Kataguri powder (Kataguri powder … 1 tbsp, water … 2 tbsp), sesame oil
[How to make]
1. Cut the turnip from the leaves, peel the skin slightly thicker, and divide it into 4 to 6 pieces. Put in a small pot, pour plenty of water and heat. Boil it slowly, stab it with a bamboo skewer, and take it out when it passes smoothly. Next, add an appropriate amount of turnip leaves without cutting them, boil them quickly, and when the heat is removed, squeeze the water and chop them into small pieces.
2. Heat 1 tablespoon of sesame oil in a frying pan and add minced meat to it. When it becomes fluffy and browned, add green onions, garlic and ginger and fry.
3. When the green onions are cooked, add doubanjiang. Fry until fragrant, add seasoning and mix. After boiling, add 1 turnip and mix quickly. Add water-soluble potato starch and simmer until thickened, add turnip leaves and mix.
(209kcal for 1 person, 2.6g salt)
A dish of rice that is entwined with spicy mapo tofu. The time to boil the turnip is about 7 to 8 minutes. If you start to fry the minced meat in the meantime, it will be even shorter.
..