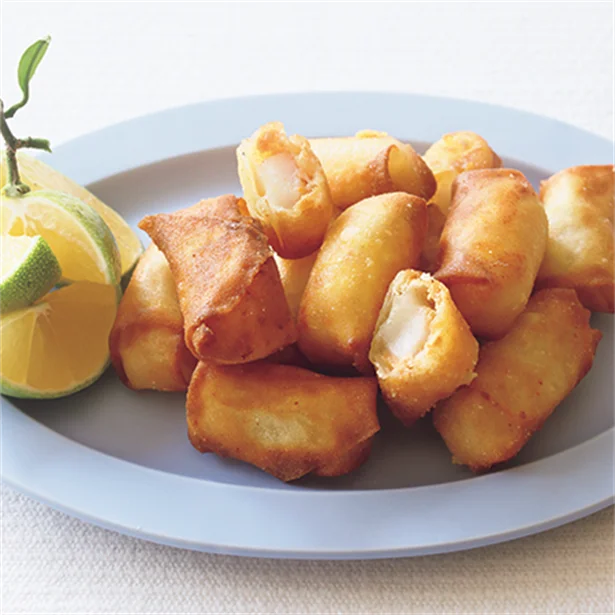 Deep-fried rice cake
Mochi pork kimchi
Stir-fried peperon rice cake
Sticky minced meat okonomiyaki
Mochi corn potage
After the New Year, when you settle down, you may find that the toys are cheaper at supermarkets. In addition, there may be some homes that have extra toys in the refrigerator, saying, "It's still okay because it's individually wrapped." So, this time I will introduce the recipe for arranging mochi. All of them are delicious enough to make you want to buy more mochi ♪
Deep-fried rice cake
[Materials for 3-4 people]
Mochi … 2 pieces, Karashi Mentaiko … 50g, Cheese for pizza … 50g, Spring rolls … 3 pieces, Water-soluble flour, flour, water … 2 teaspoons each, salad oil
[How to make]
1. Cut the mochi into 6 equal parts. Cut the spring rolls into crosses and divide into 4 equal parts. Mentaiko scrapes herself with the back of a kitchen knife.
2. Place 1 slice of spring rolls in a diamond shape, place 1 slice of mochi slightly in front of the center, and add 1/12 amount of mentaiko and cheese. Fold the left and right sides and roll, and attach water-soluble flour to the end of the roll. Do the same for the rest.
3. Put oil in a small frying pan to a depth of 1 to 2 cm, heat to medium temperature (about 170 ° C), and add 4 to 5 pieces of 2 each. Turn it upside down, fry it for about 1 minute, and when it turns light, take it out and drain the oil. Serve in a bowl and add yuzu to your liking.
(232kcal for 1 person, salt content 1.1g)
When you chew the fried food crispy, the mochi and cheese melt from the inside. It's a great snack for children.
..