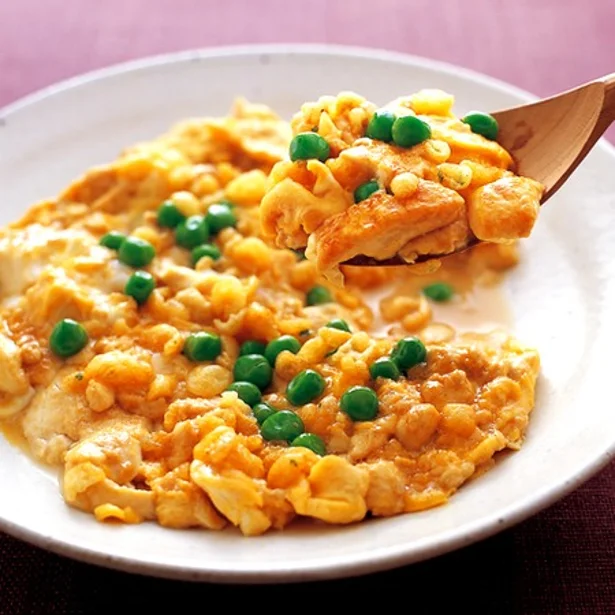 Tofu and fried egg egg binding
Tofu egg binding
Fluffy egg binding of tofu and tofu
Tofu egg binding
Tofu and green onion egg binding
Here are 5 recommended side dishes with egg binding when you are a little hungry. A simple recipe that combines tofu and eggs that are easy to digest and absorb. Although it has a gentle taste, it also has a satisfying taste, so it is recommended for late-night meals.
Tofu and fried egg egg binding
[Materials for 2 people]
3 eggs, 1 silken tofu, 20 g of green peas (canned), 4 tablespoons of fried balls, sauce (1 tablespoon of mentsuyu[straight]1/2 tablespoon of sugar, 1/3 teaspoon of salt), sesame oil
[How to make]
1. Lightly drain the tofu. Green peas drain. Eggs are lightly melted and loosened.
2. Heat 1 teaspoon of sesame oil in a frying pan, add a large amount of tofu and fry. Add sauce and simmer until there is almost no juice.
3. Sprinkle the fried balls and sprinkle the eggs. Mix the whole lightly, and when the eggs harden from the edge of the frying pan, sprinkle with green peas, cover and heat for about 30 seconds to turn off the heat. Leave it for about 1 minute and 30 seconds, steam it, and transfer it to a bowl so that it slides.
(384Kcal for 1 person, 2.8g salt)
It is a hearty dish using 3 eggs. By adding fried balls, the taste will be richer and the taste will be improved. The yellow of the egg and the green of the green peas shine on the table, so it is also useful as a color maker.
..