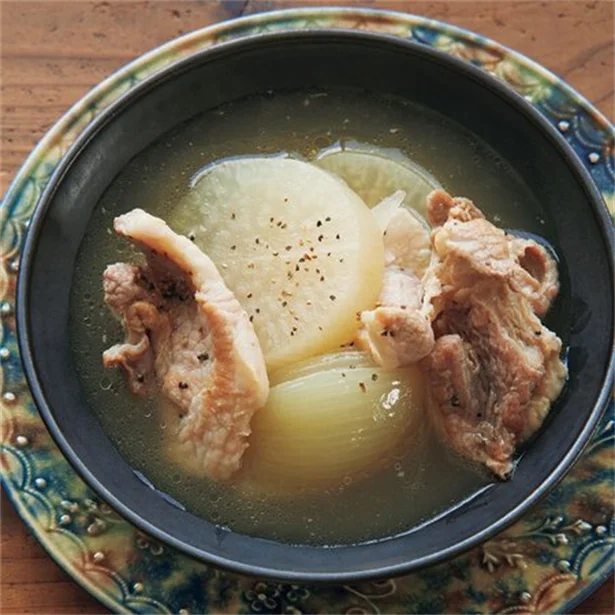 Pot-au-feu of radish and pork rose
Pot-au-feu
Soy milk miso pot-au-feu
Southern France-style pot-au-feu with sausages and root vegetables
Samgyetang style pot-au-feu
Pot-au-feu that is deliciously finished just by boiling vegetables and meat. Many people may have already repeated this winter many times. Therefore, this time, we will introduce an arrangement pot-au-feu that can eliminate the rut. It's OK to leave it alone, so you don't have to worry about busy days ♪
Pot-au-feu of radish and pork rose
[Materials for 2 people]
Radish … 1/4, pork roasted meat … 200g, onion … 1/2, white wine (or sake) … 2 tablespoons, bay leaf … 1 piece, salt, coarse black pepper, olive oil
[How to make]
1. Cut the radish into round slices with a thickness of 1.5 cm, and make a cut on each side to about 2/3 of the thickness. Cut the onions in half vertically, leaving the core so that they do not fall apart. Put the pork in a plastic bag and add 1/2 teaspoon of salt and a little pepper.
2. Heat 1/2 tablespoon of olive oil in a pan over medium heat and bake the pork on both sides until lightly browned. Bring the meat to the edge, line up the radishes in the open space, and bake both sides for about 1 minute while entwining the fat of the meat.
3. Add wine and when boiling, add 2 cups of water, onions, bay leaf and 1/2 teaspoon of salt. When it is boiled again, remove the lye, cover with a lid and simmer on low medium heat for about 18 minutes. Serve in a bowl and sprinkle with coarse black pepper if you like.
(463kcal for 1 person, 3.1g salt)
Kokuuma Pot-au-feu is a soup made by slowly boiling pork belly that is gentle on the body. Elegantly finished with white wine and bay leaf.
..