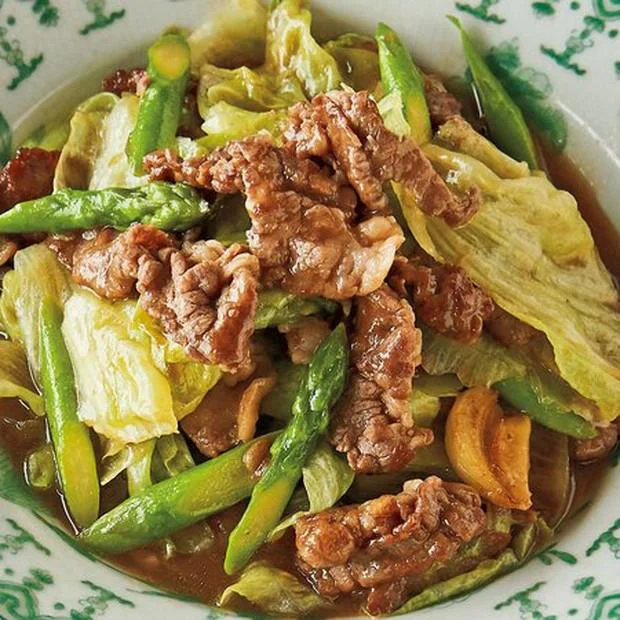 Beef and lettuce simmered in oyster
Lettuce crab tofu bean paste
Stir-fried pork and lettuce with umami
Korean-style omelet with minced meat and lettuce
Atsuage and lettuce stir-fried in oyster
On a steamy day with high humidity, appetite tends to decrease. On such a day, why not try making one item using lettuce? It's the season when you can easily get sick, and you want to keep your protein firmly. You can easily taste beef and pork with crispy and fresh lettuce!
Beef and lettuce simmered in oyster
[How to make]
Cut-off beef … 200g, green asparagus … 3 bottles, lettuce … 150g, garlic … 1 piece, sake … 1 teaspoon, soy sauce … 1/2 teaspoon, kataguri powder … 2 teaspoons, sesame oil … 1 tablespoon, combined seasoning (liquor / Oyster sauce … 1 tablespoon each, soy sauce … 1 teaspoon, water … 1/2 cup)
[How to make]
1. Peel the lower hard asparagus and cut into 1 cm wide diagonal slices. Cut the lettuce into large bite-sized pieces. Cut the garlic in half vertically and crush it with the belly of a knife. For cut beef, soak 1 teaspoon of sake and 1/2 teaspoon of soy sauce and sprinkle with 2 teaspoons of potato starch.
2. Heat 1 tablespoon of sesame oil in a frying pan over medium heat and fry the beef and garlic for about 2 minutes. Add asparagus and fry.
3. Add seasoning, cover and simmer for about 1 minute. Add lettuce and simmer until tender while turning upside down.
(416kcal for 1 person, 1.8g salt)
Stir-fried beef and oyster sauce and lettuce go great together. The rich taste and the lightness of lettuce add to the chopsticks. Be careful not to overcook the lettuce, leaving a crispy texture.
..