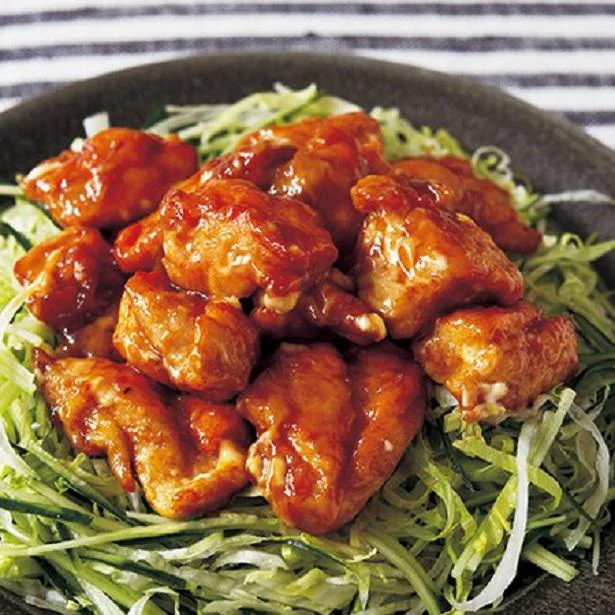 How about this shine! It's so shiny that it makes you sick. This teriyaki of "Teriyaki salad made with chicken breast" was born from mentsuyu + mayonnaise. Mentsuyu alone is delicious, but the addition of mayonnaise gives it even more richness and shine, and the taste is even better. Serve the finished teriyaki on top of the vegetables. The vegetables are tender and you can eat plenty.
Chicken breast mayonnaise teriyaki salad
[Material](for 2 people)
1 chicken breast (approx. 250g), seasoning (a little salt and pepper), 1/4 lettuce, 1 cucumber, mentsuyu (4x concentrated) 2 tablespoons, flour, salad oil, mayonnaise
[How to make]
1. Cut lettuce into thin slices and slice cucumber into thin slices. Cut chicken meat into large bite-sized pieces, sprinkle with seasoning, and sprinkle with flour.
2. Heat 1/2 tablespoon of oil in a frying pan over medium heat, place the chicken meat side by side with the skin down and bake for 3-4 minutes. When browned, turn it upside down and bake for 2-3 minutes. Lightly wipe the oil that comes out with a paper towel, add mentsuyu and entangle well, turn off the heat, add 2 tablespoons of mayonnaise and mix quickly.
3. Mix lettuce and cucumber in a bowl, spread and put 2.
(400kcal, salt content 2.6g)
Sentence = O child
..