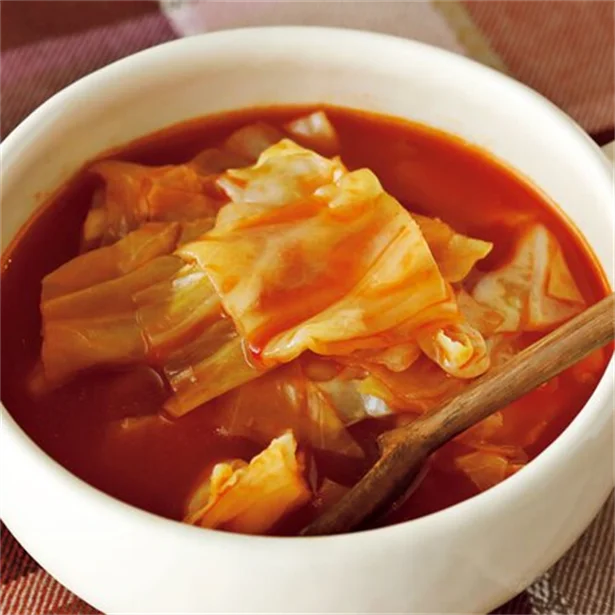 Cabbage tomato soup
Kimchi soup
Boiled cabbage soup
Cabbage and egg miso soup
Ethnic soup of cabbage and tofu
On a cold winter morning, getting out of the futon can be a hassle. You want to warm your body by drinking warm soup for breakfast. So this time, I will introduce a recipe for a short-time soup using cabbage. All of them are easy to make even on a busy morning.
Cabbage tomato soup
[Materials for 2 people]
Cabbage … 1/8 pieces, tomato juice (without salt) … 1 bottle, Western-style soup base (granule) … 2 teaspoons, water … 1/2 cup
[How to make]
1. Cut the cabbage into 2 to 3 cm squares.
2. Put in a pan, add 1/2 cup of water, tomato juice, and 2 teaspoons of Western-style soup base (granule), and heat over medium heat. Boil for about 5 minutes until the cabbage is tender.
(38kcal for 1 person, 1.6g salt)
Tomato soup can be easily made to have a deep taste by using tomato juice. Just put it on the heat for 5 minutes and it will have a flavor that looks like it has been slowly simmered.
..