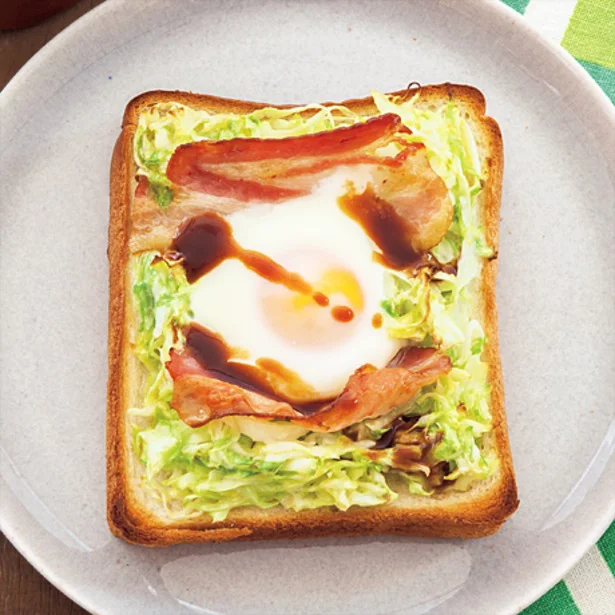 Cabbage nest toast
Japanese style tomato nokke toast
Pizza toast
Cucumber toast
Natto toast
A holiday that survives busy weekdays. Breakfast, which is usually done in a hurry, is something you want to spend a leisurely time enjoying. Here are 5 toasts that you'll want to make on the weekends. From classic pizza toast to recipes with a little surprising cucumber, using 6 slices of toast. If you arrange the ingredients to your liking, you will have a gorgeous toast with full volume ♪
Cabbage nest toast
[Material for 1 sheet]
1 bacon, 1 egg, 3-4 cabbage, 1 loaf of bread (6 slices), salt, mayonnaise, butter, Worcestershire sauce
[How to make]
1. Shred the cabbage, put it in a bowl, sprinkle a little less than 1/4 teaspoon of salt, and leave it for about 10 minutes until it becomes soft. Squeeze the water, add 1 tablespoon of mayonnaise and mix. Cut the bacon in half.
2. Spread 1 teaspoon of butter on bread, spread cabbage on it, and dent the center. Arrange the bacon along the indentations and break the eggs. Bake in an oven toaster for 8-9 minutes, serve in a bowl and sprinkle with Worcestershire sauce. Arrange the bacon in parallel along the indentation. This makes it difficult for the eggs to flow out.
(468Kcal for 1 person, 2.7g salt)
The leaves of 3-4 cabbage are chopped, so the volume is perfect. It also contains abundant vitamin C, which can be expected to have a beautiful skin effect. Please heat the raw egg by sandwiching it between bacon so that it does not run off the toast.
..