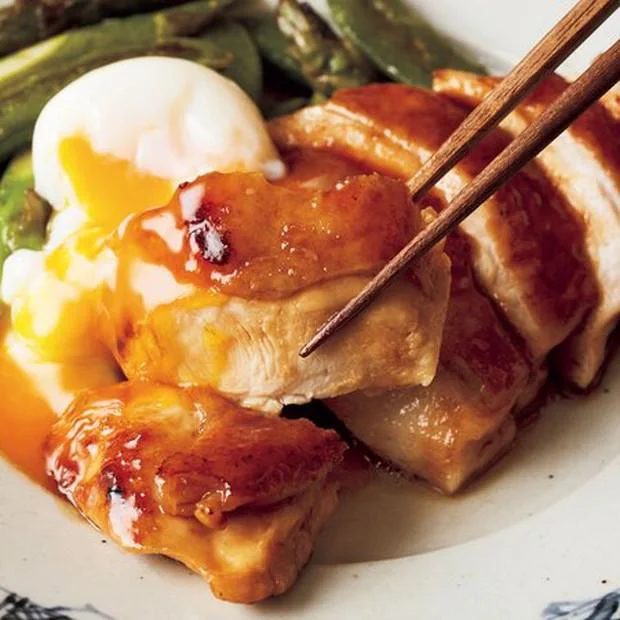 Teriyaki hot spring egg nokke of chicken breast
Teriyaki chicken tartar sauce
Chicken breast mayonnaise teriyaki salad
Marmalade teriyaki chicken wings
Chicken breast curry teriyaki
There are many ways to enjoy teriyaki chicken, which has a crispy lenticel and a delicious soy sauce-based sweet sauce! You can enjoy a wide variety of flavors depending on the recipe, such as entwining eggs or adding sweetness with marmalade. It's delicious even when it's cold, so it's great as a side dish for lunch boxes.
Teriyaki hot spring egg nokke of chicken breast
[Materials for 2 people]
Chicken breast … 2 small pieces (about 350g), hot spring egg … 2 pieces, green asparagus … 3-4 pieces, snap noodles … 100g, teriyaki sauce (mirin … 2 tablespoons, soy sauce / sake … 1 tablespoon each, Sugar … 1/2 tbsp), flour, salad oil
[How to make]
1. For asparagus, cut the hard part at the base, scrape the skin 3 cm below, and cut it diagonally to a width of 1.5 cm. Wipe the chicken meat with water and pierce it with a fork on both sides. Just before baking, sprinkle a thin layer of flour. Mix the ingredients for the teriyaki sauce.
2. Heat 1 tablespoon of oil in a frying pan over medium heat, line up the chicken meat with the skin down, and line up the vegetables around it. Cover and steam for about 5 minutes. On the way, sometimes remove the lid and roll the vegetables, and when they are browned, take out only the vegetables.
3. Turn the chicken meat upside down and bake for about 2 minutes, then wipe the oil in the frying pan. Add teriyaki sauce to a high medium heat and bake while entwining the meat until the sauce becomes glossy. Cut it into easy-to-eat pieces, serve with vegetables in a bowl, and put hot spring eggs on it.
(504kcal for 1 person, 1.7g salt)
Enjoy the fragrant teriyaki with hot spring eggs! You can prevent the chicken breast from becoming dry by sprinkling it with flour before baking. Add seasonal asparagus and snap peas for a colorful finish.
..