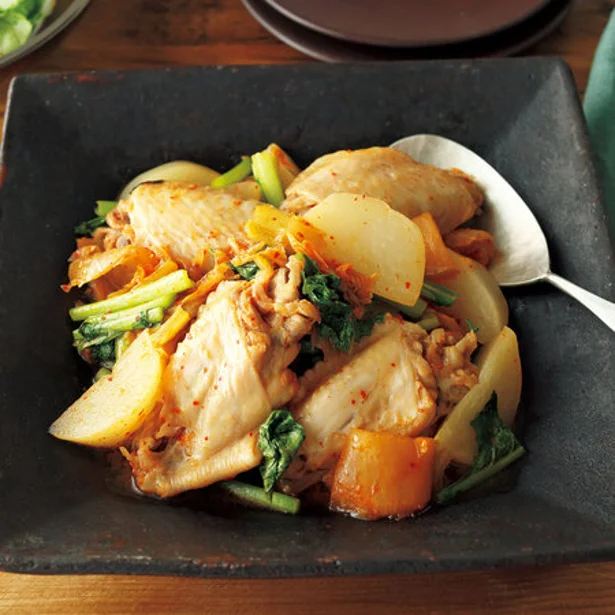 Boiled chicken wings and turnips with kimchi
Boiled chicken meat in soy milk kimchi
Chicken kimchi
Korean style simmered chicken wings
Boiled chicken wings and potatoes with kimchi
Speaking of meat that goes well with kimchi, pork is a staple. But "Tori x Kimchi" is also very compatible. If you use chicken meat, it will be lighter than pork and the volume will be perfect! Please thoroughly enjoy the delicious and spicy taste!
Boiled chicken wings and turnips with kimchi
[Materials for 2 people]
3 turnips (with leaves), 2 cups of water, 1/2 teaspoon of chicken soup, 8 of chicken wings, 100 g of baechu-kimchi, 2 tablespoons of sake, 1 tablespoon of sugar and soy sauce
[How to make]
1. Cut off the leaves of the turnip, leaving a little stem, and cut it into eight pieces. Cut the leaves into 5 cm lengths.
2. Put 2 cups of water and 1/2 teaspoon of chicken glass in a pan and heat over medium heat. After boiling, add the chicken wings, turnips, and Chinese cabbage kimchi, add 2 tablespoons of sake, sugar, and 1 tablespoon of soy sauce and mix. Put the lid on medium heat. Boil again and simmer for about 8 minutes. Add turnip leaves and simmer for another 2 minutes.
(263Kcal for 1 person, 3.0g salt)
Just simmer for about 10 minutes to complete a dish with umami. The sweet and spicy taste is addictive.
..