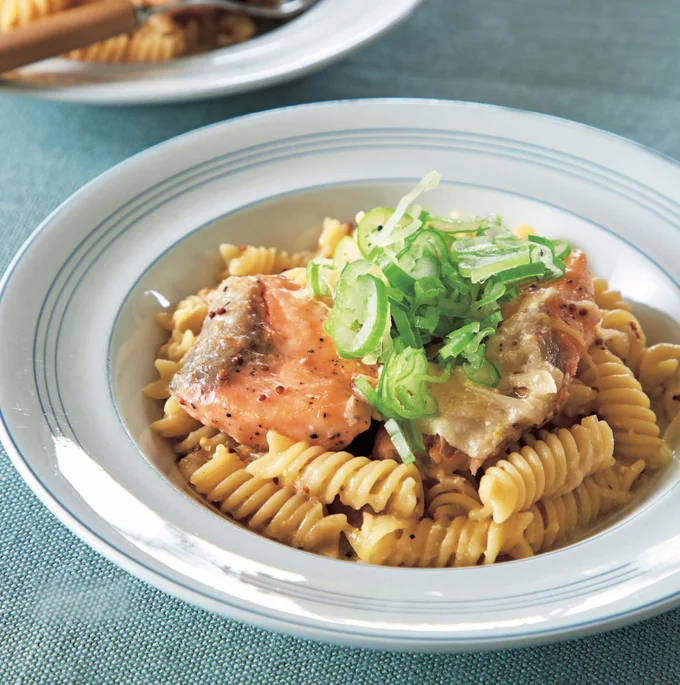 Yogurt chicken curry
Pumpkin and tuna lemon yogurt salad
Salmon cream pasta style
Fermented food that is said to be good for the body. But I don't know what to eat and how to eat it …
For such people, we will deliver cooking recipes that you can comfortably eat familiar and affordable fermented foods every day!
In the first installment of the "With this ingredient! That popular menu" series, we will introduce a popular menu that makes families happy using "yogurt". It's a bonus for Q & A about fermented foods that you seem to know but don't know.
* When using a microwave oven, the standard is 600W. Please heat 1.2 times for 500W and 0.9 times for 700W. Also, there are differences depending on the model, so please heat while watching the situation.
* * *
▶ ︎Tell me
Aki Ueshima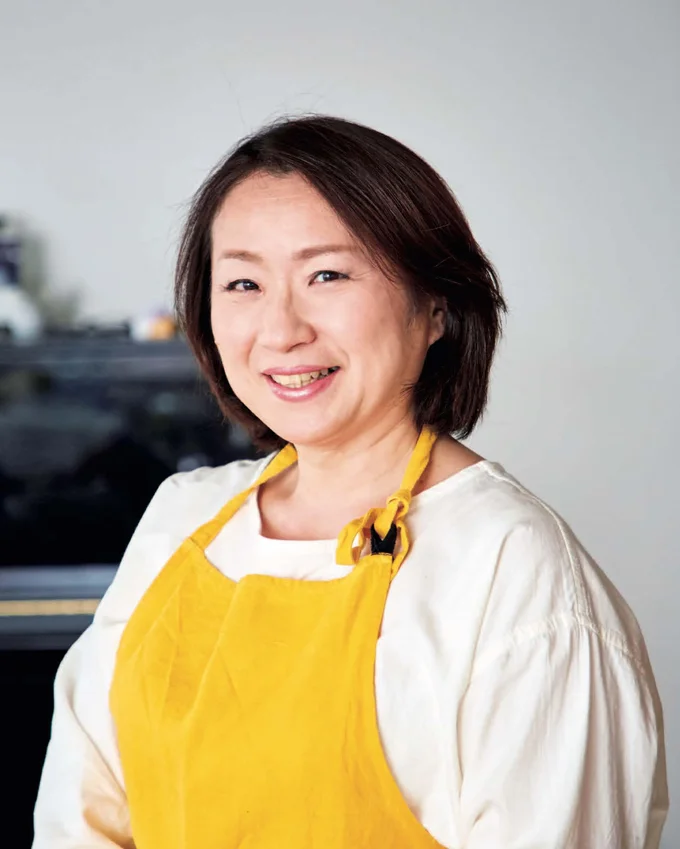 Cooking expert. Simple and hearty dishes created from the experience of raising the son of the athletic club are popular. Recent publications include "Two-step, exquisite feast dishes" (Gakken Plus).
* * *
Yogurt chicken curry
The roux that you can eat refreshingly despite its richness is exquisite!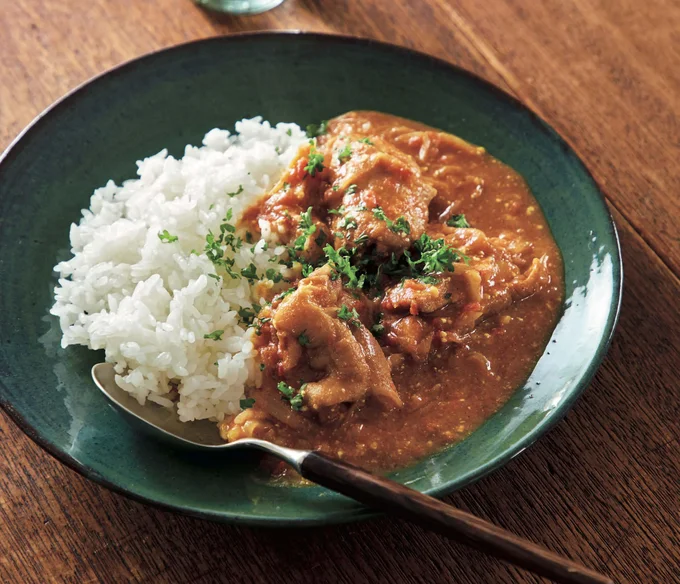 [Materials for 2 people]* 768kcal for 1 person / 2.3g salt
・ Plain yogurt … 60g
・ Thigh meat … 1 small (approx. 200g)
・ Onion … 1 piece
・ Cut tomato cans … 1/2 cans (approx. 200g)
・ Warm rice … appropriate amount
・ Honey … 1 tbsp
·salt
・ Coarse black pepper
·flour
·Salad oil
・ Curry powder
·butter
[How to make]
1. Cut the onion in half vertically and slice it vertically. Cut the chicken meat into bite-sized pieces, wipe the water well and sprinkle with 1/3 teaspoon salt, a little pepper and 2 teaspoons flour. Heat 1 tablespoon of oil in a pan over medium heat and fry the onions until slightly brown. Add chicken meat and fry until the whole color changes.
2. Add 1 and 1/2 tablespoons of curry powder and fry for about 1 minute until fragrant. Add 2/3 amount of yogurt, cut tomatoes, honey, 1/4 teaspoon salt and 1/2 cup water and heat to high heat. After boiling, cover and cook over medium heat for about 10 minutes.
3. Season with salt and pepper, add 10g of butter and the rest of the yogurt and mix. Serve with rice and sprinkle with chopped parsley if you like.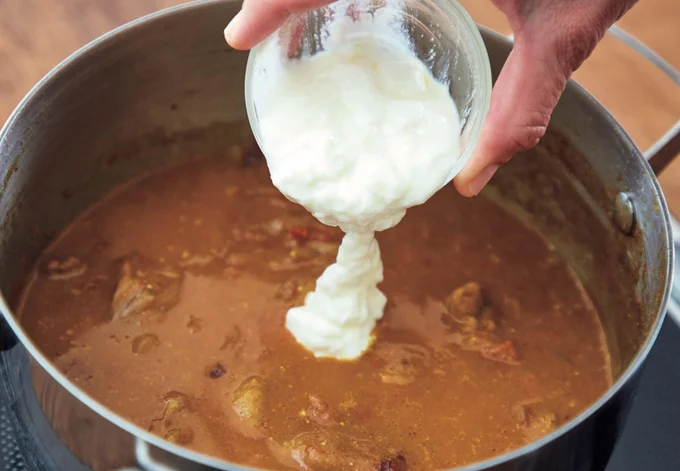 Pumpkin and tuna lemon yogurt salad
Lemon x yogurt, double sourness is refreshing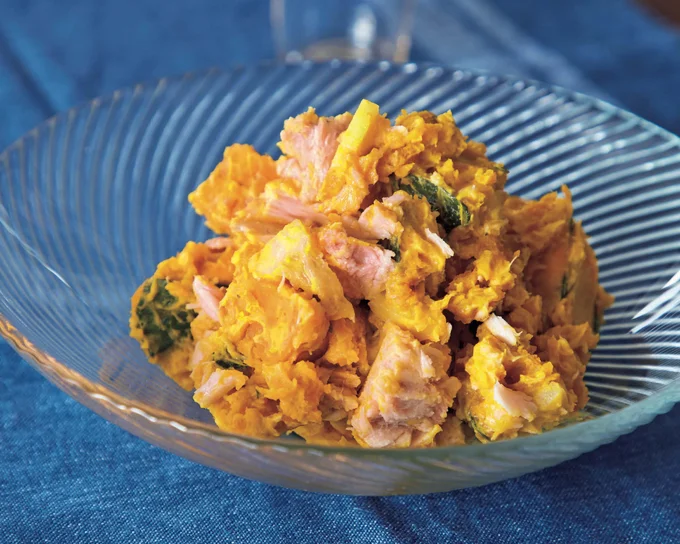 [Materials for 2 people]* 201kcal for 1 person / 1.0g salt
・ Plain yogurt … 60g
・ Tuna can (chunk) … 1 small can (approx. 55g)
・ Thin slices of lemon … 3 pieces
・ Pumpkin … 1/8 pieces (approx. 250g)
·sugar
·salt
・ Coarse black pepper
[How to make]
1. Fold a paper towel in four in a small bowl, spread it, put yogurt on it, and let it drain for about 10 minutes. Cut the lemon into 12 equal parts in a radial pattern. Peel the pumpkin in places and cut it into bite-sized pieces. Tuna lightly cut the canned juice.
2. Put the pumpkin in a heat-resistant bowl, wrap it gently, heat it in the microwave for about 4 minutes, and leave it for about 2 minutes to drain it.
3. While still hot, add yogurt, lemon, 1 teaspoon sugar, 1/4 teaspoon salt and a little pepper and mix. When it cools to room temperature, add tuna and mix roughly.
..