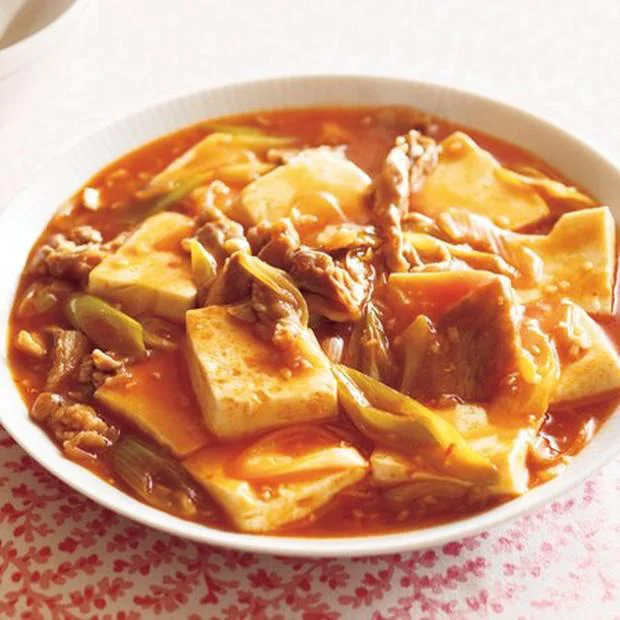 Boiled tofu in chili sauce
Bean sprout and egg chili sauce
Stir-fried squid with chili sauce
Pork and bitter gourd chili sauce
Jaga chili sauce
Chili sauce is "shrimp chili", but shrimp is a high hurdle on busy days when it is difficult to prepare, such as peeling the shell and removing the back. Still, I want to eat spicy chili sauce …! In that case, why not make it with tofu, pork, potatoes, etc. It will be completed in about 10 minutes using familiar ingredients ♪
Boiled tofu in chili sauce
[Materials for 2 people]
Chopped pork … 100g, silken tofu … 1 clove, long onion (including blue part) … 1/2, chopped ginger … 1 piece, chopped garlic … 1/2 piece, doubanjiang … 1/2 tsp, seasoning (tomato ketchup… 2-3 tbsp, liquor / sugar… 1 tbsp each, soy sauce… 1/2 tsp, sesame oil… 1 tsp, salt… 1/3 tsp, pepper… a little water … 130ml), sake, soy sauce, ketchup, salad oil
[How to make]
1. If the pork is large, cut it into bite-sized pieces and add 1 teaspoon each of sake and salty sauce. Cut the tofu in half vertically and 6 horizontally. Slice the green onions diagonally.
2. Sprinkle 1/2 tablespoon of potato starch on the pork. Heat 1/2 tablespoon of oil in a frying pan, add pork and fry. When the color of the meat changes, remove it.
3. Quickly wipe the frying pan with a paper towel, heat 1/2 tablespoon of oil, and fry the ginger and garlic. When the scent comes out, add doubanjiang and fry, then add green onions and fry. Add seasoning and boil, then add 1 tofu. When the tofu is cooked, put the meat back in and let it boil for a while.
(350kcal for 1 person, 2.9g salt)
Use tofu to save time. Adding pork tops will improve the taste. Sprinkle the pork top with potato starch before frying. This will give you a thick finish without adding water-soluble potato starch at the end.
..