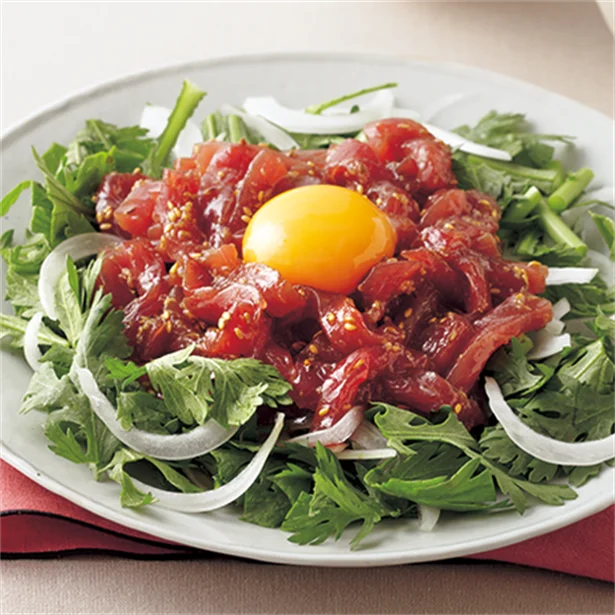 Tuna sashimi may be eaten simply with wasabi soy sauce, but it's actually easier to arrange. So this time, we will introduce 5 tuna arrangement recipes that are perfect as a side dish for sake. Make it a yukhoe style, make it a carpaccio … Even if you buy it at the fence, you can enjoy it without getting tired if you change the seasoning!
Tuna Yukhoe Salad
[Materials for 2 people]
Maguro (for sashimi) … 150g, egg yolk … 1 piece, spring chrysanthemum … 1/3 w, new onion … 1/4 piece, combined seasoning (grated soy sauce … 1/2 tablespoon, grated garlic … a little white sesame … 1/2 tbsp, sesame oil… 2 tbsp, soy sauce… 2 tsp, vinegar, sugar… 1/2 tsp each, salt
[How to make]
1. Cut the garland chrysanthemum into 3 cm lengths. Cut the onions into thin slices, soak them in water, and open them in a colander to drain them. Cut the tuna into 5mm square rods.
2. Put tuna and seasonings in a bowl and mix. Add salt to taste.
3. Lightly mix garland chrysanthemum and onion in a bowl, spread 2 on top of the juice, and put egg yolk in the center.
(283kcal for 1 person, 1.3g salt)
Egg yolks are entwined with the sweet and spicy tuna. A simple recipe that can be done in 5 minutes.
..