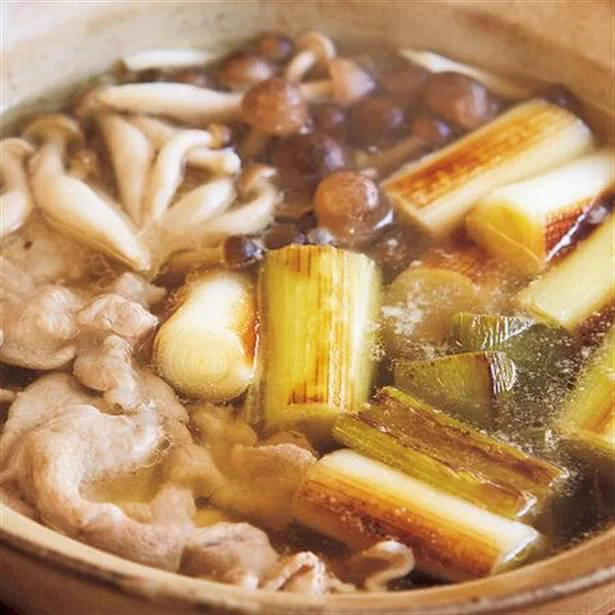 Grilled green onion and pork shabu-shabu
Warm marinade of salmon and grilled green onions
Grilled green onion with ponzu sauce
Grilled onion
Grilled green onion olives
Long onions that are indispensable for condiments and hot pots. It is a supporting vegetable, but in winter when the sweetness increases, it is also recommended to try making a dish with long onions as the leading role. If you cook the green onions carefully, the sweetness will increase with Toro Toro! The point is to bake well until both sides are browned.
Grilled green onion and pork shabu-shabu
[Materials for 2 people]
Long onion (including blue part) … 2 pieces, pork shabu-shabu meat … 200 g, hot spring egg … 2 pieces, shimeji … 1 pack (about 100 g), Japanese-style dashi (kelp (5 x 5 cm) … 1 piece, sake … tablespoon 2, water … 4 cups), ponzu sauce … appropriate amount, salad oil
[How to make]
1. Cut the green onions into 5 cm lengths. Shimeji mushrooms are loosened. Heat 1 teaspoon of oil in a pan over low medium heat and bake the green onions. When it becomes brown, add the Japanese-style soup stock, cover and simmer on medium heat for 7 to 8 minutes.
2. When the green onions are tender, add pork and shimeji mushrooms and simmer quickly.
3. Put ponzu sauce and hot spring eggs in a bowl and eat while entwining.
(433kcal for 1 person, 1.8g salt)
The savory aroma of roasted green onions is transferred to the dashi stock, and the soup is a delicious dish. The sweetness of green onions is enhanced when eaten with hot ponzu sauce. Use all the blue parts of the green onions.
..