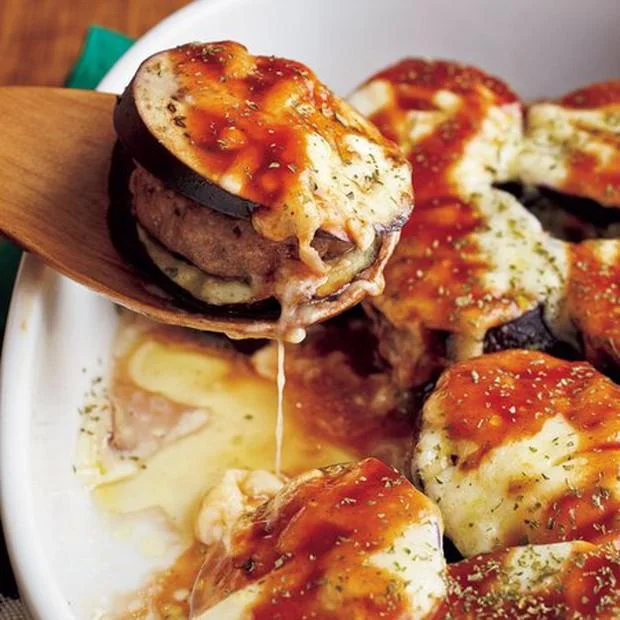 In the microwave!Eggplant cheese minced
Cheese meat potatoes
Taro meat gratin
Layered grilled minced meat
Hamburger pizza style
A luxurious dish with irresistible melty cheese can be made in a short time and easily by choosing a recipe! This time, I will introduce a hearty recipe using Aibiki meat and cheese. It seems that you will be pleased with anniversaries and hospitality.
In the microwave!Eggplant cheese minced
[Materials for 2 people]
Meat (Aibiki meat … 200g, bread flour … 4 tablespoons, mayonnaise … 1 tablespoon, salt, pepper … a little each, water … 2 tablespoons), pizza cheese … appropriate amount, eggplant … 2 pieces, sauce (tomato ketchup / Worcestershire sauce …) 1 and 1/2 tablespoons each, water … 1 tablespoon)
[How to make]
1. Cut the eggplant diagonally with a width of 7 mm. Put the meat ingredients in a bowl and mix gently (be careful as over-kneading will shrink when heated).
2. Put an appropriate amount of meat in 2 slices of eggplant and arrange them on a heat-resistant plate. Sprinkle 1 tablespoon of water, wrap gently, and heat in the microwave for about 4 minutes.
3. Wipe the juice on the plate and put cheese for pizza on it. Wrap it gently and heat it in the microwave for about 1 minute and 30 seconds. Mix the ingredients of the sauce and sprinkle with parsley (dry) if you like.
(428kcal for 1 person, 2.7g salt)
* In this recipe, the microwave oven is based on 600W. Please heat 1.2 times for 500W and 0.8 times for 700W. Also, there are differences depending on the model, so please heat while watching the situation.
It can be done in a total of about 10 minutes using a microwave oven, so it is recommended for everyday days. It's healthy because it doesn't use oil!
..