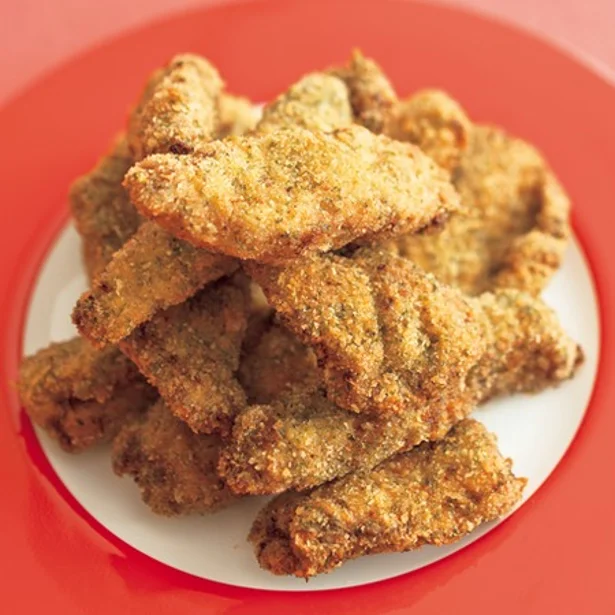 Fried from Naniwa style
Fried from Chinese style
Fried mixed herbs
Spicy fried
Fried chicken wings spicy
The best part of fried chicken is that you can enjoy the heat of fried chicken at home. If you feel tired of the usual taste, why not add green laver, herbs, Tabasco, etc. to the bottom and arrange it? Here are 5 fried chicken from the arrangement. It's just a addictive taste, and I'm addicted to it!
Fried from Naniwa style
[Materials for 2 to 3 people]
1 large chicken meat (approx. 300 g), flavor (1 tablespoon Worcestershire sauce, 1 tablespoon soy sauce, 1/2 teaspoon curry powder), 1 beaten egg, 1 tablespoon green paste, salt, pepper, bread crumbs, flour, frying oil
[How to make]
1. Cut the chicken meat in half lengthwise, removing the skin and excess fat, and cut into 1.5 cm widths along the fibers. Sprinkle a little salt and pepper in a bowl, squeeze in the flavor, and leave for about 15 minutes.
2. Put 1 cup of bread crumbs in a sealed bag for storage, rotate the rolling pin from the top several times to make it fine, open it in a vat and mix it with green laver. If you roll the rolling pin to make the bread crumbs finer, it will be smooth and hard to burn.
3. Add 1 to flour, beaten egg, and 2 in that order.
4. Put frying oil to a depth of 2 to 3 cm in a frying pan, heat to medium temperature (about 170 ° C), add 3 and fry for 2 to 3 minutes while turning back halfway.
5. Raise the temperature of the oil to a high temperature (about 180 ° C) and fry for another 1 minute to drain the oil.
(317Kcal for 1 person, 3.5g salt)
By adding green laver and Worcestershire sauce to the bottom taste, the taste of Osaka's "flour" style is reproduced. If you use bread crumbs, you can enjoy the crispy texture over time!
..