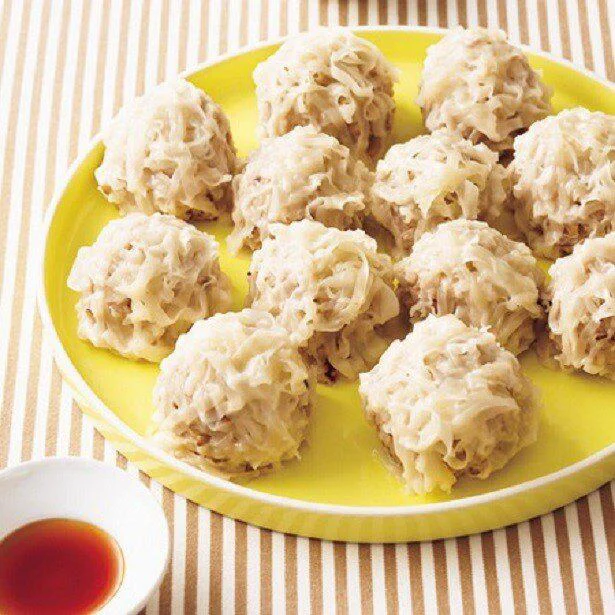 The other day, the editor-in-chief of Lettuce Love introduced "Unwrapped Shumai" on TV, but today I would like to introduce another type of unwrapped Shumai "Juicy Shumai". I use chopped meat, not minced meat. The meat that is made by beating pork tops is gravy juwa! It tastes a bit different from the shumai made from minced meat. Simply chop the shumai skin and place it on top, and no steamer is required. Enjoy the authentic taste easily!
Juicy Shumai
[Material](for 4 people)
300 g of chopped pork, seasoning (1 tablespoon of grated ginger, 1 tablespoon of sake and sesame oil, 1/2 tablespoon of soy sauce, 1 teaspoon of sugar, 1/2 teaspoon of salt), 4 chopped shiitake mushrooms, 1 chopped onion Minutes, 24 pieces of soy sauce skin, kataguri powder
[How to make]
1. Cut the shumai skin into small pieces.
2. Beat the pork with a kitchen knife until it becomes sticky, put it in a bowl, add shiitake mushrooms and ingredients for the seasoning, and mix well.
3. Wipe the onions with a paper towel and sprinkle with 2 tablespoons of potato starch. Add to 2 and mix, divide into 12 equal parts and round.
4. Arrange 3 evenly on a frying pan, divide the shumai skin of 1 into equal parts, and lightly press. Pour water to about half the height of the meat, cover and heat over high heat. When it boils, reduce to medium heat and steam for about 10 minutes. When the water is almost gone, put it in a bowl and add vinegar soup if you like.
(320kcal, salt content 0.8g)
Sentence = O child
..