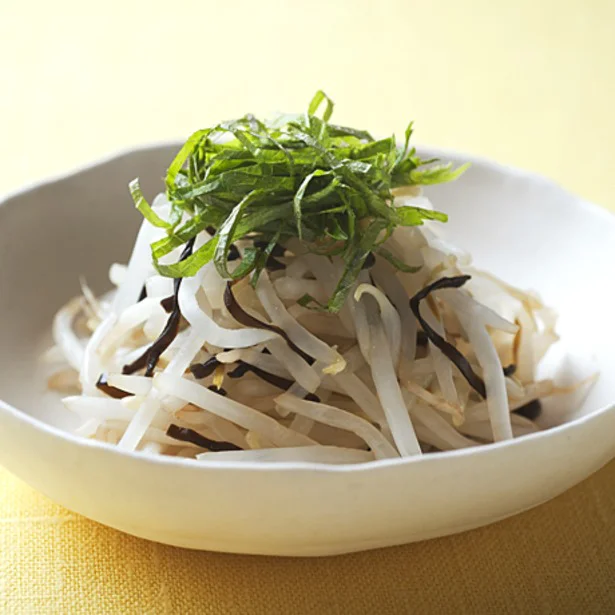 Bean sprouts salted kelp
Spicy bean sprouts
Bean sprouts salted kelp namul
Konjac and bean sprouts Chinese food
Namul of celery and bean sprouts
Bean sprouts made from miracle ingredients that help you in any situation, such as bulking, saving, and dieting. Here are 5 selections of bean sprouts that can be made in just 5 minutes. A place where you want to finish heating quickly to enjoy the crispy texture. It is also recommended to use a microwave oven that can be heated like steaming because it is harder for nutrients to escape than boiling.
Bean sprouts salted kelp
[Materials for 2 people]
1 bag of bean sprouts, 3 slices of green perilla, 2 tablespoons of salted kelp, salt
[How to make]
1. Put the bean sprouts in a heat-resistant dish, sprinkle with a little salt, cover with plastic wrap, and heat in the microwave for about 1 minute and 30 seconds. Take it out and let it steam for about 1 minute, remove the plastic wrap and remove the rough heat.
2. Squeeze the water from 1 and add salted kelp and mix.
3. Place in a bowl and put shiso on it.
* When using a microwave oven, the standard is 500W. Please heat 0.8 times for 600W and 0.7 times for 700W.
(21 Kcal for 1 person, 0.8 g salt, cooking time 5 minutes)
In the simple taste of salted kelp and bean sprouts, the refreshing flavor of green perilla is a good accent.
..