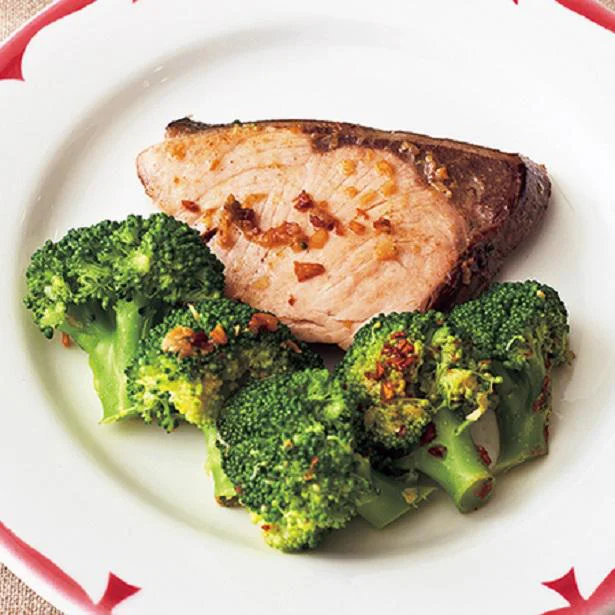 It's the first time in season that the taste is increasing due to the fat, but do you think that "buri = teriyaki"? If you are tired of the usual taste, we recommend "Buri Garlic Steak". The Western-style menu with the scent of garlic and butter increases your appetite, and is excellent for children. You can also cook broccoli with yellowtail, so you don't have to wash much.
First time garlic sauteed lemon flavor
[Material](for 2 people)
2 slices of garlic, seasoning (a little salt and pepper each), 1/2 broccoli, 2 chopped garlic, 1/2 lemon, salt, butter
[How to make]
1. Divide the broccoli into small bunches and boil in boiling water with a large amount of salt for 2 to 3 minutes. Raise it in a colander and drain the water well. For yellowtail, wipe off excess water with a paper towel and sprinkle the seasoning on both sides.
2. Melt 3 tablespoons of butter in a frying pan over medium heat and fry the garlic. When it is slightly browned, line up the yellowtail and bake the garlic without burning it, shaking the frying pan from time to time. When it gets a little browned for the first time, turn it upside down and bake in the same way. On the way, add broccoli to the edge of the frying pan, sprinkle with a little salt, and bake with garlic and butter.
3. When the broccoli is cooked for the first time and the broccoli tastes entwined, squeeze the lemon and sprinkle the juice over it to let it blend in.
(368kcal, salt 1.3g, cooking time 15 minutes)
Sentence = O child
..