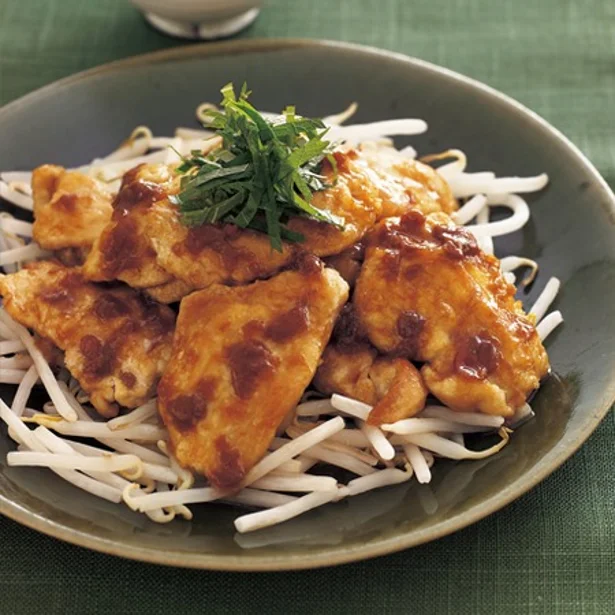 Tori no Ume Teriyaki
Double ginger-grilled chicken breast
Chicken Breast Sprout Chinjao
Steamed tori plum ginger
Steamed green onion
How can you eat delicious foods that are reasonably priced but light? This time, we will introduce 5 side dishes of chicken breast and bean sprouts, which are the top saving ingredients, in order to answer such concerns. By combining flavored vegetables and plums, and seasoning the breast meat firmly, the rice will be seasoned well!
Tori no Ume Teriyaki
[Materials for 2 people]
1-2 pieces of chicken breast (about 400g), 2 pieces of dried plums, 1/2 bag of sprouts (about 100g), 3 pieces of shredded green perilla, seasoning (1 and 1/2 tablespoons of sake, soy sauce, mirin) , Flour, salad oil, salt
[How to make]
1. Remove the seeds from the pickled plums and add to the seasoning.
2. Cut the chicken meat into large pieces and use a paper towel to hold the drainage. Put meat and 3 tablespoons of flour in a plastic bag, close the mouth and shake to sprinkle.
3. Heat 1 tablespoon of oil in a frying pan, line up 2 and bake for 2 to 3 minutes. When it becomes brown, turn it upside down and bake for another 2 minutes.
4. Add the seasoning of 1 and entangle it while turning it upside down until it shines.
5. Put the bean sprouts in a heat-resistant container, sprinkle with a little salt, wrap it gently, and heat it in the microwave for 1 minute to 1 minute and 30 seconds. Take it out and raise it to drain it, spread it on a bowl, put 4 on it, and decorate the shiso.
* When using a microwave oven, the standard is 500W. Please heat 0.8 times for 600W and 0.7 times for 700W.
(587Kcal for 1 person, 3.2g salt)
Sprinkle the breast meat with flour and let the seasoning blend in. If you use a plastic bag when sprinkling powder, you can save the trouble of washing. The sour umeboshi and the savory green perilla make it a refreshing taste.
..