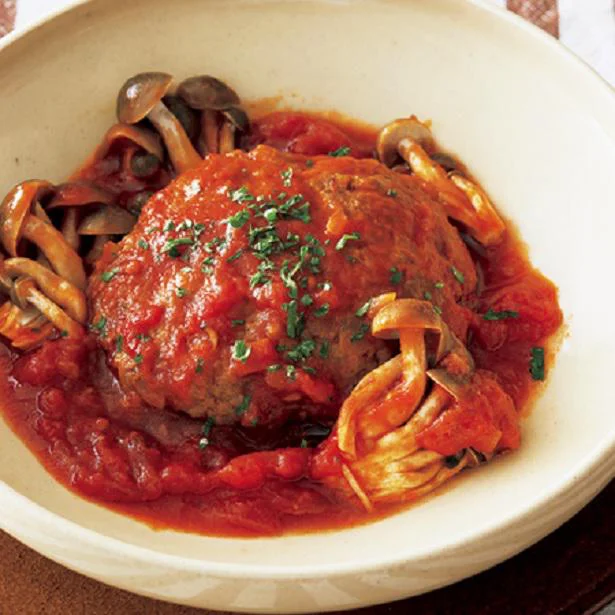 Is there anyone who is not good at hamburger steak? How to make, not how to eat. This is exactly the case with Oko, but I want to make a plump juicy burger, but I'm worried about raw burning, so I always end up with overcooked and dry burger. There was a salvation recipe for those who are not good at hamburger steak. "Tomato sauce hamburger steak" is cooked while boiling in the sauce, so you don't have to worry about burning it while keeping the moist texture. You can make a plump juicy burger without failure, with the deliciousness of meat and sauce overflowing.
Tomato sauce hamburger
[Material](for 2 people)
Meat (200 g of aibiki meat, 1/2 chopped onion, 4 tablespoons of bread flour, 1 1/2 tablespoon of milk, 1/4 teaspoon of salt, pepper, a little nutmeg if any), 1/2 pack of shimeji (about 50g), 1/2 canned whole tomato (about 200g), 1/3 teaspoon of granular soup, soy sauce, salt, pepper
[How to make]
1. Divide the shimeji mushrooms into small bunches.
2. Make meat. Put ingredients other than minced meat and onions in a bowl and mix. Add minced meat and onions and mix well until sticky. Divide it into two equal parts, bleed the air by playing catch with both hands, and arrange it into an oval shape.
3. Put the tomatoes together with the canned juice in a frying pan and crush them lightly with a wooden spatula. Add soup base, 1 teaspoon of soy sauce, a little salt and pepper, and 130 ml of water and heat. After boiling, reduce the heat to low and add 2. Cover and simmer for about 3 minutes.
4. Turn it upside down and add shimeji mushrooms. Cover again and simmer for 2-3 minutes until cooked. Serve in a bowl and sprinkle with chopped parsley if you like.
(298kcal, salt content 1.9g)
Sentence = O child
..