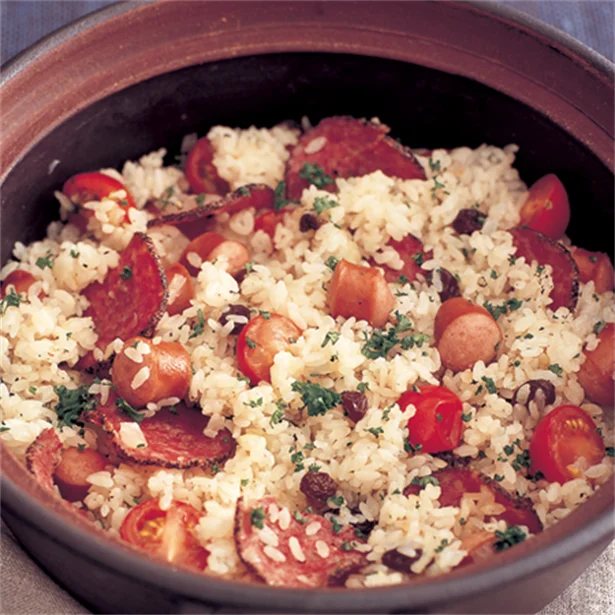 Pilaf-style rice
Kedgeree
Spaghetti with sardines and raisins
Nuts rice
Stir-fried lotus root curry
Raisins that are packed with umami in each grain. It's delicious as it is, or even in bread or sweets. But I think there are surprisingly few people who incorporate it into their cooking. The sweetness and sourness of raisins can also be enjoyed as a seasoning. So this time, I will introduce professional dishes using raisins. Mix it with rice, add it to pasta … You can rediscover the charm of raisins!
Pilaf-style rice
[Materials / Easy to make amount for 3-4 people]
Wiener sausage … 6 pieces, salami … 40 g, chopped onions … 1/4 piece, raisins … 3-4 tbsp, cherry tomatoes … 10 pieces, chopped parsley … as appropriate, rice … 2 go, bouillon (granular soup base) … 1 and 1/2 teaspoon, water… 2 cups), butter, salt, pepper
[How to make]
1. Open the rice without washing it and put it in a clay pot with a diameter of 25 cm. Add bouillon and soak for about 30 minutes.
2. Cut the sausage into 3 equal parts, slice the salami into thin slices, and put on 1. Cover with onions and raisins and heat over high heat. When it blows, reduce the heat to low and cook for 10 minutes, turn off the heat and steam for 10 minutes.
3. Cut cherry tomatoes in half lengthwise, add parsley, 1 tablespoon butter, salt and pepper as appropriate and mix briefly.
(470kcal for 1 person, 1.9g salt)
Easy-cooked rice that you just cut the ingredients and put on. The saltiness of sausages and salami and the sweetness of raisins are exquisite!
..