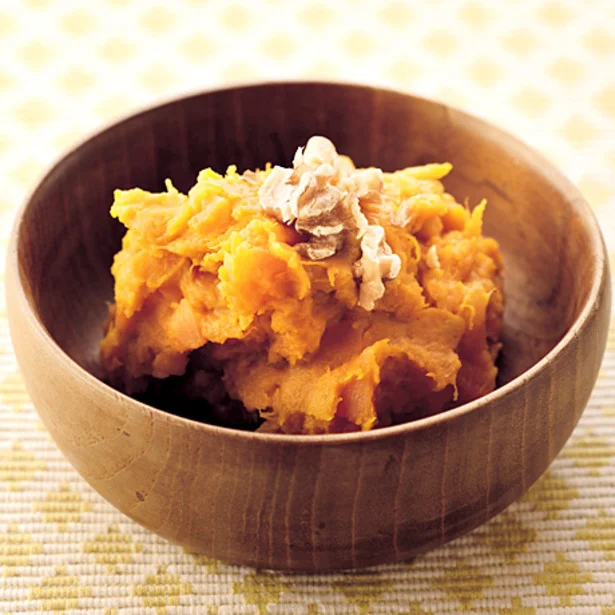 Pumpkin and carrot mash
Pumpkin sesame
Honey mustard pumpkin
Pumpkin and bean salad
Pumpkin and corn mayonnaise
Pumpkin with green and yellow vegetables is nutritious. It is sweet and easy to eat, and is a popular ingredient for children. However, there are many people who say, "It's quite difficult to prepare another dish in addition to the main side dish on weekdays …". In such a case, you can rely on the microwave oven! This time, I will introduce a pumpkin side dish that can be made in 5 minutes.
Pumpkin and carrot mash
[Materials for 2 people]
Pumpkin … 75g, carrots … 1/6 bottles, walnuts … salt, pepper, sugar, butter as appropriate
[How to make]
1. Peel the pumpkin and cut it into bite-sized pieces. Cut carrots into 2 mm thick ginkgo biloba. Finely chop the walnuts.
2. Place pumpkin and carrots on a heat-resistant plate, cover with plastic wrap, and heat in a microwave for 2-3 minutes. While hot, crush with a fork and mix with a little salt, pepper, a little sugar and 1/2 teaspoon butter. Place the walnuts in a bowl.
(83 Kcal for 1 person, 0.3 g of salt, cooking time 5 minutes)
* When using a microwave oven, the standard is 500W. Please heat 0.8 times for 600W and 0.7 times for 700W.
If you crush the pumpkin and carrot with a fork while it is hot, it will have a smooth texture. The crispy walnuts accentuate the texture. Adding butter will add richness.
..