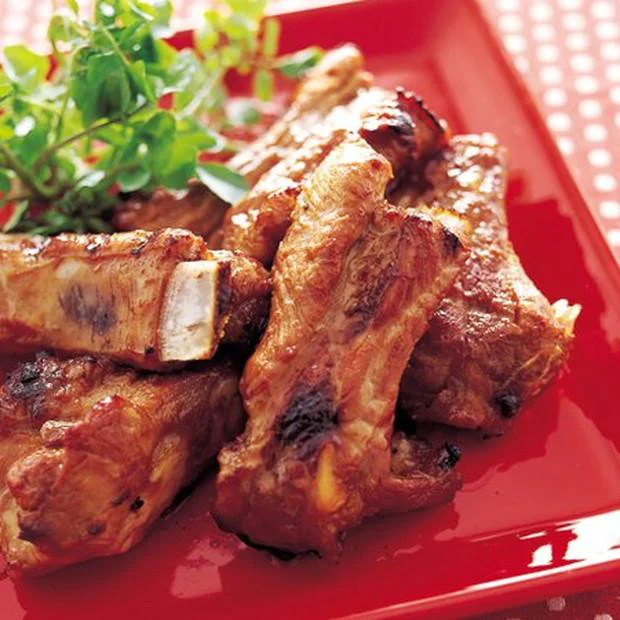 BBQ spareribs
Easy Tandoori Chicken
Aurora sauce barbecue
Hokuhoku garlic shrimp plate
Man's simple paella
Even if you don't go out, you can enjoy barbecue depending on your ingenuity. This time, we propose barbecue dishes that you can cook and enjoy in your kitchen. If you make it with the whole family, it will surely be a fun day ♪
BBQ spareribs
[Materials for 2 people]
Sweet and soy sauce (about 350 ml), sake and soy sauce … 1/2 cup each, mirin … 3/4 cup, barbecue spare ribs (pork spare ribs … 500 g, ketchup … as appropriate, sweet and soy sauce … 4 tablespoons (Use from the finished product), tomato ketchup)
[Preparation]
1. Make sweet and salty sauce. Put sake, soy sauce, and mirin in a pot and let it boil for a while.
2. Cool and put in a storage bottle and store in a refrigerator (for about 2 weeks).
[How to make]
1. Put spare ribs and sauce in a thick plastic bag, add 3 tablespoons of ketchup, and rub it for 3 hours to overnight to let the taste blend in.
2. Lightly cut the pork ribs, place them on a hot grilled fish, and bake on low medium heat for 8-12 minutes. Serve on a plate and serve with watercress.
(671kcal for 1 person, salt content 1.9g)
A dark and juicy sparerib that is indispensable for barbecue. Just lining up on the table will make you feel better ♪ The trick is to soak the meat in the sauce the day before or the morning of the day so that the taste is well blended.
..