There are hundreds of indie horror games to come out every year, not least thanks to the crowdfunding or the bewildering ease with which a game can be released on Steam today, no matter how bad and uninspiring. However, we are never immune to a good, or even a very good surprise, and Mundaun very clearly has the potential to be one.
So what is Mundaun ? This is a horror game developed by the tiny Swiss studio Hidden Fields with only one programmer, the designer. Michel Ziegler, and edited by the independent box MWM Interactive. Its first particularity is that it is entirely made in pencil, which gives it an atypical and truly exciting atmosphere and artistic direction..
Its creation process is, without being unique, truly interesting to discover. A little making-of around this has even been made so that we, players, journalists or just curious, can understand how the designer was able to achieve the result we know today. Believe us, it's well worth over two minutes of your time.
The title is inspired by legends and myths of the Swiss Alps and takes us into a kind of horrific tale in which these legends and our reality collide. The story revolves around a malicious and secular entity that inhabits a dark and isolated valley in the Alps and that we players will have to confront to shed light on the tragic events that led to the death of our grandfather.
To do this, we will have to cross many dark and disturbing places on foot or by sleigh, while facing strange evil creatures. We will also discover the small town of Mundaun therefore, populated by strange inhabitants who seem to be affected by an evil making them quite atypical and mysterious.
The game mechanics revealed will be, as far as we know, fairly classic overall. There will be puzzles to solve for example, we can also use weapons and fear management will be present. Like an Amnesia, Mundaun offers a simulated mental health system based on the fear felt by the character we play. The more scared you are, the slower you go.
A component that will have to be taken into account during our exploration of abandoned buildings and large snowy and wooded areas that we will have to cross. Playable in first person and offering a mountainous open world, the game relies on its originality to stand out from the crowd and bring a little change of scenery to a genre that sometimes lacks a lot.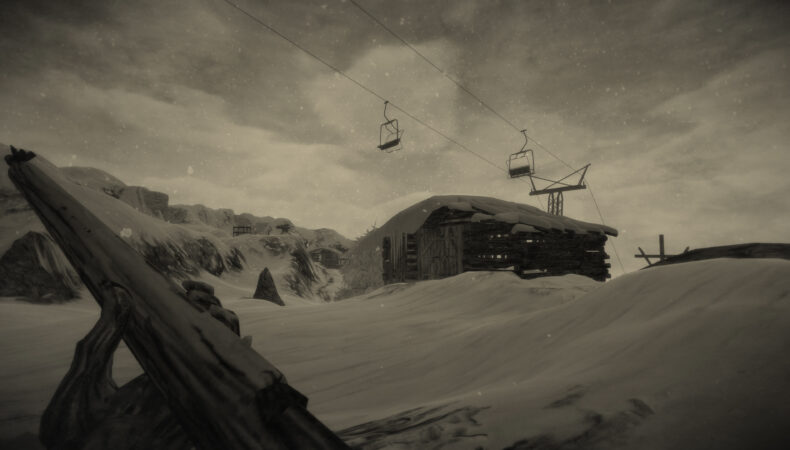 It just might succeed and we can only encourage you to follow the dev logs that are regularly uploaded to the title's official YouTube channel. The latest one tells us more about a real abandoned hotel that inspired Michel Ziegler in the conception of the one he created for Mundaun. The designer also says he was strongly inspired by Shining for the creation of it.
For the record, know that the town of Mundaun really exists or rather has existed. It was created in 2009 and merged in 2016 with the municipality of Obersaxen to become Obersaxen Mundaun. Ziegler was therefore very strongly inspired by this place to draw his vision of the village, thus drawing inspiration from the hotel, but also from the surrounding landscapes, the houses or the chapel.
The game is announced for March 16 on PlayStation 5, Xbox Series X | S, PC (via Steam and the Epic Games Store), Nintendo Switch, as well as on older generation consoles. The title will also be fully translated into French, which is good news. Also, we will not fail to talk to you about it again soon as the project is so promising.


Riku