#Focus #Analysis #MWC #Observation① #years #commercial #landed


Two years of silence, MWC(Mobile World Congress) Will restart in Shanghai on February 23-25. Affected by the epidemic, this year's exhibition was changed to an online + offline format. Both the number of exhibitors and the enthusiasm of exhibitors have declined, but there are still many trends worthy of attention.
At the Barcelona exhibition in 2019 two years ago, the emergence of 5G triggered a wide range of discussions. Two years later, the deputy of the Ministry of Industry and Information Technology previously revealed that the number of domestic 5G base stations has reached 700,000, accounting for nearly 70% of the world's total. Huawei's rotating chairman Guo Ping also said before, "The global 5G deployment has come to an end, and the focus of the next phase is Develop industry applications and release 5G dividends.
After two days of visits at 36Kr, it was discovered that 5G has blown out in various vertical industries of toB.
Relatively speaking, 5G is the fastest to land in mining, oilfield and other mining industries. During the MWC Shanghai Exhibition, this was confirmed in the "China 5G Vertical Industry Application Cases 2021" report released by GSMA and China Academy of Information and Communications Technology. The typical cases shown in the report all occurred in the aforementioned fields, including the smart mines of Shanxi Huayang Group and Pangpangta Coal Mine; Shandong Unicom Dongying Shengli Oilfield and so on.
The reason behind it is not difficult to understand. The cost of upgrading factory intelligent manufacturing with the help of 5G is very high. However, traditional heavy asset industries such as oil fields and coal mines are not short of money, and there are many pain points under traditional production methods. For example, there are a lot of data generated in the production process. , The demand for preservation is high.
Industries such as oil fields, mining areas, and automobiles have also been seeking digital transformation operations in recent years, but how exactly does 5G land in these scenarios?
Take Huawei as an example. Huawei has previously applied the "5GtoB platform solution" in the steel industry. The 5G solution designed has a large enough uplink bandwidth to support the data return of 300+ HD video surveillance cameras in the workshop; the network system has been debugged to 99.99%. High reliability; In order to realize the remote control of the crane and robotic arm, the end-to-end delay of the 5G network is controlled within 20-50 milliseconds.
Huawei 5G production line uses 5G network to realize multi-robot collaboration 36kr photography
In the oil and gas scenario, Huawei's 5G solution is not only simple network debugging, but also increased hardware coordination between AR and drones, including the use of AR for predictive maintenance and remote coordination to improve equipment inspection efficiency and operation efficiency; UAV remote control is used to remotely inspect equipment and pipelines; in the mining area, high-definition video real-time monitoring, face recognition, and boundary recognition of dangerous areas are implemented to reduce the occurrence of safety accidents.
As 5G has the characteristics of high bandwidth, low latency, and strong controllability, it plays a key role in flexible production and precision manufacturing. At MWC, Huawei and ZTE demonstrated their 5G implementation in smart manufacturing, such as ZTE's Binjiang plant and Huawei's Songshan Lake production base.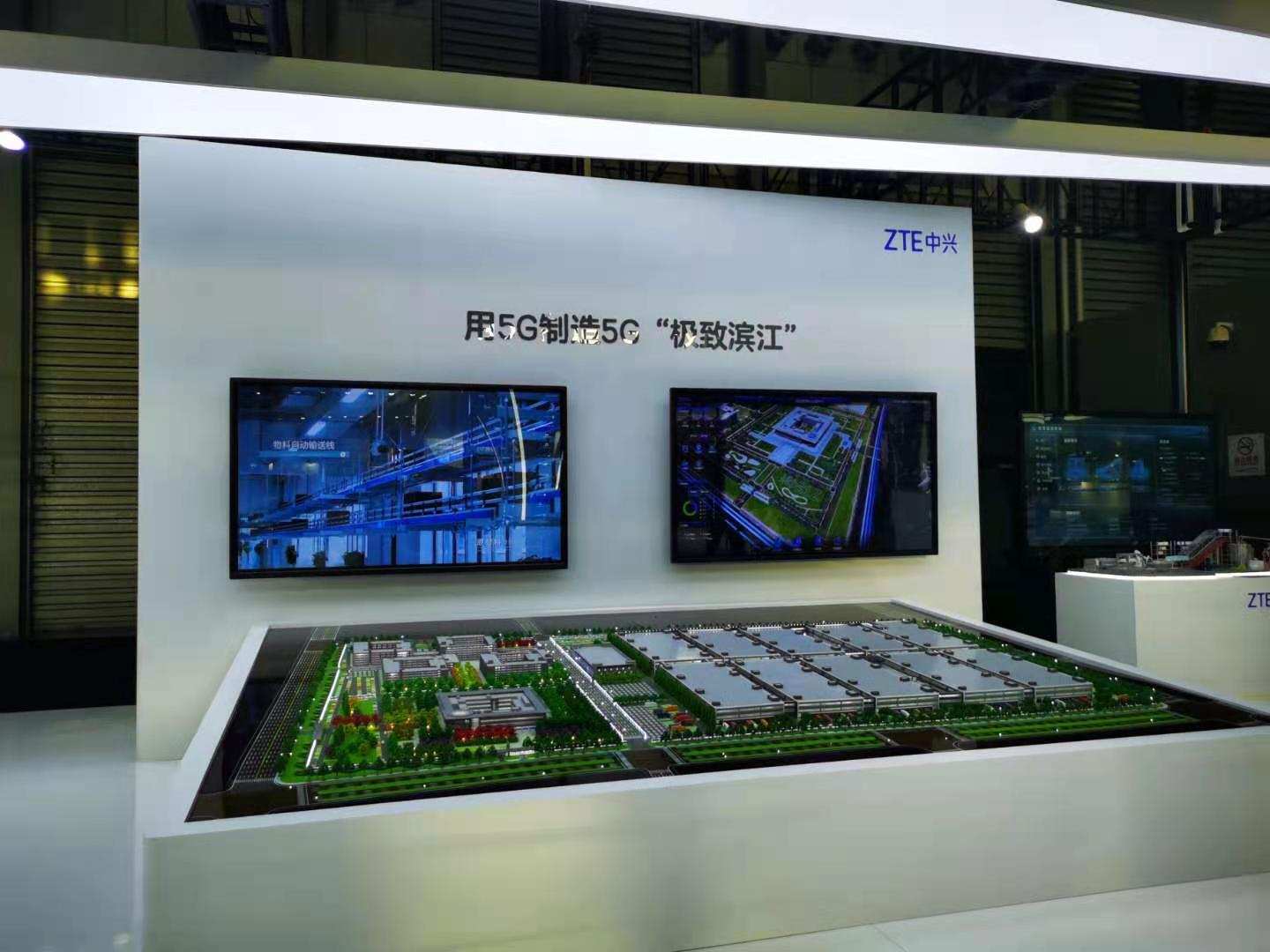 Photo by ZTE Binjiang Factory 36kr
This year's MWC exhibition has opened up a small exhibition area for exhibitors related to the 5G news ecology. The reserved booth is not large, but the forum of 5G news is full during the exhibition, which is enough to show that the public's attention to this new thing is not low.
5G news is currently one of the focuses of ZTE's toC business development. According to an instructor, the interface and operation of 5G messages are similar to WeChat official accounts. The advantages are nativeness and account authentication is more secure. According to him, 5G messages are essentially an upgrade and transformation of SMS, compared to traditional SMS. / MMS, 5G messages can be C-end users can actively initiate more interactions.
5G news is currently mainly launched for government and financial customers, but industry standards and operating specifications have not yet been launched, and the use of C-end users has not yet spread, and the overall penetration rate is still very low.
Some exhibitors expressed their concerns about the development of 5G messaging to 36Kr: WeChat's functions are already very rich, and user education has already been completed, but the SMS portal has gradually been weakened into a notification-type information channel. Whether 5G news can take a share of the WeChat ecosystem in the future also depends on the future billing model and whether the usage method can be recognized by users.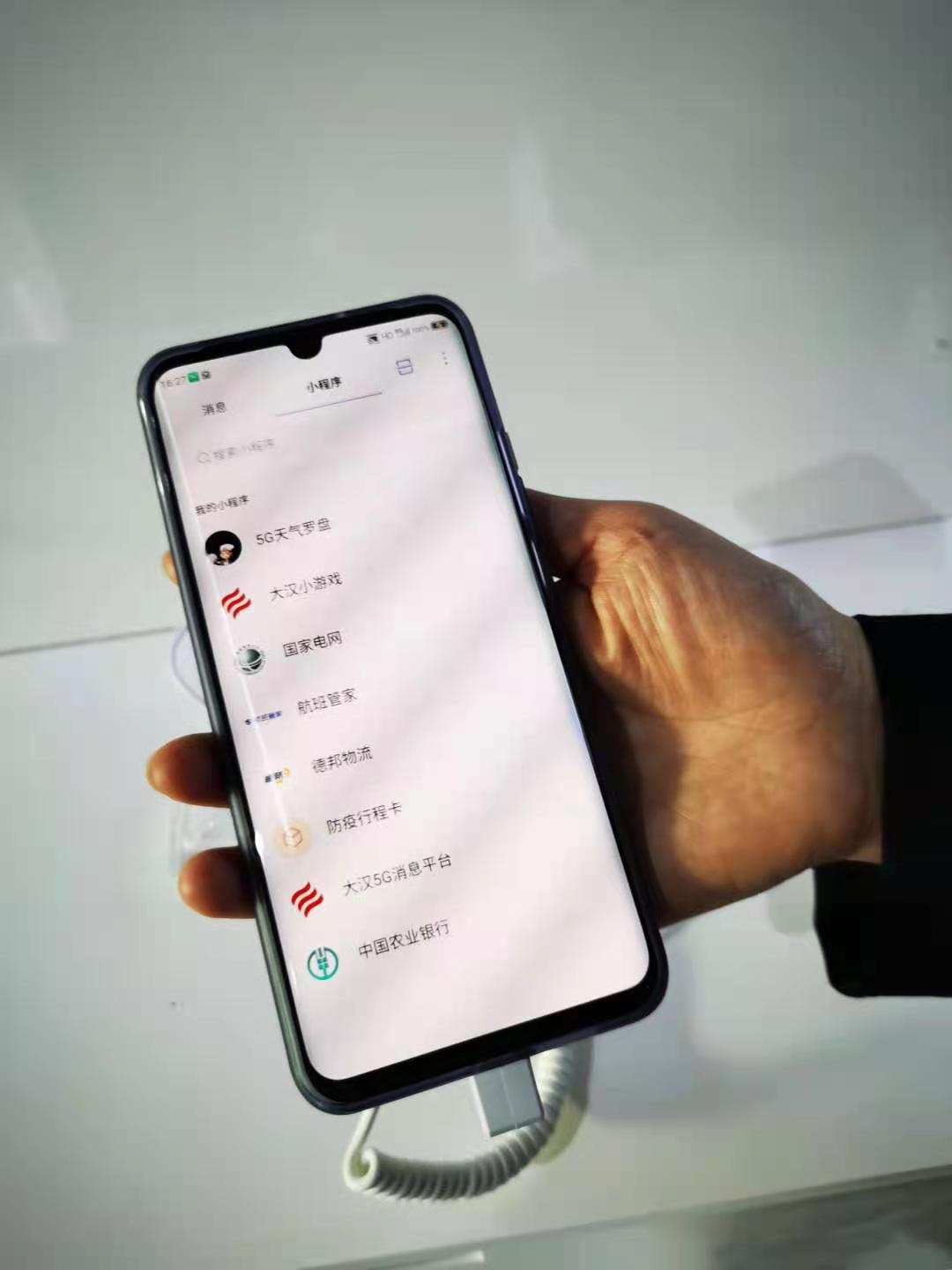 ZTE mobile phone 5G messaging interface 36kr photo
XR is also another highlight of this year's MWC exhibition related to 5G landing. This time, more than ten manufacturers exhibited XR-related products, but mainly hardware (Nreal, OPPO, INMO, MAD Gaze), and XR-related applications are not many except for Huawei Hetu-5G The landing on the C-side is hardware first, and with a certain amount of support, it can further spur more developers to participate in software research and development.
In addition to the mining industry, smart factories, 5G news, and XR highlighted on the MWC this time, 5G has been introduced in scenes such as the Internet of Vehicles, medical care, education, and program broadcasting.
The three characteristics of 5G have spawned applications in different industries. The first wave of applications derived from the characteristics of large bandwidth are games, videos, and VR/AR. The characteristics of low latency have given birth to the start of industrial and Internet of Vehicle scenarios, and the characteristics of wide connectivity will further drive the industrial Internet to take off.
At present, it seems that 5G applications on the B side seem to be blooming, but the scenes are relatively scattered. In the industrial scenario, 5G is the fastest to land, but some exhibitors admit that the business model has not been fully polished. In the industry's generally optimistic car networking scenarios, 5G's deployment is more of a demonstration project, which is far from large-scale applications. It's still far. In addition, compared to toB, the application of 5G on the C side is much monotonous.
Yang Tao, vice president of Huawei's China Carrier Business Department, mentioned in an interview earlier that the development of 5G on toB needs to rely on industry standards, the maturity of the industry chain, and laws and regulations. The development on toC requires polishing of business and network. Experience, pricing and terminals.
From 5G deployment to the initial landing of 5G, the contrast is that 5G mobile phone terminals have exceeded 100 million units, occupying half of the domestic mobile phones, but the actual bandwidth utilization rate of 5G networks is not high. In order to promote the use of 5G networks, operators are keen to seek landing opportunities for various ToB terminals. The actual landing of 5G has a lively B-side and a deserted C-side.
"Many companies are actually studying how to implement 5G, but everyone believes that 80% of applications will fall in the vertical field, especially toB and toG," said an exhibitor.
However, consumer-oriented business is still the main market segment that drives the development of 5G. Sun Gang, Qualcomm's vice president of product marketing, predicted at a forum that the future of 5G will be the coexistence of toB and toC.
5G is only a basic network condition, and the specific implementation needs to include cloud computing, AI, image recognition and other functions. Yang Yuanqing, Chairman and CEO of Lenovo Group, stated in a speech at MWC that 5G is a leading technology for the intelligent transformation of the industry, and it is promoting the formation of the new technology architecture "end-edge-cloud-network-" required for the intelligent transformation of the industry. wisdom".
After two years of commercial use, 5G is still waiting for the emergence of killer applications. In any case, all the practice before this will not be wasted.
.