Bandwidth Limit Reached for this Site error usually appears in Hotspot Shield when users use up the limited amount of bandwidth for one use, but fixing Bandwidth Limit Reached for this Site error is also quite simple and not too difficult right away. even for first-time Hotspot Shield users.
Related posts
Advantages and disadvantages when using Hotspot Shield on a computer
Turn off VPN on Hotspot Shield, private virtual network when entering Facebook is blocked by Hotspot Shield
Hotspot Shield 3.31 launched to help surf the Web blocked safely
Install Hotspot Shield to access blocked websites
Review Hotspot Shield 2020, access to Facebook blocked faster
Hotspot Shield is one of the five most effective blocked Facebook access software, replacing Ultrasurf today, which also allows access to other blocked websites. The main function of Hotspot Shield is to create a virtual private network that allows users to bypass firewalls and access blocked websites.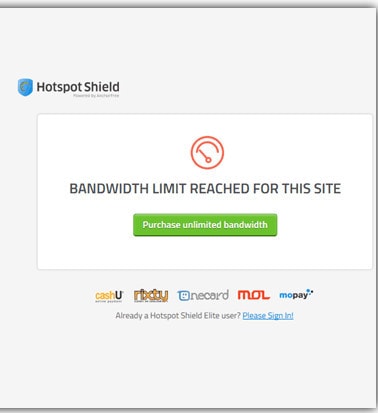 Common error images Bandwidth Limit Reached for this Site on Hotspot Shield
Hotspot Shield comes in two versions, free and paid. The free version has the downside of a bandwidth limit of 750 MB for a day of 24 hour use. Therefore, users often encounter errors such as Bandwidth Limit Reached for this Site when accessing the website. Of course, with this error, users can not access Facebook blocked by Hotspot Shield. The main reason is that you have run out of bandwidth available.
How to access unlimited on Hotspot Shield
Unlimited access to Chrome and Firefox browsers
Unlimited access to Chrome and Firefox browsers is quite simple. Just add the Adblock Plus extension to raise your browser's bandwidth limit. The reason is that the advertising on the browser often consumes a lot of the actual bandwidth that the browser uses.
Unlimited access to Internet Explorer / Microsoft Edge browser
Since Internet Explorer does not have ad-blocking software such as Chrome or Firefox, in order to increase the bandwidth limit for Hotspot Shield, you need to follow the instructions below.
Step 1: Open Internet Explorer >Tools >Internet Options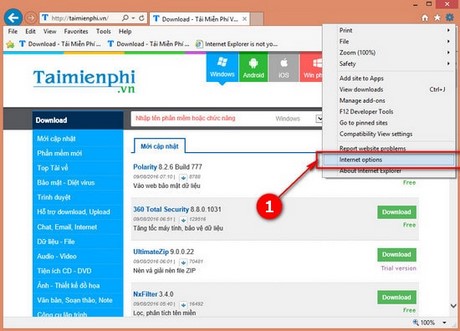 Step 2: Click the tab Security > select Restricted sites and then press the button Sites .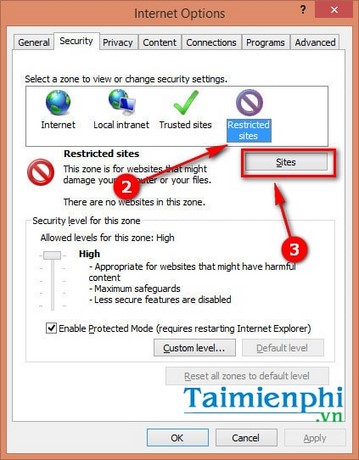 Step 3: In the command box Add this website to the zoneYou enter: anchorfree.net in the box and press Add and the URL will appear in the Websites box. Then press Add and Close.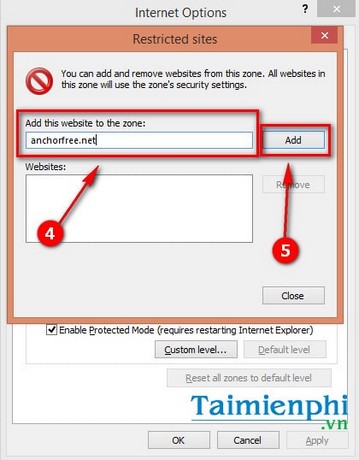 Step 4: Press Apply >OK to save your settings and restart Internet Explorer to see the results.
Not only works on PC, Hotspot Shield is also a software that can run on phones, especially Hotspot Shield version for iPhone or Android can help users easily access Facebook blocked on iPhone, Samsung Galaxy, …
https://thuthuat.taimienphi.vn/sua-loi-bandwidth-limit-reached-for-this-site-trong-hotspot-shield-7706n.aspx
Currently, there are two software that are considered to be the pinnacle of the ability to create a virtual private network to access Facebook or blocked websites, namely Hotspot Shield and Ultrasurf. So between Hotspot Shield and Ultrasurf, which software should we use? That is the question of many readers, Hotspor Shield is a paid software, but with the trial you have enough to meet the basic needs, and Ultrasurf is free software, but it offers full of features of other paid software.
.