When you try to install updates via the Windows Update channel, error 0x80070BC2 may occur, and persistent updates fail to install. The Windows Update page may display "Awaiting restart". And after restarting, the Windows Update installation history page shows the following error in that particular update (s):
Last failed install attempt on [date] – 0x80070BC2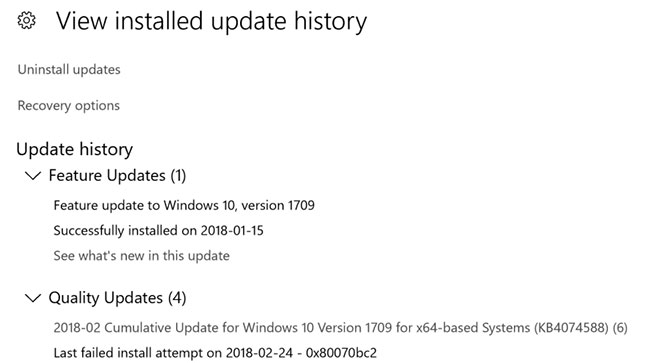 And the Windows Event log (Windows Event) records this error, referring to the KB number:
Installation Failure: Windows failed to install the following update with error 0x80070BC2
For example:
0x80070BC2: 2018-01 Cumulative Update for Windows 10 Version 1709 for x64-based Systems (KB4056892)
What does error 0x80070BC2 mean?
Error code "0x80070BC2" indicates that an error occurred while installing new cumulative updates in Windows 10. This may be related to the following updates:
KB4056892
KB4074588
KB4088776
KB4093112
The cause of the problem cannot usually be resolved by clicking the button "Repeat" are displayed by Windows, and they can happen for a variety of reasons.
For example, error 0x80070bc2 could be caused by Update Service or Windows in general is not working properly. Additionally, the error may have occurred because a corresponding update has been installed. In some cases, third-party vendor security software may result in an unsuccessful update process.
How to fix Windows Update error 0x80070BC2?
1. First of all, launch Command Prompt (Admin).
2. Then just enter the following commands, press Enter after each command:
SC config wuauserv start= auto
SC config bits start= auto
SC config cryptsvc start= auto
SC config trustedinstaller start= auto
By far, one of the most common errors affecting Windows 10 updates is error 0x80070BC2. Apply the steps above, and then restart your PC before reinstalling the latest updates.
This time, the entire process should work without any issues. Error 0x80070bc2 will no longer occur.
Of course, if you still can't enjoy the latest cumulative updates, you can always download the standalone update package from Microsoft's Update Catalog website.
Often times, the update error is related to a corrupt user profile, so you should also try creating a new admin account.
Once you've logged into your new profile, perform a clean boot, then check for updates. Are things better now?
.