Many users complained about the condition that Microsoft Windows Defender always asked to scan on Windows 10 Anniversary and this error kept them bothered by Windows Defender notifications. This is an error due to Windows default settings but you can completely fix the Windows Defender error that always requires an easy scan.
Related posts
Fix Windows Defender disabled on Windows 10, 8.1, 8
How to disable Windows Defender on Windows 10
Windows Defender occupies CPU, how to handle it?
Use Windows Defender offline in Windows 10
How to disable Windows Defender on Windows 10
Windows Defender has a number of new improvements in the Windows 10 Anniversary Update. Notably, the offline scan feature just before the computer starts up. This feature is a little different from how to use Windows Defender offline in Windows 10 earlier.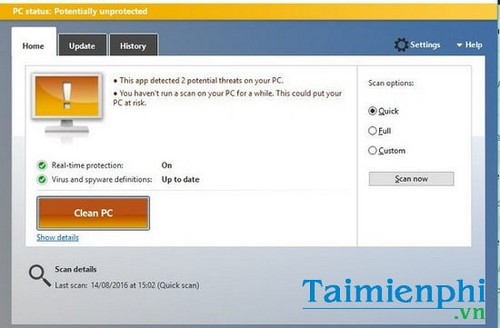 However, since Windows 10 version 1607, Windows Defender always requires scanning after Windows 10 Anniversary update. Actually this error is not serious but causes a lot of annoyance for the user. To solve this problem, user can use some customizations in settings.
Fix Windows Defender error that always requires scanning after updating Windows 10 Anniversary
Step 1: Open Control Panel > Security and Maintenance. Select settings Change Security & Maintenance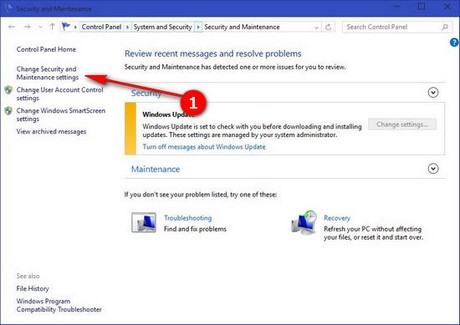 Step 2: Deselect the item Spyware and unwanted software protection, and Virus protection and press OK.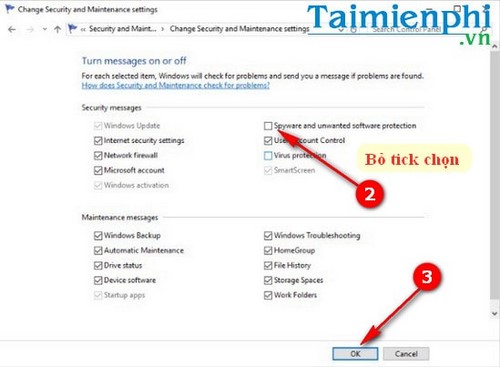 Step 3: Restart your computer for any changes to take effect.
After enabling the above feature, Windows Defender will not bother you anymore. However, ElectrodealPro strongly advise you before turning off Windows Defender notifications because this tool is very helpful in notifying users about serious vulnerabilities and protecting your computer.
As in an article shared by ElectrodealPro, readers can also disable and disable Windows Defender notifications on Windows 10 easily. After disabling Windows Defender notifications, apps will not be able to send app scan or update requests to avoid annoying users.
However, if users want to use the Windows Defender tool more convenient and less annoying, adding Windows Defender to the right-click menu is a very useful workaround if you want to scan applications and software quickly.
Windows Defender is a free anti-virus software from Windows. However, if you do not want to use this tool, you can completely refer to other famous anti-virus software such as Kaspersky Antivirus, Avira Free Antivirus, BitDefender Antivirus or Avast to remove malicious code, viruses in your computer. calculate. In which, software like Kaspersky Antivirus or BitDefender Antivirus are available paid versions with many new features for users to choose from.
https://thuthuat.taimienphi.vn/sua-loi-windows-defender-luon-yeu-cau-quet-tren-windows-10-anncake-7899n.aspx
Good luck!
.