What's looking like an extremely busy spring season really kicks into high gear this weekend, and today sees a couple of pretty big premieres for me.  The first, SSSS.Dynazenon, definitely held serve.  Mashiro no Oto was on roughly the same expectations plane, but much more of an unknown quantity for me as I've never read the manga.   But when you're talking about a manga that's won or been nominated for as many awards as this one, about a subject such this, my attention is well and fully grabbed.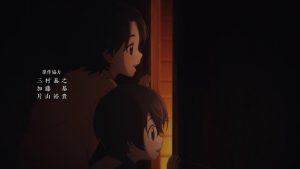 The backstory with Mashiro no Oto is an interesting one.  Ragawa Marimo is a big name in manga any way you slice it, with a portfolio evenly divided between shoujo and shounen (which this series is classed as), with a soupçon of BL for good measure.  She had one series get an anime (Aka-chan to Boku, way back in the 90's), and Mashiro has won or been nominated for nearly every major manga award.  The director is Akagi Hiroaki, who absolutely classed it with Tanaka-kun wa Itsumo Kedaruge (also for Shin-Ei).  In sum there's a lot to be excited about here, with some important caveats.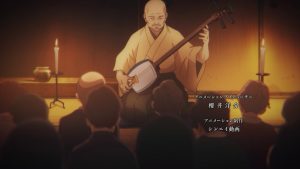 One of those cautionary notes is that the manga is still ongoing at 12 years and 27 volumes, and as far as we know this adaptation is going to be one cour (not officially, mind you).  I haven't read any of the manga but to my unblemished eye this premiere – while generally very good – felt like it was moving pretty quickly.  You always worry about the music in a series like this too, but that can be put to bed – the shamisen duo Yoshida Brothers (siblings from Noboribetsu, Hokkaido, well-known to any Golden Kamuy fan) absolutely kill it.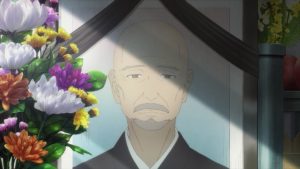 Mashiro no Oto is the story of Sawamura Setsu (Nobunaga Shimazaki in a very winning performance), a teenager from Tsugaru – the Aomori peninsula between Honshu and Hokkaido where both the instrument and style of music at the heart of this series take their name.  Setsu adores his grandfather Matsugorou (Asou Tomohisa), a legendary shamisen genius.  Before the old man passes he scolds the boy to stop playing until he finds his own sound and stops copying his own, and an empty and bereft Setsu leaves Tsugaru and his older brother Wakan (Hosoya Yoshimasa, trotting out a very different regional accent from his native Fukui) to search for himself in Tokyo.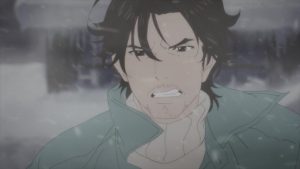 Once there, Setsu by chance runs across (falls on top of) a down on her luck aspiring idol and hostess named Tachiki Yuna (Aida Rikako).  These is one of those made-in-manga coinkeydinks and and the idea that a young woman would take this hapless 16 year-old rube into her apartment may stretch credulity a bit, but the notion is that Yuna is extremely kind-hearted (she is) and sees Setsu as someone as lost as she is.  Yuna's career is going badly – an offer to transition into porn is the straw that broke the camel's back – and her two-bit rocker boyfriend Taketo (Kakihara Tetsuya) is leeching off her financial generosity even as he sleeps around.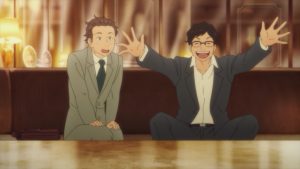 These intro scenes are all fine, but the episode really takes off the first time we (and Yuna) hear Setsu play the Tsugaru shamisen.  Even if he's dismissive of his own rusty performance it's riveting, and makes Yuna realize Setsu isn't really lost, he's just drifting until his destiny ensnares him.  She decides to bail after catching Taketo with one of his groupies, but Taketo responds by threatening to break Setsu's arm unless she comes back (with her wallet, presumably).  She settles affairs quickly enough, but despite the classic railway platform farewell I don't think things are over between Yuna and Setsu.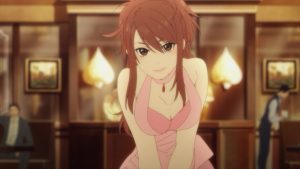 Setsu allowing Taketo to crash in his room doesn't especially sit well, nor does the arrival of Setsu's outrageous mother (Honda Takako), who saw a live stream of her son playing when Taketo refused to take the stage.  But the rest of the episode is good enough – and the shamisen scenes electrifying enough – for me to give Mashiro no Oto the chance to convince me I'm wrong.  My gut sense is that the bones of this series are strong enough to survive some awkward moments and perhaps rushed pacing, and the potential is there to deliver something pretty outstanding.  But I suspect we'll know a lot more after the first few minutes of the second episode.
ED: "Kono Yume ga Sameru Made" (Until I Wake From Dreaming) by The Yoshida Brothers




Guardian Enzo