As expected on February 24, Realme has officially launched the Realme Narzo 30 series in India, including 2 versions: Realme Narzo 30 Pro 5G and Realme Narzo 30a. In particular, Narzo 30A will have a much cheaper price. Let's take a look at the first impressions of Realme Narzo 30A in today's post.
See also: Revealing the performance score, configuration of Realme Narzo 30A on Geekbench: Using gaming chip, 4GB RAM and running Android 10
Enjoy movies all day with the 6,000 mAh battery on the Realme Narzo 30a
Our Narzo 30a will be equipped with a battery with a massive capacity of up to 6,000 mAh. With this battery is enough for us to comfortably use the machine with basic tasks such as surfing Facebook, watching movies, … all day without worrying about plugging in and charging.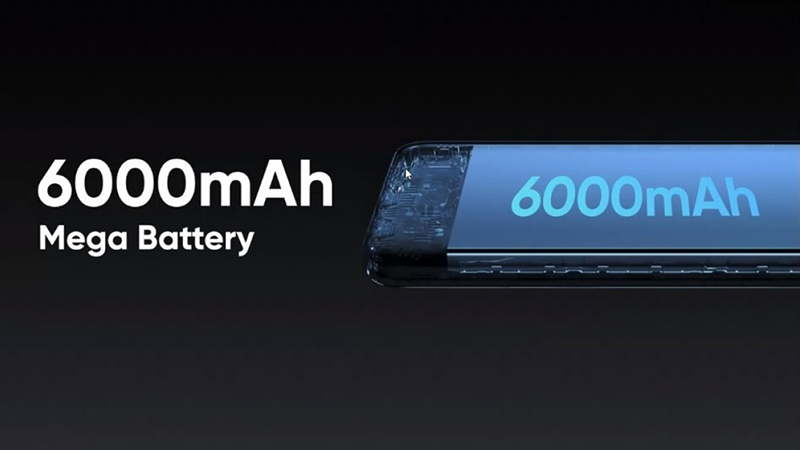 In addition, Narzo 30a is also favorably equipped with 18W fast charger, to shorten the charging time for a large 6,000 mAh battery. Thereby helping us quickly return to work, as well as return to the unfinished game.
It can be said that the configuration is not its strong point, the Narzo 30a is equipped with a Helio G85 chip from MediaTek. Comes with that, the machine will have two versions for you to choose from depending on your needs, including: 3 GB RAM + 32 GB internal memory and 4 GB RAM + 64 GB internal memory.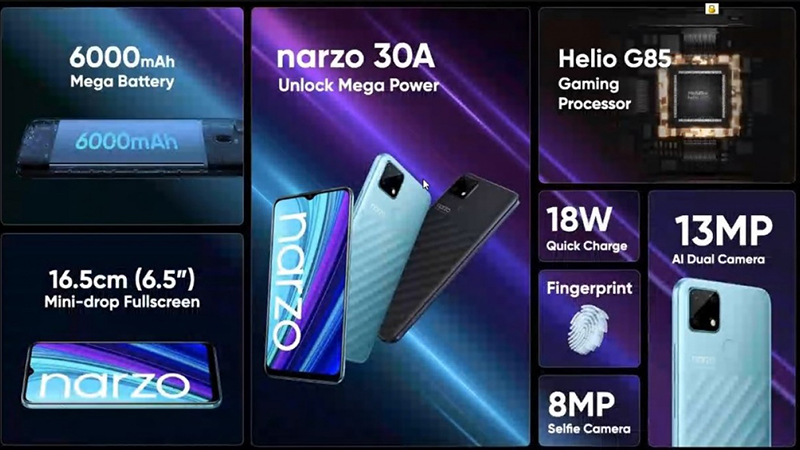 Although the chip equipped on the machine is not too powerful, but rest assured, the machine will still respond well to all your daily tasks smoothly. As for the ability to play the game, I think the device will still be able to fight well for the current titles, but with only average graphics settings.
Realme Narzo 30a owns a large 6.5 inch screen
Currently, when choosing a smartphone, the first thing that people always care about is the large screen to plow movies, play games, work, … Realme is also very psychological when equipping Narzo. 30a a large 6.5 inch screen size. This is a size just enough to hold comfortably, for spacious display, to view more content.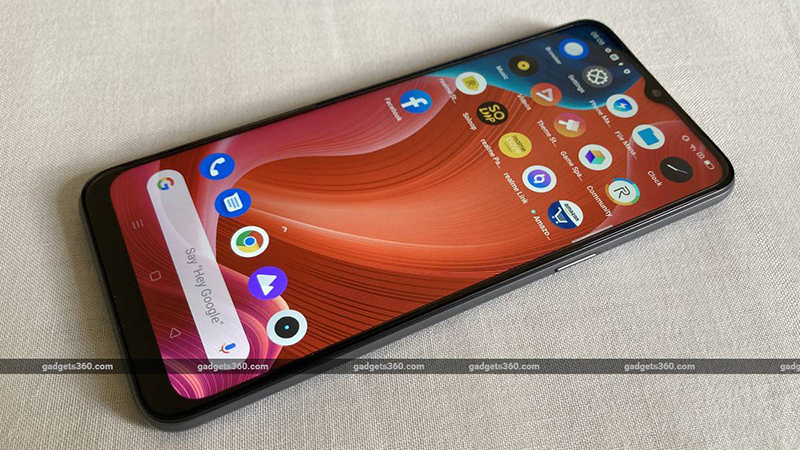 Comes with it is the machine with HD + resolution along with an IPS panel for display quality, although not too brilliant, the black is not too deep and too detailed, but still gives us true colors, wide viewing angles and High brightness is suitable for playing games, watching movies.
On the front, the Narzo 30a is equipped with a water drop screen to accommodate the 8 MP selfie camera, which gives the machine more display space and much more aesthetics. It can be said that this design is already hot, but with a cheap machine like the Narzo 30a, I think that's fine.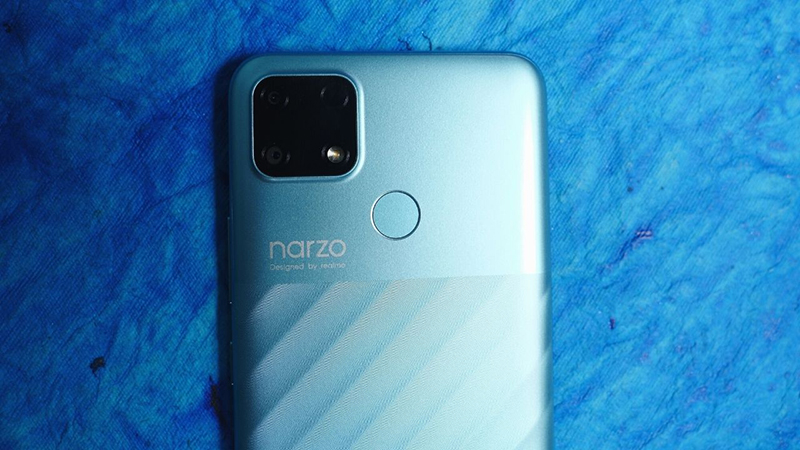 The back of the device will have a square camera cluster including a 13 MP main camera and a 2 MP depth camera. Below the camera cluster are respectively a fingerprint sensor and Narzo inscription. Regarding the quality of photography and video recording, we still have to wait for the camera to be brought back to Vietnam to experience. But as I think, with such parameters, we should not expect too much.
Realme Narzo 30a with extremely low price
As you all know, the machines from the Indian market will have a very cheap price and come with a stable performance. The Narzo 30a has been launched and will go on sale in India on March 5 with prices starting from Rs 8,999 (about 2.9 million) for 3 GB RAM + 32 GB internal storage.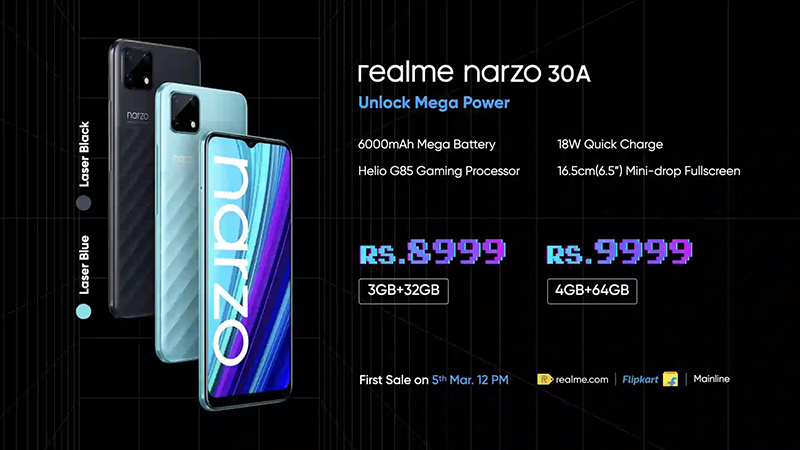 This is a very cheap price compared to what Realme equips the Narzo 30a. But usually, when such machines are returned or sold in the Vietnamese market, the price will fluctuate a bit. However, with the price difference not too much, the Narzo 30a is a suitable phone to buy for friends and the elderly.
summary
Personally, Realme is doing very well when launching a cheap version with this simple configuration. And believe that when experiencing the product, you feel satisfied when spending less than 3 million to bring 'her' home.
What do you think about the Realme Narzo 30a? Please leave your comments in the comments.
See also: Realme Narzo Pro 5G, Narzo 30A and Buds Air 2 headphones debut: Marking Realme's cheapest 5G phone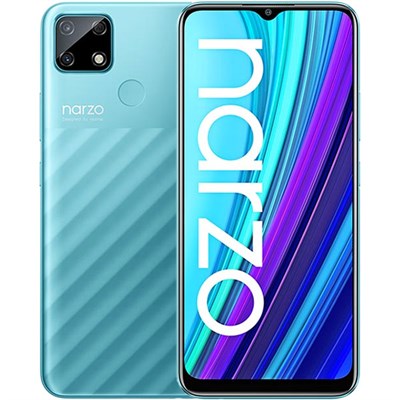 Realme Narzo 30a
Newly launched
See details
Edited by Vu Truong An
Not satisfied with the article
383 views
Related posts
Realme 8 is set release date: Equipped with a versatile camera system with 108MP main sensor, the price is expected to be attractive.


2 days before

The upcoming Realme 8 series will be equipped with a 108MP camera, anyone who loves mobile photography will love it


3 days ago

Realme Narzo 30 Pro 5G First Impressions: With over 5 million * already has 120Hz screen and powerful 800U Dimensity chip


6




4 days ago

Realme Narzo Pro 5G, Narzo 30A and Buds Air 2 headphones launch: Mark Realme's cheapest 5G phone model


4 days ago

Realme announces 'Dual-Platform Dual-Flagship' strategy: Will use both Snapdragon 8xx and MediaTek 5G chips for flagships


5 days ago

The appearance of the Realme GT 5G is revealed in the official poster, confirming there are 3 rear cameras and 3.5 mm audio port


1 week ago
.