First things first, these two initial episodes of Vivy -Fluorite Eye's Song- were pretty good.  Some parts better than that, some worse, but on the whole – pretty good.  But boy, was I getting a Guilty Crown vibe at times.  A flashy sci-fi series with a musical subtext from Production I.G. (technically Wit here) from a trendy writer?  Check.  Guilty Crown started off pretty well too, but it ended being tarted up and soulless – but if "soulless" were the worst thing you could say about it, it still would have ended up being pretty good.  It was also irredeemably stupid, and that's too big a hurdle for any series to overcome.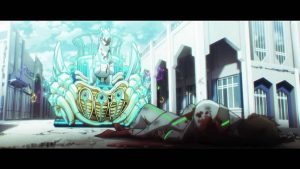 That was then, this is now.  And Yoshino Hiroyuki is a writer prone to the irredeemably stupid to be sure.  I don't think that's necessarily true of Nagatsuki Tappei (Umehara Eiji is also involved here but clearly Nagatsuki is the main writer), though soulless I could definitely see.  I'm not a fan of Re:ZERO by any means but I don't dislike it.  I just found it to be all frosting and no cake, a semi-decent concept stretched out long past the writing's ability to keep it interesting.  And that's definitely one course I could see Vivy following, though we can certainly hope for better.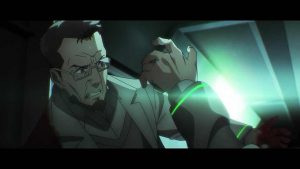 Let's dispense with the fact that the core premise here is basically lifted from the "Terminator" series, and just call it a homage.  I can live with that if the execution is good enough, and that's one of the most ripped-off sci-fi plotlines of recent decades anyway.  Imagine Arnold as a stereotypical anime android bishoujo and you have Diva, a largely unsuccessful singer at the "Nialand" amusement park.  She's also the first "autonomous human" AI – important because it lands her in a museum, making her the only AI whose body is still around in a century for the scientist Matsumoto to use in his time travel scheme to save the human race from revolting AIs.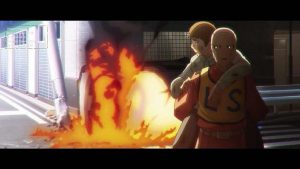 Most of the plotting here is pretty standard robot/time travel tropes, but it's executed with a calm competence and not surprisingly given the studio, the series looks quite lovely.  There are certain core conceits in the story – one of them being that AI are confined to one "mission" so as to allow them to function without going on tilt.  Also, they're not to have names – and the passing of an AI naming law is one of the things Matsumoto's AI messenger from the future is trying to prevent, as it leads directly to the catastrophe he's trying to prevent.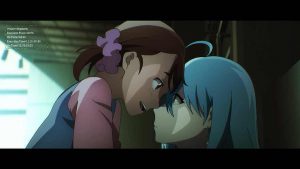 Sticking the AI inside a teddy bear (which is what Kubrick and Spielberg did in, you know, A.I.) and turning Fukuyama Jun loose in a room full of mics and black coffee is part of the overall "trying too hard" feeling that pervades this premiere(s).  It's all a little more than it needs to be, which for me is consistent both with GC and Re:Zero.  But it's entertaining enough, and the effort to save the assemblyman whose death winds up getting the naming law (which he was championing strictly out of ambition) passed is a fun diversion.  There are a lot of shows already this season that have shown considerable shading in their writing, so one which can only trade in primary colors stands out rather starkly.  But for what it is, the writing works – it gets you to Point B in pleasing-enough fashion.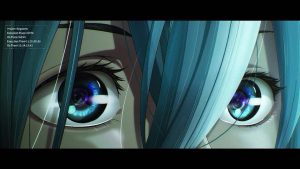 The irony here, of course, is that it's an AI whose mission it is to prevent AI rights and keep them down so they won't evolve into sentient creatures and wipe out their creators.  Do the ends justify the means?  I would hope that becomes a focus of the series rather than it simply being a matter of Vivy executing Matsumoto's plan and saving the human race – effectively, what he's telling her to do is keep AIs in slave status.  Whether the series has that much ambition isn't something I feel confident in guessing at, but one can always hope.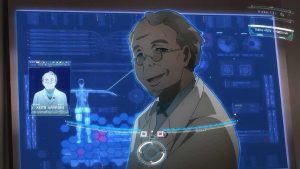 One quibble I do have with the execution is the transition to the final scene, where Matsumoto prevents Diva from stopping the plane crash which killed her moeblob fan.  That situation actually has a fair amount of innate dramatic heft to it, but it just sort of happens – it's almost as a bunch of scenes were edited out or something.  Apart from that things are fine in terms of narrative flow, but I don't think this is the sort of series that can afford too many bobbles like that.  Generally speaking, I suspect Vivy -Fluorite Eye's Song- will go exactly as far as the scripts are capable of carrying it.




Guardian Enzo