Recently, BKAV has released the update BOS 8.8 for Bphone B86. Although not mentioned directly, however, this update gave Bphone the Google Play Protect (GPP) certification.
The story of GPP and BKAV started in May last year, not long after Bphone B86 was launched. Some users expressed concern that the Bphone B86 did not achieve GPP certification, making it impossible to install some applications such as Netflix. Also, according to Google documentation, a device does not achieve GPP certification "maybe not safe" and "Google apps may not be licensed and may not be real Google apps".
Bphone B86 did not achieve Google Play Protect certificate at the time of launch
After that, BKAV announced that Google requires manufacturers to reach 1 million units / year for GPP certification, and BKAV has not reached this number, so it has not been issued by Google. a lot of skepticism from the user; Because in the list of Google partners, there are many small-scale manufacturers but still achieve Play Protect certification, including some manufacturers from Vietnam such as Mobiistar, Masstel, Vsmart.
However, at the end of July, two months after making the above statement, BKAV suddenly said that it was in the process of working with partners to issue GPP certificates for Bphone. And now, after nearly 6 months of waiting, Bphone finally got this certificate after the update BOS 8.8.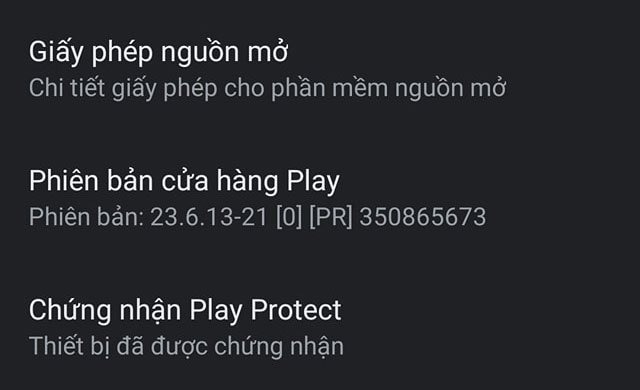 Bphone B86 got Google Play Protect certificate after updating to BOS 8.8 (Photo: Thach Sanh / Bphone Fans – Vietnam)
Having GPP enables Bphone to install some applications such as Netflix directly on the Play Store, no longer have to install manually through the APK file as before. In addition, before the news that Google may block some apps such as Google Messages or Google Duo from working on unapproved Android devices in the near future, Bphone B86 users will no longer have to worry. .
However, this is just the first step for BKAV, when some previous product lines such as Bphone 3 or Bphone 3 Pro have not got GPP. Hopefully, BKAV will be able to continue updating the above product lines, as well as ensure that future product lines (such as Bphone B40, Bphone B60) will get this certificate.