A series of "Highlighted Product Pickups Released This Week," which introduces products that are attracting much attention from new products released this week across various categories. This week, we will introduce Square Enix's "Final Fantasy XV", Sony's top-of-the-line APS-C mirrorless camera model "α6500", and SoftBank's Star Wars mobile phone "STAR WARS mobile".
Square Enix "Final Fantasy XV"
Released on Tuesday, November 29, 2016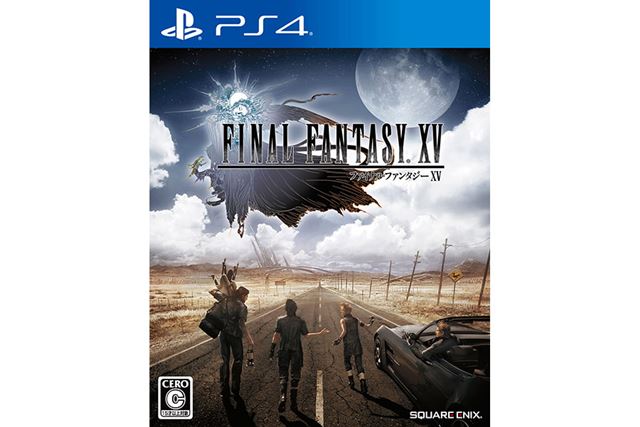 Square Enix will release "Final Fantasy XV" for PlayStation 4 and Xbox One in the latest "Final Fantasy" series.
Adopted an overwhelming world view and graphics created by the fusion of "real" and "fantasy", "Open World" which is the first challenge in the series. The introduction of an exhilarating battle with a high degree of action will give you the ultimate freedom and realism. It is also the first in the series to be available in 12 languages, and is expanding its sales area in Japan, North America and Europe, as well as in mainland China and Russia.
Three types of packages are available: regular version, DELUXE EDITION, and ULTIMATE COLLECTOR'S EDITION. DELUXE EDITION and ULTIMATE COLLECTOR'S EDITION come with the Blu-ray of the movie "KINGSGLAIVE FINAL FANTASY XV" released in July. In addition, ULTIMATE COLLECTOR'S EDITION includes luxurious benefits such as soundtracks, figures and art books.
Sony "α6500"
Released on Friday, December 2, 2016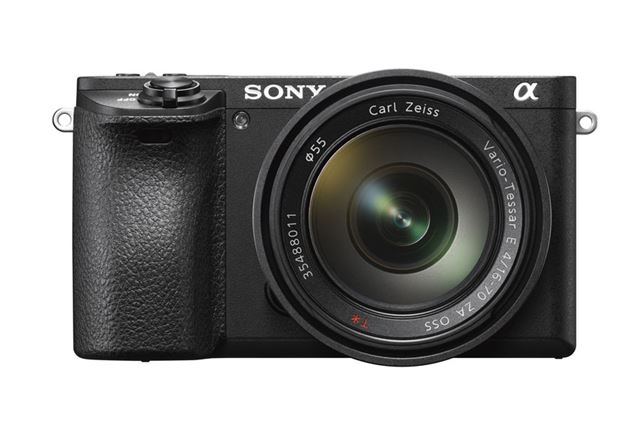 Sony has introduced the "α6500", the top model of a mirrorless single-lens camera with APS-C sensor.
High-end model of mirrorless interchangeable-lens camera "α6300". Equipped with an original AF system "4D focus", 425 points of image plane phase difference detection AF sensor and 169 points of contrast detection AF sensor, which are the world's largest (according to the company's research), are arranged in almost the entire area of ​​the screen, By locating the ranging points at high density, the subject can be captured with higher precision.
In addition, the fast hybrid AF system that uses phase difference detection AF and contrast detection AF together and the high-speed processing of the image processing engine "BIONZ X" optimized for the "α6500" realizes the world's fastest 0.05 second AF (according to the company). Realization. High-density AF tracking technology unique to the image plane phase difference detection AF system is also adopted.
Furthermore, in addition to high-speed continuous shooting using the after-view method of up to 11 frames / second, live view display with reduced display lag is achieved up to approximately 8 frames / second in the continuous shooting mode "Hi". The continuous shooting speed in the live view mode can be selected from three levels of about 8 frames, about 6 frames, and about 3 frames / second according to the shooting scene. In addition, the large-capacity buffer memory of the front-end LSI enables continuous shooting of up to 307 shots (approximately 36 seconds), making it possible to capture an instant more reliably.
It also features a built-in optical 5-axis image stabilization function that corrects camera shake. This is the first Sony APS-C image sensor camera equipped with the optical 5-axis image stabilization mechanism used in the "α7 II", "α7R II" and "α7S II" compatible with 35mm full size. The camera stabilization unit is built into the camera body, while maintaining the same size as the "α6300" by developing a new mechanism including a shutter unit.
The rear monitor is equipped with a 3-inch wide LCD (approximately 920,000 dots) that is tilt-type and can be moved about 90 degrees above and below about 45 degrees. In addition to being equipped with a touch focus that focuses intuitively by simply touching the subject on the screen screen, it also has a touch pad function that traces the screen with a finger like a touch pad while looking through the viewfinder.
With the movie function, high-resolution 4K movie in super 35mm format can be recorded in the main unit. By reading all pixels without pixel addition using the APS-C sensor, a rich amount of information, approximately 2.4 times the number of pixels required for 4K (3840 x 2160) images (equivalent to 6K), is condensed and 4K images are output. The oversampling effect achieves 4K video quality with overwhelming resolution.
It also supports the XAVC S format, which is an extension of XAVC used for professional video production for consumer use. 4K 30p / 24p recording and full HD 120p recording can record high-quality images at a high bit rate of 100Mbps, and full HD 60p / 30p / 24p recording at a high bit rate of 50Mbps, realizing beautiful images with high definition and little compression noise. In addition, the video function is equipped with up to 5 times slow motion and up to 60 times quick motion shooting functions.
The body uses a lightweight and highly rigid magnesium alloy to achieve both high robustness and light weight. In addition to a design that takes into account dust and drip proofing, a high-rigidity mounting structure was adopted for use with a variety of lenses. In addition, a new low-vibration, high-durability shutter that has achieved release durability of approximately 200,000 times (when testing the electronic first curtain shutter under Sony internal test conditions) has been newly added. By adding a brake mechanism before the travel of the rear curtain of the shutter is completed, the occurrence of blur due to the travel of the shutter is reduced, and the shutter sound is reduced.
Other recording media include SD / SDHC / SDXC memory cards (UHS-I compatible) and Memory Stick PRO Duo / PRO-HG Duo. The battery uses a rechargeable battery pack "NP-FW50". The number of still images that can be shot is about 310 when using the viewfinder and about 350 when using the LCD monitor. It also supports Wi-Fi and NFC.
The body size is 120 (width) x 66.9 (height) x 53.3 (depth) mm and weighs about 453 g (including battery and Memory Stick PRO Duo).
Sharp "STAR WARS mobile SoftBank"
Released on Friday, December 2, 2016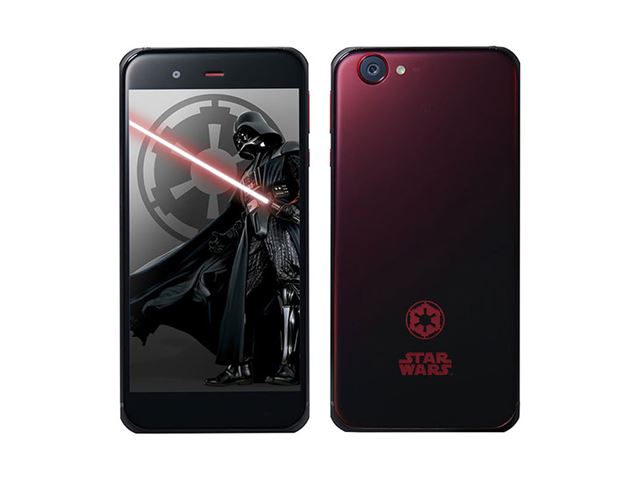 SOFTBANK will release the smartphone "STAR WARS mobile" (made by Sharp) that expresses the world view of the movie "Star Wars" series.
A smartphone that expresses the world view of the movie "Star Wars" in addition to its contents such as wallpapers and applications, as well as its appearance. The live wallpaper on the home screen allows you to experience the iconic scenes of the Star Wars series from the perspective of sitting in the cockpit of the X Wing and Thai Advanced x1 vehicles that appear in the play. It can be done.
Home apps such as "Clock", "Weather" and "Calendar" can be used from the perspective of the cockpit. The "Star Wars" design is applied to icons and home buttons of basic applications such as e-mail and telephone, and music and sound effects such as "Emperor's March (Darth Vader's Theme)" are operated during operation. It is supposed to ring.
On the design side, two color variations are available: the Dark Side Edition and the Light Side Edition, which express the Dark Side and Light Side, symbolically depicted in the Star Wars series. The back features a polarizing panel that changes color depending on the viewing angle, and prints the "Star Wars" logo and the symbols of the Imperial Army and the Rebels that appear in the movie. The package also uses a design that expresses the worldview.
In addition, characters and vehicles appearing in the latest movie "Rogue One / Star Wars Story" scheduled to be released on December 16, including the limited figure "Darth Vader (Rogue One) Gunmetal ver." Includes 5 types.
In terms of performance, it is equipped with a 5.3-inch full HD (1080 × 1920 dots) IGZO liquid crystal. The maximum communication speed is 262.5Mbps for reception and 37.5Mbps for transmission. OS is "Android 6.0 Marshmallow" pre-installed. The number of camera pixels is about 22.6 million for the main and about 5 million for the sub.
The main specifications are "MSM8996" processor (quad core, 2.2GHz × 2 + 1.6GHz × 2), 3GB memory (RAM) and 32GB storage (ROM). External memory supports microSDXC card (up to 256GB). The wireless communication is equipped with IEEE802.11a / b / g / n / ac compliant wireless LAN and Bluetooth 4.2.
In addition, the battery capacity is 3000mAh, continuous standby time is 620 hours (W-CDMA) / 585 hours (GSM) / 545 hours (FDD-LTE) / 540 hours (AXGP), and continuous talk time is 1790 minutes (W -CDMA) / 800 minutes (GSM) / 1690 minutes (FDD-LTE).
.