Microsoft Windows Defender is a very effective anti-virus software for computers because they are protected in real time. The following article ElectrodealPro will guide you how to use this anti-virus program of Microsoft on Win 8 and Windows 10, you need to refer to use them well.
Related posts
How to disable Windows Defender on Windows 10
Microsoft Windows Defender ATP adds the new Tamper Protection feature
Windows Defender was able to detect accessibility tools backdoors
Windows Defender will soon eliminate scareware applications
Windows Defender occupies CPU, how to handle it?
With Microsoft Windows Defender integrated on Windows 8 and Windows 10, you need to boot them up to protect the system if you have not installed any anti-virus software on your computer. Please refer to the use of this software through our following articles. In addition, you can download anti-virus software rated highly for computers such as Kaspersky Antivirus, Avast, Avira Antivirus. However, if your computer has a strong configuration, you should download Kaspersky AntiVirus. For a computer with a "weaker" configuration, you should download Avast.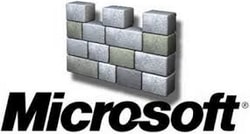 How to set up Windows Defender to help increase the protection for your computer is also very important, refer to the article: Windows Defender settings here
https://thuthuat.taimienphi.vn/microsoft-windows-defender-trong-win-8-va-win-10-3647n.aspx
Features of Microsoft Windows Defender in Windows 8 and Windows 10
You can download Microsoft Windows Defender for your computer right here if your computer does not have: Download Windows Defender
Step 1: Access the Control Panel, you will see the Windows Defender icon. Double click on them to launch.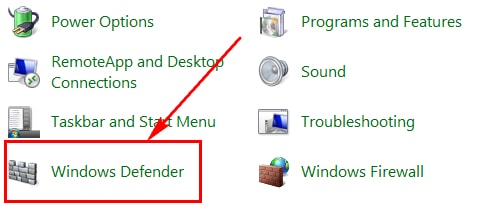 Step 2: You need to turn on Windows Defender protection by clicking Turn on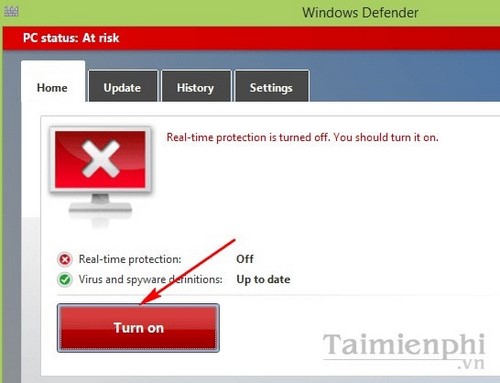 Step 3: Then your computer is protected by Windows Defender, with the main interface including:
Home: Here you can make realistic image options to scan your computer for viruses such as functions
Quick: Perform quick scan of system files
Full: Performing a full scan, takes quite a while.
Custom: Selective scan.
After making your selection, click Scan now to perform.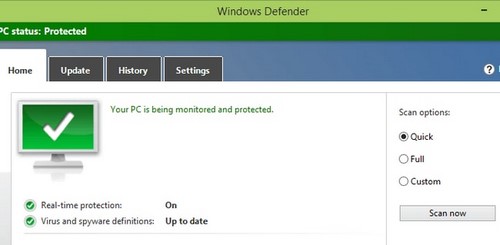 Update: Used to check for virus and malware updates. Click Update to update, and the virus update will be automatic every time a new version becomes available.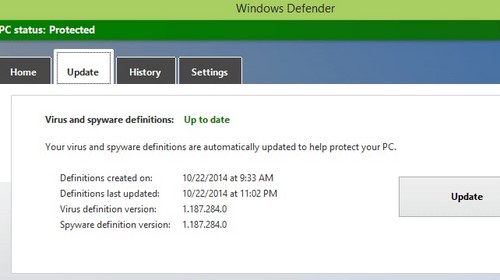 History: Storing history of progress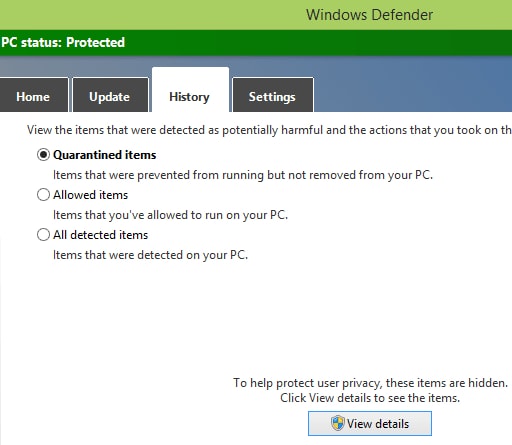 Settings: With functions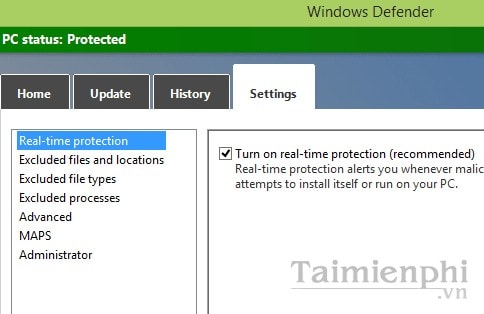 – Real-time protection: Real-time protection, you should use this function by ticking Turn on real-time protection
– Excluded files and locations: You can select files and folders to exclude during scanning. But make sure that the excluded items are not carriers of the virus
– Excluded file types to exclude file types while scanning. For example, you can type ".txt; .pdf" into the box shown below and choose add, which causes files with the above extension to be excluded during scanning. You can also remove exclude these file types.
– Excluded processes you can exclude separate processes while scanning, similar to Excluded file types you can also exclude processes as shown below.
Advanced: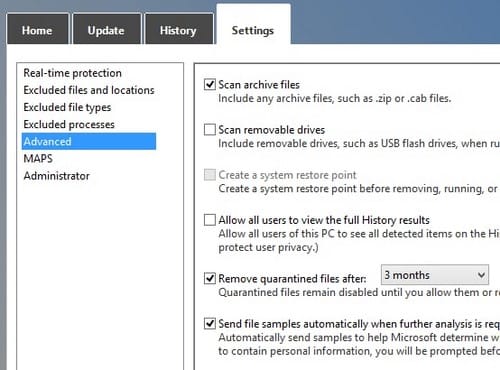 – Scan archive files: to scan compressed files such as zip, raz.
– Scan removable drives: to scan for removable drives plugged into the computer.
– System Protection: creates a copy of the system in best condition to reset if a system goes down. Enter the menu Start -> System —> System Protection —> Configure —> Turn on system protection.
– Allow all users to view the full History results: Allows accounts used on the machine to view scanned results together
Choose to automatically delete the files created during quarantine after 3 months if you want
Send file samples automatically when further analysis is required: to send files you suspect are viruses or malware to a Microsoft expert
MAPS (Microsoft Active Protection Service): To share information about viruses and malware with Microsoft.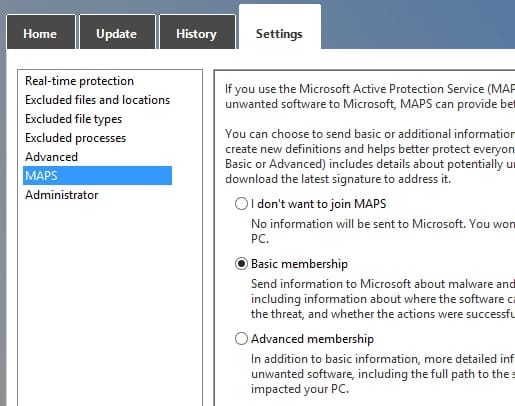 Administrator
click Turn on this app to receive warnings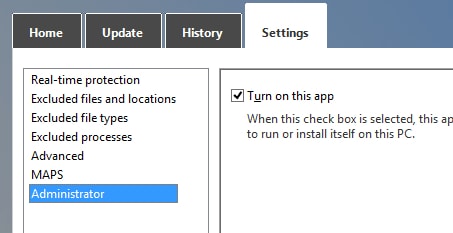 So with the above article we have detailed instructions for you the functions as well as how to use anti-virus software Microsoft Windows Defender on Windows 8.1 and Windows 10. If users are using Windows 7, you should update Or download Windows 8.1 to update this feature or download Windows 10 trial version to experience the useful new features from this operating system.
.