Android 10 is running on many smartphones. But as always, news and speculation about the next major Android version (Android R or Android 11) have begun to appear.
The Android 2020 update is scheduled to be Android 11. The name is not speculative, but has been confirmed by Google. The reason is that Google promises to pursue a digital operating system management framework similar to Android 10.
If everything goes according to the usual schedule, sometimes around March, users can expect the first Android R beta. For now, all we know is some features of Android R that in the second half of 2020 may or may not be included in the final version.
Note: This list of Android 11 features will continue to be expanded in the coming months.
The phone stores the driver's license
Google and Qualcomm are working together on a feature that allows users to store a driver's license or any other digital ID on a smartphone. Using the Android identity authentication API, data will be kept confidential.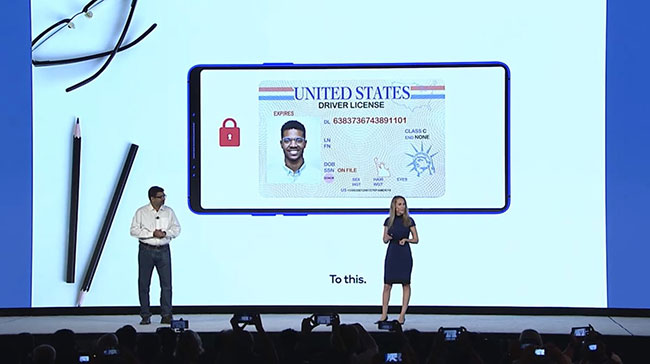 However, only the recently announced Snapdragon 865 SoC supports this Android R feature. Ideally (and of course) when it becomes a reality, users will be able to see this feature on more chips.
Bluetooth is still on in airplane mode
One improvement Google could bring is that if airplane mode is enabled, Android R will still not turn off Bluetooth. This can be of great help to users with hearing aids.
Replace file sharing via NFC
Android Beam comes with Android 10, allowing devices to share files via NFC. All you have to do is click on the phone to share files with each other, but now this feature is gone.
It's nice to have some easy-to-use options that allow you to share photos, videos, songs or other files together. Currently, using a specific application to do this makes many people feel uncomfortable. Apple's airdrop is a useful feature in this regard, but unfortunately can't find the same thing in Android.
Improvements in dark background mode (Dark Mode)
Dark mode is not for everyone and it has a lot of issues in Android 10.
First of all, not many apps have their own dark background, so you often see your smartphone jump from a dark background to a bright background app and vice versa.
Second, some text does not change color on devices with a dark background, resulting in them being "invisible".
In order for dark background to be useful on Android devices, it really needs to be available for most apps, instead of just being a conversion option here or there.
The chat bubble is stretched
One of the new features of Android 10 is the addition of a chat bubble, similar to Facebook Messenger, which is placed on other applications, allowing you to view all your messages from multiple applications in one interface. easy access.
But not all applications are compatible. You use many applications to contact people, but some are not compatible with the main text messaging application and Google Hangouts.
If there are lots of apps that are compatible with WhatsApp, Facebook Messenger, Instagram, Snapchat and maybe even dating apps, that would be really helpful! Keeping up with different conversations in all applications is extremely easy with Android 11.
Android 11 release date
Google may unveil some of its latest operating system features at Google IO in May, before launching the operating system for Pixel phones in September.
After that, different smartphone brands will gradually be able to update their devices over time.
The first non-Google smartphones that come with Android 10 are OnePlus 7 T and 7 T Pro, but this may change with Android 11.
However, not all smartphone manufacturers will update immediately and it is likely that all smartphones will receive an upgrade by 2021.
Stay tuned for more news on Android R apps in the near future!
.