#FACEGOOD #released #expression #animation #software #AVATARY #tracking #parameters #point #clouds


36Kr was informed that recently, the domestic 3D industrial software research and development team FACEGOOD announced that the official version of Avatar Studio, AVATARY, was online and open for download. AVATARY is a 3D software that integrates expression modeling, muscle binding, facial capture and driving. It can reduce the production cycle from 90 days to 5 minutes for facial expression animation in animation, movies, and game CG. Applied to emerging fields such as virtual idols and virtual live broadcasts. AVATARY's high-precision facial capture technology tracks 100,000 3D point clouds, which is an advanced level in the industry.
3D emoticon animation software AVATARY
FACEGOOD was founded in 2015. The team has more than ten years of technical accumulation in the fields of industrial software, computational mechanics and graphics, including the development of the lowest level compiler. Since 2016, it has been committed to the development of industrial-grade 3D expression animation software. In the early stage, it provided technical support for expression animation to head companies in the field of animation and games such as The Force, Chasing, Netease, Huya, etc. in the form of project cooperation. In the process of project development, 100,000+ 3D facial expression data have been accumulated, and AI technology deep learning has been applied to gradually form the core intelligent simulation algorithm of FACEGOOD.
The core advantages of its algorithm mainly include two aspects: on the one hand, it improves the tracking parameters to one hundred thousand 3D point clouds, and on the other hand, it realizes an automated process. Massive data accumulation provides enough learning space for FACEGOOD's AI training. From the initial manual intervention to automatic learning, the software becomes more intelligent. FACEGOOD said: The number of point clouds can be even greater, but the current 100,000 3D point clouds are enough to support film-level production needs.
For users, traditional 3D expression animation completely relies on manual modeling, alignment, and binding. It usually takes 90 days for an animator to complete a 5-minute animation. FACEGOOD uses its simulation software to shorten this process to 5 minutes. . AVATARY software provides three core functions: expression modeling, expression capture, and muscle binding, helping users quickly complete facial expression modeling and animation production, and provides the muscle simulation function of facial animation. 1) Facial expression modeling, which can generate dozens to hundreds of Blendshapes with one click, and a high-precision model can be generated in just a few minutes; 2) The facial capture process is highly automated, which is 60 times more efficient than the traditional K-frame method the above;. 3) Muscle simulation can generate the most natural expression animation for users through the muscle simulation engine.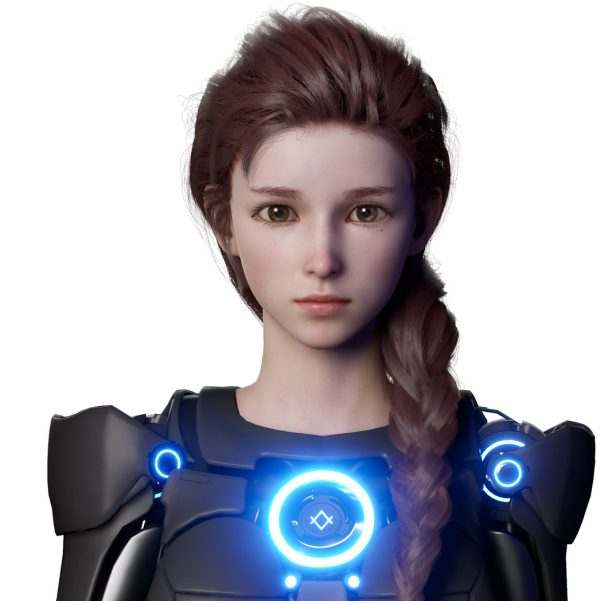 3D emoticons AVATARY
FACEGOOD's current products mainly include AVATARY software, professional headset capture hardware and digital asset platform.
In terms of product progress, let's first talk about the software part. FACEGOOD launched the free industrial-grade 3D emoji animation software-AVATARY in February 2021. It integrates functions such as facial expression collection, analysis, driving and fast binding, as well as core intelligent algorithms. The public beta version was launched for 3 months. It was tested and communicated with practitioners in universities, digital art and other fields, animation and game companies. After an 81-day product public beta cycle, FACEGOOD conducted a review of product experience, vision, and functions. Comprehensive upgrade, and increase the forum community and video teaching section to facilitate the learning and use of new users. The official version was renamed to AVATARY, and there are currently thousands of individual users and hundreds of corporate users.
Secondly, FACEGOOD released professional head-mounted capture hardware at the same time, including P0 for individual users, monocular camera product P1 for professional users, and binocular camera product P2 for ultra-high precision requirements.
AVATARY itself has no special requirements for hardware, and users can use any camera to capture high-precision expressions. Professional headset capture hardware is suitable for professional users who have higher requirements for animation production capacity, and the price is only one percent of similar foreign products. The dedicated head-mounted capture device uses infrared camera to avoid the interference of visible light and reduce jitter. The dual-camera design can provide higher-precision collection and restore expressions more accurately. In addition, in terms of wearing experience, AVATARY's matching helmet is made of carbon fiber material, which is more portable. The entire headband equipment is only 300 grams, and foreign competitors basically have to reach about 600 grams. At present, P0 and P1 are in the production capacity increase period. 50 sets have been sold within three days after the release. P2 will be commercialized within this year.
After completing technology research and development, project practice, and product transformation, AVATARY developed from top to bottom, first meeting the needs of leading companies, and then gradually generalizing. There will be three important development goals in three stages. The first stage: Aggregate a large number of 3D content creators on the AVATARY platform. It is expected to develop 800 paid accounts, more than 10,000 individual users, and an estimated revenue of over 10 million. The hardware will be gradually upgraded. Adapted to users with different needs, including entry-level version, advanced version, and professional version; in the second stage, product generalization upgrades, lower the entry barrier for users, modularize digital assets, and achieve rapid 3D content creation, which can be applied to a wider range of applications Fields and crowds. The third stage: the large number of digital assets and creators deposited in the first stage of the product, and the surge in the number of users after the generalization of the second stage, digital asset trading will be the main source of income for FACEGOOD in the future.
At present, the company has established cooperative relationships with companies such as The Force, Chasing Light, BMW, NetEase, Huya, Baidu, and Huawei, and has gradually expanded the professional market through channel vendors and partners. At the same time, FACEGOOD has established cooperative relations with many domestic universities and tapped more potential users through lectures and related courses.
Among the solutions that use cameras for expression capture and modeling, domestic Megvii and Shangtang mainly provide generalized applications below 10,000 point clouds. The American industry giant Industrial Light & Magic only serves the Hollywood film industry. On the one hand, Faceware, Dyanmixyz, etc. are expensive, on the other hand, they are sold in China through agents, and lack sufficient localized technical support. AVATARY lowers the threshold in this field, making it possible for small creative teams and even independent designers to create industrial-grade 3D expression animations and become the industry standard software.
.