If Facebook is blocked and you access the website in Chrome browser, an error message will appear on the screen, in the article below, ElectrodealPro will guide you how to access Facebook when blocked, Facebook error on Chrome ERR_SSL_PROTOCOL_ERROR.
Related posts
Facebook is blocked and cannot access, error facebook ERR_CONNECTION_TIMED_OUT
Access to Facebook is blocked on iPhone, iPad
How to access Facebook when blocked on Google Chrome, Coc Coc
Slow Facebook access, long video load, error messages
Facebook – How to block friends on Facebook
There are many ways to access Facebook and some websites are blocked. Refer to the following article of ElectrodealPro to learn how to access and blocked Facebook.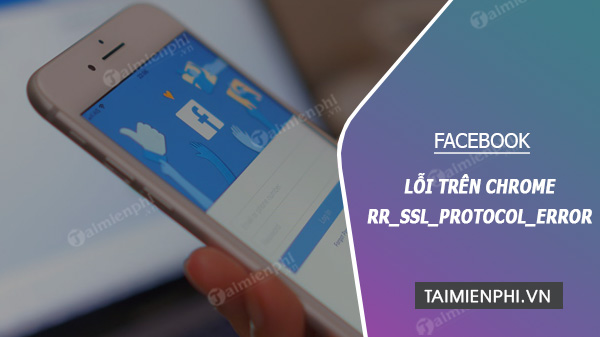 Fix Facebook blocked can not access
Fix Facebook blocked can not access
Option 1: Use a VPN or Proxy server
The most common and also the safest way to access Facebook and other blocked websites is to use a VPN (Virtual Private Network) or a proxy server. VPNs and proxy servers bypass restrictions, allow anonymous users and access blocked websites.
All you need to do is download and install a VPN program or proxy server, then enter the URL of the blocked website, in this case Facebook to access the website.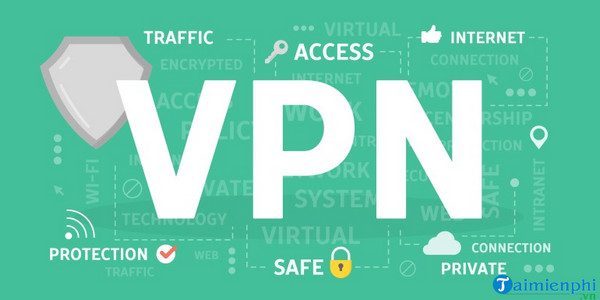 If you are wondering what to choose an effective VPN to use, you can read more articles. VPN list Best free 2020 on ElectrodealPro to choose the most suitable VPN offline.
Method 2: Use DNS instead
In some schools, businesses use a private network configured to block access to Facebook, ensuring everyone's work and learning performance. In this case to access Facebook, the solution is to change DNS to Facebook.
Follow the steps below:
Step 1: On the window Local Area Connection (wired Ethernet) or Wireless Network Connection (if using Wifi), find and click Properties to open the window and change settings.
Step 2: Access Networking tab, here find and click select Internet Protocol Version 4 (TCP / IPv4) in the item This connection uses the following items then click select Properties.
Step 3: Click to select Advanced, then select DNS tab =>OK.
Step 4: Choose Use the following DNS server addresses.
Step 5: Replace the address with the Google server address, in turn 8.8.8.8 and 8.8.4.4.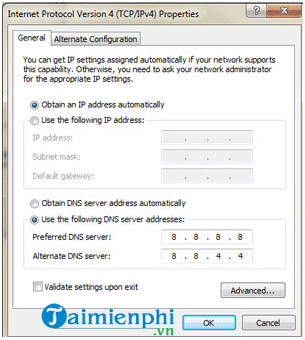 Step 6: Finally restart the connection and you should be able to access Facebook.
Method 3: Use shortened URLs
In some cases, by using shortened URLs it is also possible to access blocked websites, including Facebook.
Try entering Facebook shortened URL in your browser bar and check if the website can be accessed.
Method 4: Use Facebook's IP address
The success rate of this approach also depends on many factors. Many times a website is blocked can be caused by the network administrator listing the website URL in the block list. Try entering the Facebook IP address in the address bar of your browser and see if accessing, on Facebook is blocked.
Method 5: Use Google translate to view the blocked website
Online language translation services and websites allow you to translate web pages from one language to another, the results displayed on their own websites.
All you need to do is enter the URL of the blocked website, in this case Facebook and translate. The translation sites will show the content for you. Google translate and Alta Vista Babelfish are two of the best online language translation websites available today.
https://thuthuat.taimienphi.vn/facebook-bi-chan-khong-vao-duoc-loi-facebook-tren-chrome-err-ssl-protocol-error-58087n.aspx
This article on ElectrodealPro just instructed you how to fix Facebook error, Facebook error on Chrome ERR_SSL_PROTOCOL_ERROR. Also, readers can refer to some articles already on ElectrodealPro to learn more The way to access Facebook is blocked on the phone Android, iOS offline
.