In addition, Predator has a VIP 3S1 warranty exclusively for Acer premium products.
The ultimate weapon with a cool new gaming look
In terms of looks, Predator Helios 300 version 2019 has had an outstanding upgrade with a timeless exterior design. Acer has equipped this machine with a metal cover on the top and a very rugged palm rest, adorned with electric blue lines like other Predator-branded machines, compared to red tones like that. previous generation. This helps Acer to gradually relocate the Predator brand in the exterior design, delivering the ultimate energy release when fighting games on high-end machines.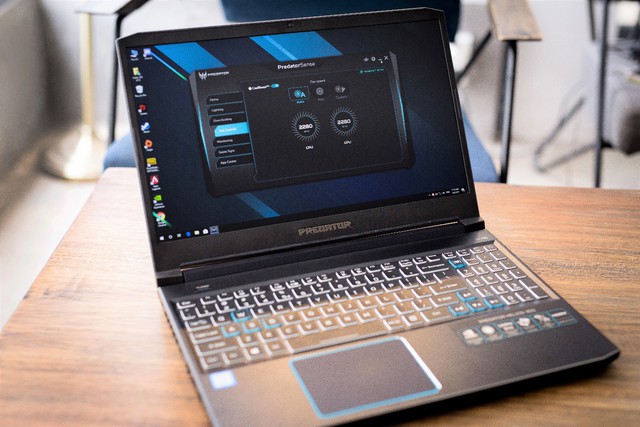 In the outer shell (face A), the Predator logo is placed prominently in the middle. This logo has LED luminaires that glow when turned on and are pressed with 2 blue lines running side by side for a "play" feeling. The two corners of the camera are bevelled to the edge of Predator gaming consoles. In particular, the screen border on Predator Helios 300 version 2019 has improved dramatically now has been designed much thinner, only 7.3mm in the thinnest area, making the body become compact and delicate . Sturdy hinges can be folded open with corners up to 180 degrees to ensure convenient gaming in any situation.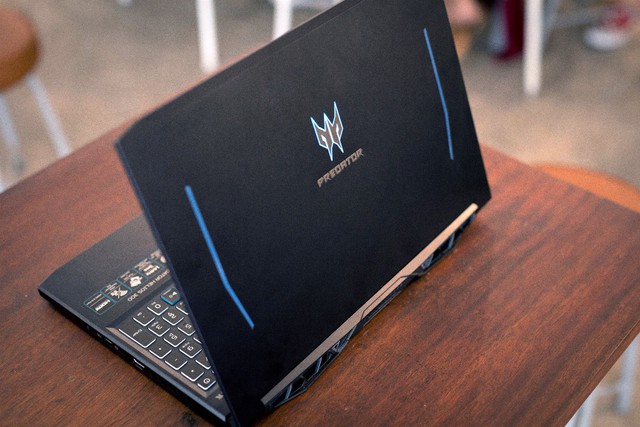 Helios 300 keyboard on version 2019 is changed with 4-zone ultra cool Predator font and RGB backlight. The convenience has been significantly improved with two new PredatorSense and Turbo hotkeys, a larger designed spacebar, WASD keystrokes, navigation keys, and hotkey keys highlighted. Turbo hotkeys are located right on the keyboard to quickly turn off the overclock when in the battle battle at the top of a button. Meanwhile, the new PredatorSense keyboard allows gamers to quickly check CPU and GPU temperatures, adjust fan speeds, RGB lights, and more.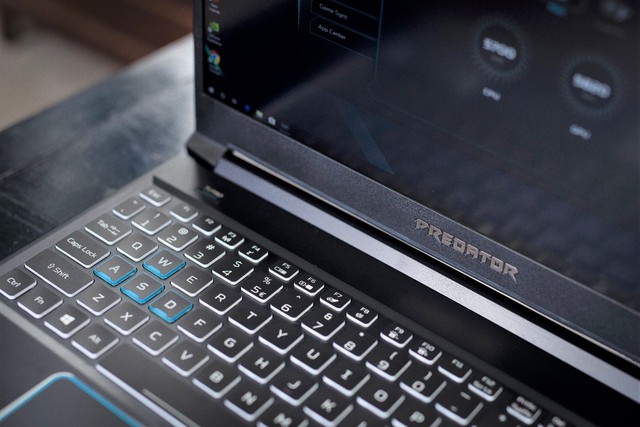 Advanced technology – Powerful heat dissipation during battles
When it comes to a gaming laptop, it's impossible not to mention its inner strength. Predator Helios 300 version 2019 is equipped with Acer configuration to "weigh" all types of games today. Owning the highest processor up to the 9th generation Intel Core i Processors, the highest graphics card NVIDIA GeForce RTX 2060 6G-GDDR6, Predator Helios 300 version 2019 can handle hot games like PUBG, CS: GO, League of Legends with the highest level of configuration settings smoothly.
Fans of FPS games will definitely be attracted by the 15.6-inch Full HD IPS screen equipped with ultra-fast scanning frequencies of up to 144Hz and 3ms response on Predator Helios 300 version 2019, to cover Play games smoother and more vivid than ever without tearing or tearing frames. The Predator Helios 300 also has a full range of high-end connectivity ports, including ThunderBolt ports for super-fast data transfer speeds.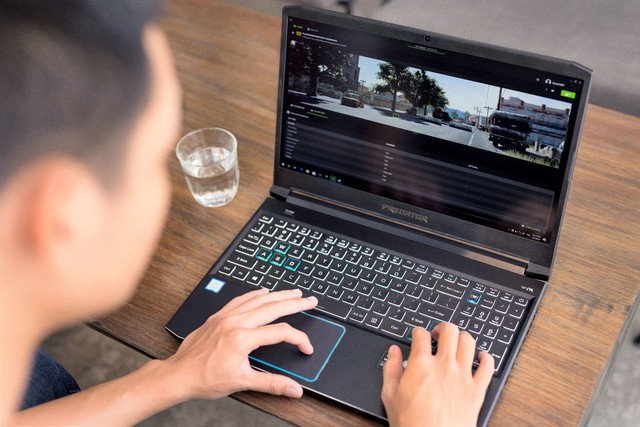 Keeping the Predator Helios 300 version 2019 cool is the dual fan system that includes the 4th generation AeroBlade ™ 3D fan. This new generation fan design is inspired by the cat owl to optimize the air flow. and minimize noise by 36%. The fan blade is only 0.1mm thin and serrated, including 59 steel sheets per fan, making the heat dissipation more efficient. This cooling system helps improve 45% of airflow through the body. The vents and exhaust pipes are located in a reasonable position with the Acer CoolBoost ™ technology, which helps Predator Helios 300 maintain a stable temperature during intense battles.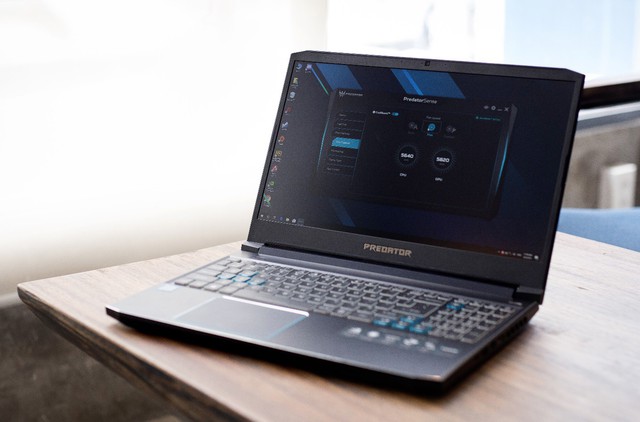 AEspecially in this upgrade, users can easily monitor the entire system and control the device's settings via PredatorSense application on smartphones. The interface of this application is very intuitive, fully displaying parameters such as system temperature, current clock of CPU / GPU, fan speed, etc. Gamers can quickly adjust fan speed, squeeze System pulse right on your phone while fighting game without having Alt-Tab out.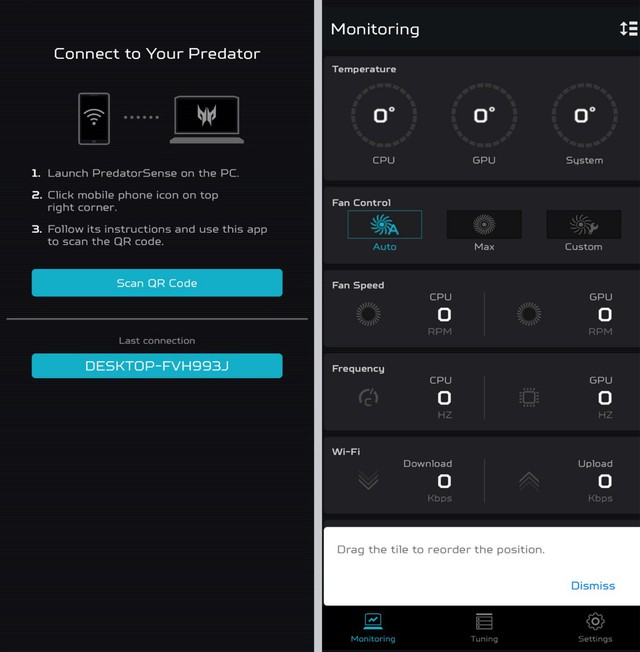 PredatorSense application on smartphones
Understanding the huge amount of money gamers spend on "buying" a top-notch gaming machine, all of the gaming products including Acer's Predator Helios 300 2019 version will enjoy the VIP 3S1 warranty service. Commitment to fast repair within 3 days, if more than 3 days will change immediately a new equivalent machine (or higher). Gamers will definitely have no reason to be shy when planning to buy any Acer-branded device – Predator!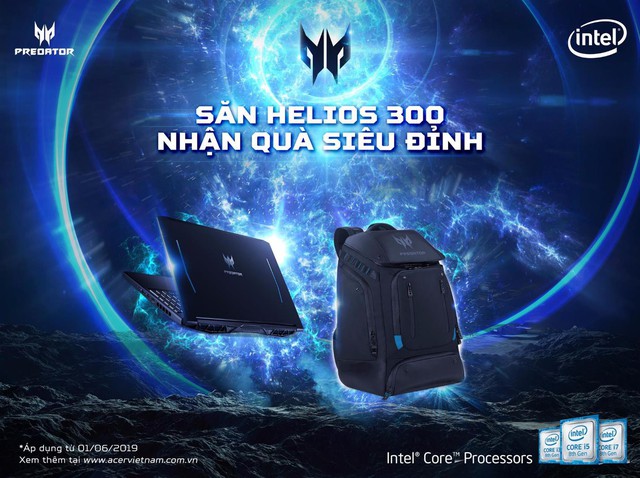 Currently Predator Helios 300 version 2019 has been on the shelves at dealers of Acer products nationwide with special promotions: when buying Predator Helios 300 version 2019, you will be given a cool backpack. worth VND 3,500,000. Details of configuration and price of Predator Helios 300 version 2019 please refer here.