"Steam ☆ Mania" Mina Tsujimura introduces the basics of devices and peripherals for comfortable Steam game enjoyment. This time, we will explain "Left-handed keyboard" for somewhat advanced players as an "secret weapon" to advance "FPS" (First Person Shooter: First Person Shooter).
A little maniac and suitable for advanced users. Such a left-hand keyboard "Tartarus V2 RZ07-02270100-R3M1" (Razer) is explained by "Steam ☆ Mania"!
Don't need "right side of keyboard" …?
In the previous article, we described Logitech's "G910r RGB mechanical gaming keyboard" as a keyboard suitable for beginner gamers, but this time we will introduce a more advanced model.
When playing 3D games such as FPS on a PC, "Mouse and keyboard each play a role as a controller" has been explained in previous series.
However, when I was actually playing the game, I suddenly noticed it. That is, "What you need to do is just the left side of the keyboard, and hardly use the right side?" In fact, I rarely use my right hand on the keyboard except when typing in chat.
Of course, there are scenes that are operated using the "Enter" key, and there are games where the "K" key is assigned to a VC (voice chat). Therefore, not all games are generally the same, but many of the games that I play, such as "PLAYERUNKNOWN'S BATTLEGROUNDS (PUBG)" (PUBG Corporation) and "Dead by Daylight" (Behaviour Digital Inc.) Infrequently used operations are arranged on the right side of the keyboard, and if you notice, you use only the keys on the left side.
So I don't need the "right side of the keyboard" …?
This is a globe? No keyboard
When I looked into it, I found a "left-hand keyboard" that cut off the right side of the keyboard!
The left-hand keyboard is attractive because it allows you to freely place macros and keys. For example, you can customize key arrangements and arrange shortcut keys as you like, and easily perform complex operations with one left hand. Therefore, in addition to the core gamers, it seems to be used regularly by painters who always hold the pen with their right hand.
This time, we will introduce Razer's "Tartarus V2 RZ07-02270100-R3M1" (hereinafter, Tartarus V2) from such left-hand keyboards. Let's check the appearance first.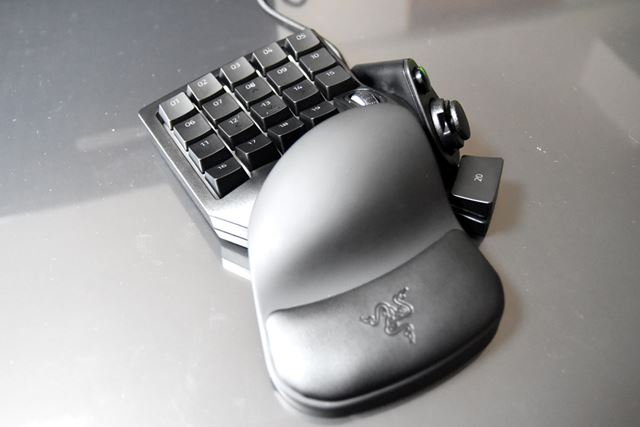 A keyboard "Tartarus V2" that looks like a glove. I have a form that makes me want to add my left hand.
The Tartarus V2 looks like a small glove. There is a palm rest in front of the main body, and keys are arranged on the part corresponding to the finger. In fact, when you put your left hand on the palm rest, it is fluffy and gently supports your wrist. It 's very comfortable, so I want to keep it for a while.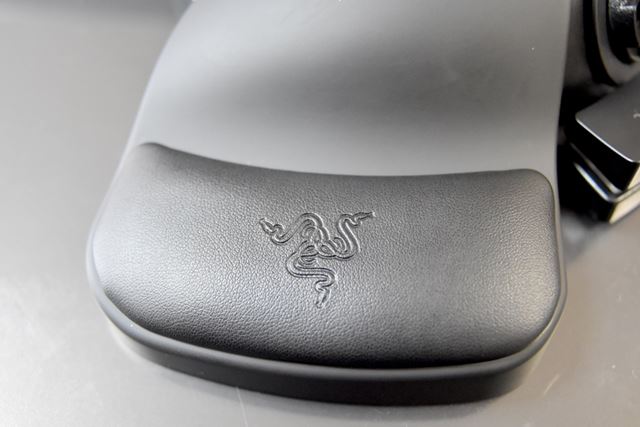 The palm rest is resilient and has a pleasant feel. I also liked the fact that there was a stand in the palm of the hand and the center of gravity could be placed.
Of course, the LED illumination function, which is the "promise" of gaming keyboards, is also included. Equipped with "Razer Chroma Backlight" corresponding to 16.8 million color options, you can enjoy your favorite color. In addition to the unique design for the left hand, the colorful back light shines exactly like "Instagram". If you post on SNS, you may increase your likes!
If you can shoot unique designs and LED illuminations well, will you be sure to "instagram"?
Also, on the outside of the main body, there is an indicator with a triple LED array. Three LEDs emit light to inform you of the current profile settings.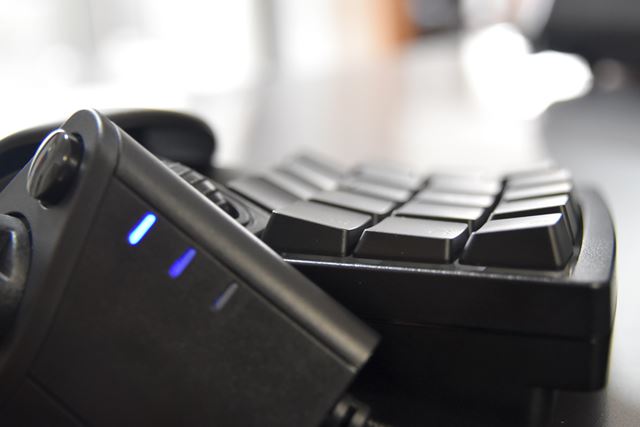 On the outside, it is equipped with an indicator lined with 3 LEDs. You can check the current settings at a glance
In addition, a little ingenuity was shining. If you look at the keyboard from the side, you can see that the whole is tilted inward and the key angle is curved. With these structures, you can press firmly with one hand and operate the keys stably. This would be advantageous for complex operations such as "clearing" in FPS (checking blind spots such as shadows where enemies are likely to lurk and ensuring safety).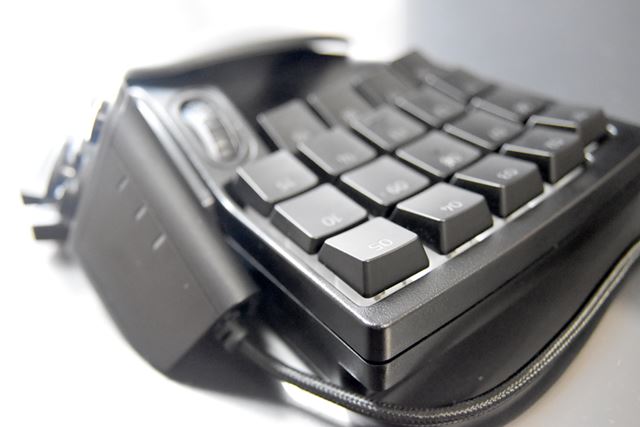 If you look closely at the entire key, you can see that the outer key is thick and curved in the middle.
Operations can be assigned to a total of 20 keys
Next, let's actually operate Tartarus V2. There is no particular key arrangement, and as mentioned above, it is a mechanism that can be freely arranged according to the user's preference.
The number of keys is 19 on the board ("01" to "19" keys) and 1 on the side ("20" keys). With this, you can assign most operations needed for FPS. However, there are four rows of keys on the board, but personally I wanted one more row. If there is another row, you can arrange the "Ctrl" key etc. like a normal keyboard, and it should improve usability further.
In addition, an audio adjustment wheel is provided in the portion where the index finger of the left hand hits. The volume wheel is installed at this position, which is unique to the left-hand keyboard. It was very useful because you can adjust the volume of sound quickly with just your index finger.
Volume control wheel. Easy to operate with index finger touching
In addition, on the side touched by the left thumb, a cross key and a hard subbutton are provided. The default setting for the four-way controller is 4 directions, and Razer's software "Synapse" can be set to a maximum of 8 directions. It can also be used as a game controller, but it is also attractive because of its high expandability, such as the ability to place macros in each direction of the cross key. On the other hand, the sub button is a completely free button, you can set your favorite operation.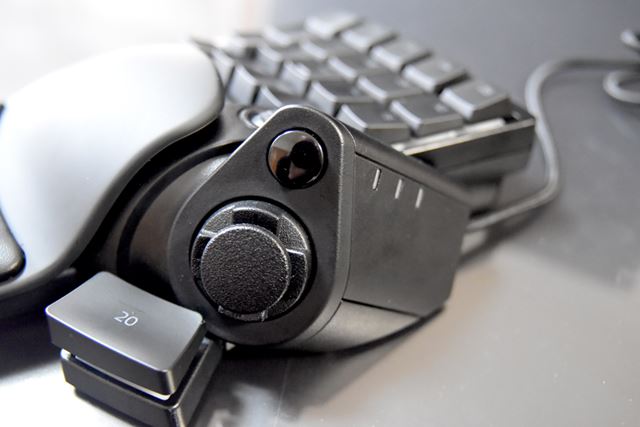 The side touched by the left thumb. From the top, there are sub buttons, cross keys, and "20" key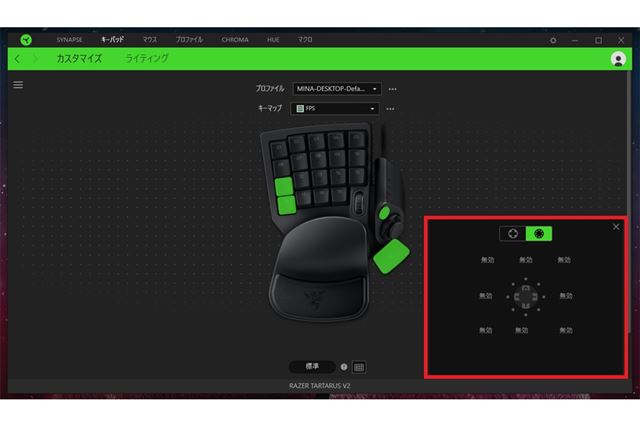 Switching between 8-way mode and 4-way mode can be done using Razer's software "Synapse"
The new "Synapse" UI is very easy to understand
Now that Synapse has been talked about, let's take a closer look at the software.
In fact, Synapse has recently been renewed and the UI has become much easier to use. It's now easier to create macros that have been a little difficult to understand, so I'd like to introduce them here.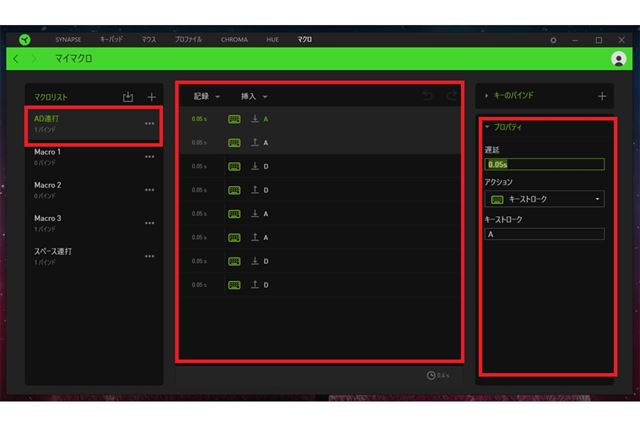 Let's explain a series of flow from macro creation to key placement. This time, I recorded a series of "A" and "D" keys and created a macro. The created macro is tabbed one operation at a time, and it is also possible to edit from the item of property on the right side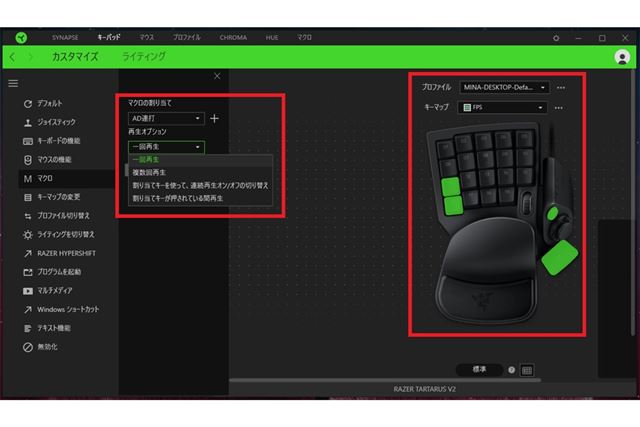 Next, place the created macro on the desired key. From the "Play Options" pull-down, "Play multiple times" (play a fixed number of times) or "Switch the continuous playback on / off using the assigned key" (continuous playback until the key is pressed and pressed again) You can also select items
The previous version of Synapse only supported macro recording and could only be edited easily. In addition, it was a very confusing UI, so it seems that few people knew that they could edit macros in the first place.
However, with the current version of Synapse, it is possible to finely edit the macro, such as adjusting the interval at which the key is repeatedly hit. The UI has been redesigned, and even beginner gamers can easily create higher quality macros.
In addition, the lighting settings are also new. The screen for changing presets of brightness and light effects is very simple. For example, if you turn on "Advanced Effects" in the settings screen and press "CHROMA STUDIO", you can easily make advanced settings such as making your own illuminations or flashing only the keys you normally use.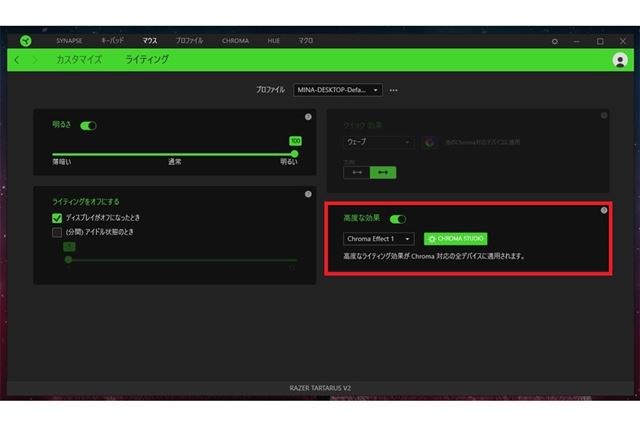 Lighting settings are very simple and easy to understand. Detailed settings can be made from the "Advanced effects"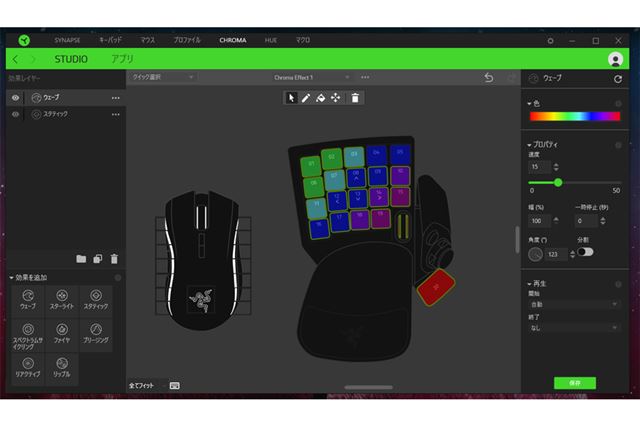 "CHROMA STUDIO" screen. Various settings are possible, such as the type, color, speed, and color flow angle of the light effect
Although it was a little big for a female writer, the functional aspect was outstanding.
I've never used a left-hand keyboard before, so I've actually tried and learned a lot.
For example, the keyboard has a cross key on the side. With a single left-handed keyboard, you will be able to enjoy a wide range of games, from shooting games to 2D games, in addition to FPS. I need some habituation, but when I wanted to improve the score of the shooting game a little more, I felt that this would be a "secret weapon".
Also, as expected, it was only made by gaming device manufacturer Razer, and it was outstanding in terms of comfort and design. The new software is easy to use. If the compatibility is good, it can be said that it is a device that directly leads to a score increase. Price.com The lowest price is 10,661 yen (as of March 18, 2018), and it is not too cheap and not too expensive, and it is a well-balanced price.
However, there is a little difficulty in size. Whether it is a size for overseas users, if you place your finger on the "WASD" key, your thumb will be in a delicate position whether you ride the "20" key or not. Especially with the thumbs of female writers, the "20" key can only be reached if you do your best. For this reason, there is a possibility that it will not fit well for those with smaller hands.
Once you remove the palm rest, you can adjust the length from the front and back two stages, but if you are worried, you should buy it after checking the actual thing at a Razer shop.
Writer: Mina Makimura (Office Mica)