The Malwarebytes Premium 3.0.2 experience gives ElectrodealPro a very different perspective with Malwarebytes security software, not as prominent as Bitdefender, Avira, Kaspersky or AVG but Malwarebytes Premium 3.0.2 is a product. Especially it can compare or surpass many other anti-virus programs in terms of anti-malware and spyware protection.
Related posts
Instructions to remove viruses with Malwarebytes Premium for computers
Install Malwarebytes Anti-Malware, setup Malwarebytes Anti-Malware on Windows 7, 8, 8.1, 10
Malwarebytes fixes Windows 7 freezing error in new update
What is YouTube Premium? Try to use it?
(Giveaway) Copyright free PDF Shaper Premium, convert, edit PDF professionally
There are not many software available today that are strong enough to prevent malicious code, adware, spyware, and ransomware from harming users. But still can mention some popular software such as Bitdefender Antivirus Plus, Avira Internet Security, Kaspersky Antivirus or AVG.
Of course that is when you have not had the opportunity to experience the latest Malwarebytes Premium 3.0.2. You will certainly have a different perspective on this not so outstanding but extremely useful software.
Experience Malwarebytes Premium, 4 in 1 antivirus
Malwarebytes Premium 3.0.2 version brings many major changes in speed, smarter adware and malware scanning, integrated real-time protection against malicious code, ransomware, exploit vulnerabilities. website. Using Malwarebytes Anti-Malware, you will experience intelligent detection technology that allows you to block malicious attacks.
Malwarebytes Premium 3.0.2 interface also has many changes to become more beautiful.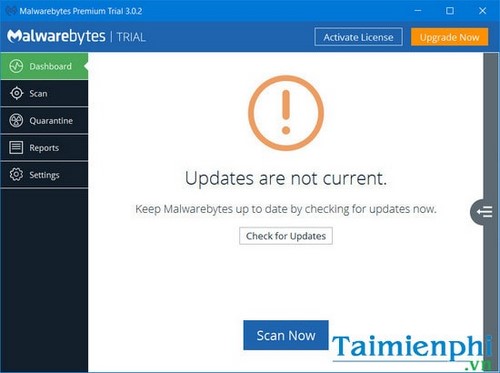 Panel design on Malwarebytes Premium 3.0.2 has been markedly different when switching the entire upper panel to the left toolbar. In that simplification History and adding items Quarantine and Reports.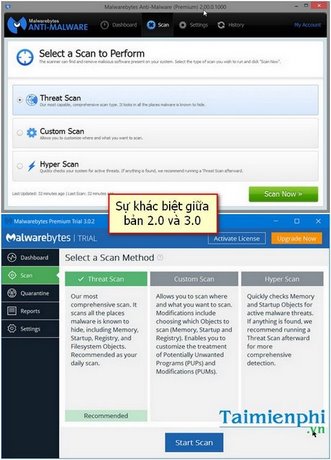 Item Scan still provides three scan modes for users to choose from: Threat Scan: overall scan (recommended); Custom Scan: Optional scan of partitions; Hyper Scan: Quick scan of partitions. After selecting the desired scan mode, just click Start Scan.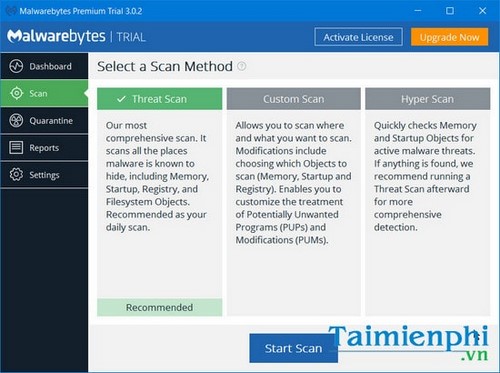 Quaratine Is a special quarantine and archive feature for infected files or adware, … These objects are transferred to a special archive after the scan. Users can permanently delete or restore these files with the button Delete or Restore.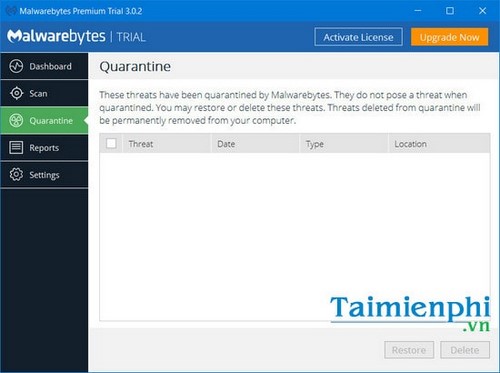 Reports is a section containing Malwarebytes Premium 3.0.2 malware and malware scan reports.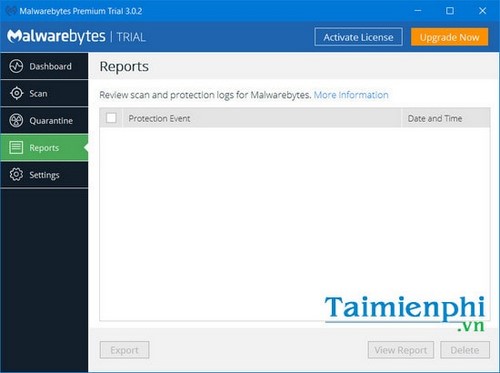 Settings is the place to sum all the settings and settings in Malwarebytes Premium 3.0.2 software. So the biggest change of Malwarebytes Premium 3.0.2 is the inclusion of all the previous features in the left toolbar in Settings.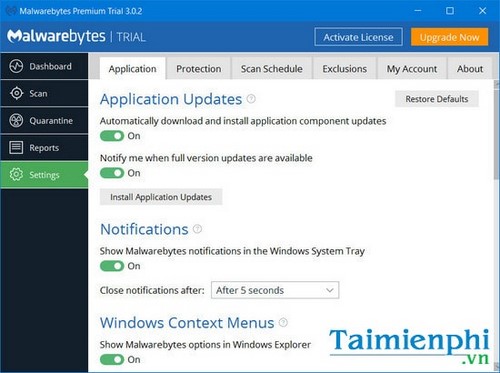 In Settings There are many feature tabs for users to customize such as Application, including: Display notification on the tool tray, notification updates, display language, …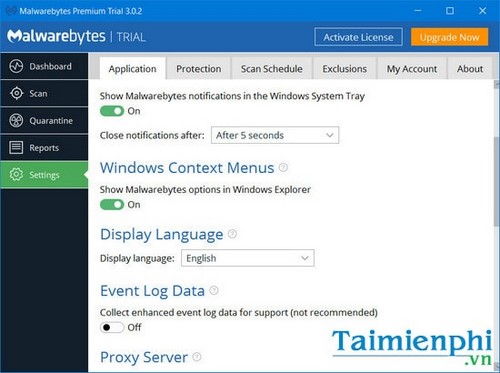 While, Protection is an item that contains system protection settings including an option to enable real-time protection.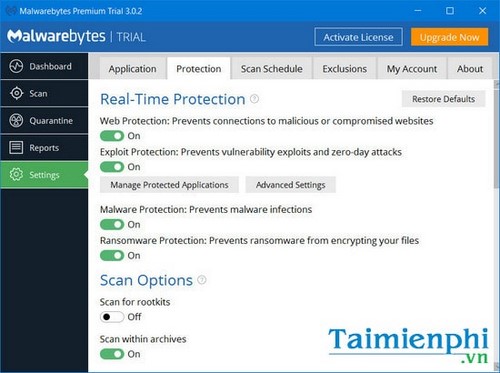 Scan Shedule is a customizable and scheduled entry to scan for malware, adware, and ransomware.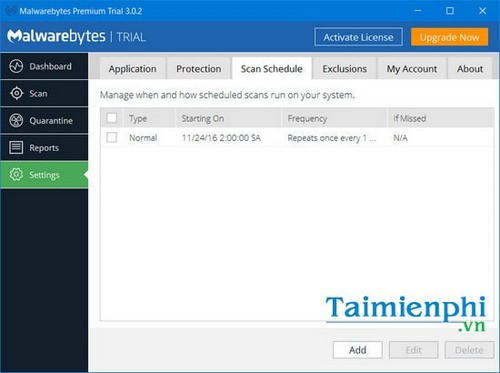 Exclusion is the section reserved for users who want to remove any file or folder that Malwarebytes Premium 3.0.2 does not want to scan and manage.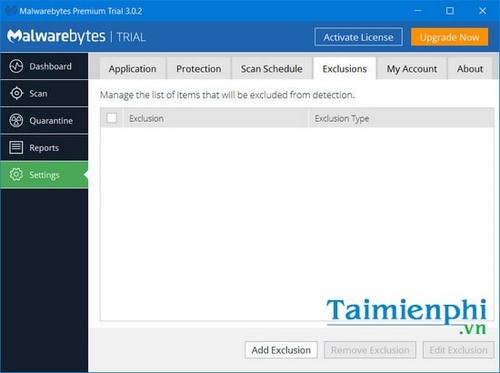 And finally My Account and About These are two items that display software information and updated version so that users can know the information.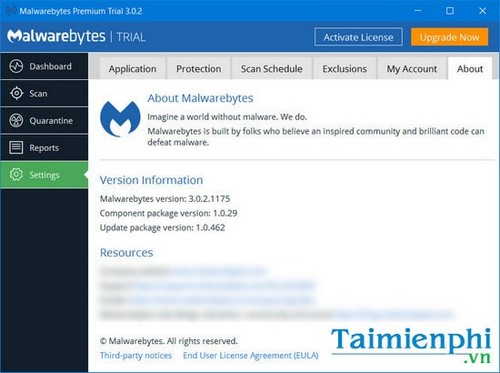 Let's try scanning once with Malwarebytes Premium 3.0.2.
Step 1: First of all on the item Dashboard or Scan and click Scan Now to start scanning your system with Malwarebytes Premium 3.0.2. In the article, ElectrodealPro select the scanning mode Threat Scan to scan the deepest.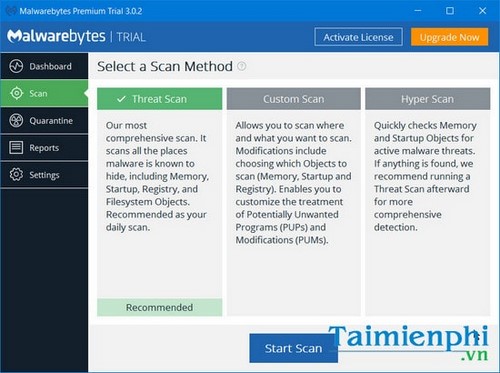 Step 2: Wait for the software to go through the steps from Check for updates to scan all system files, …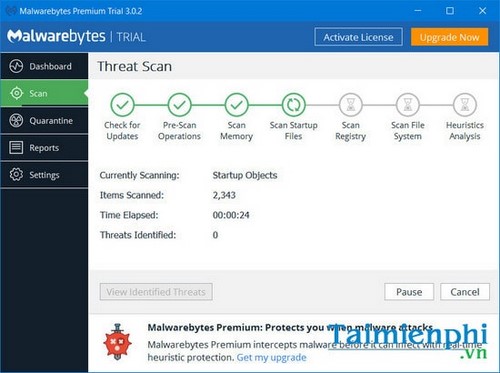 Inside: Currently Scanning (Scan status); Item Scanned (Number of files scanned); Time Elapsed (Time remaining) and Threats Identified (Number of threats detected).
Of course you can Pause (Pause) or Cancel (Cancel) the scan easily.
Step 3: After finishing the system scan, the user has two options including Export Summary and View Report.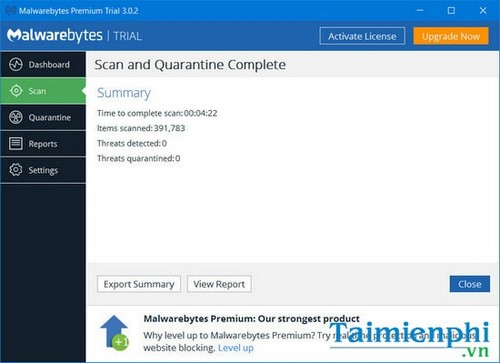 The report will summarize the scan details with information about the time, system configuration and the number of files scanned as well as the number of files detected with malicious code, adware, …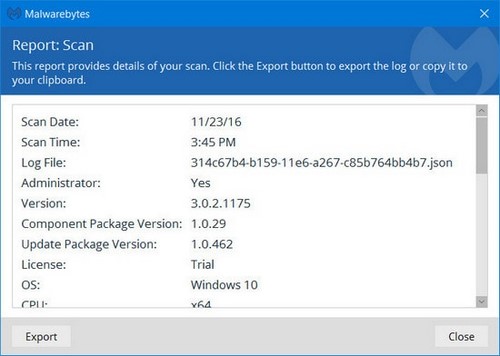 If malicious code is found on the computer system, the user will be asked to choose to isolate or delete it in the Action section. Press Apply Actions to save the selected action. Otherwise of course the software will display the safety message as shown below: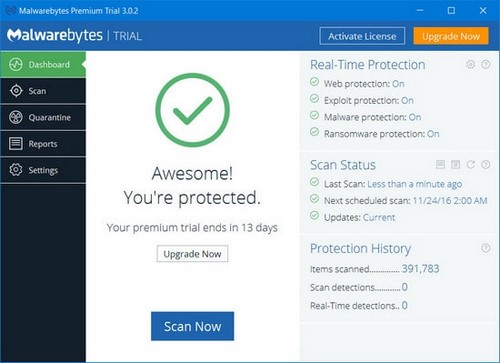 – Advantages
Beautiful and user-friendly interface.
+ Integrating many powerful and specialized computer protection tools such as Anti-malware, system malware, spyware, web protection and system repair.
+ Allows protection in real time.
– Defect
+ For users the Malwarebytes Premium versions may first be unfamiliar uses Malwarebytes Anti-Malware New version with changed tabs layout.
+ Time to experience is a bit short, only about 14 days.
+ Not optimizing system resources well, still eating RAM and consuming resources.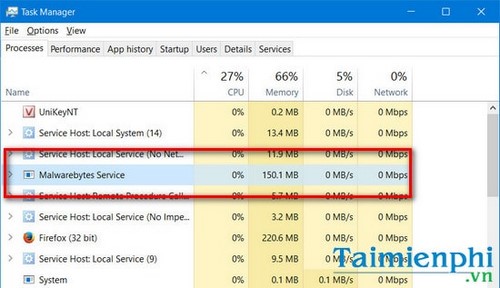 Malwarebytes Premium is not one of the top 10 anti-virus software today such as Bitdefender Antivirus Plus, Avira Internet Security, Kaspersky Antivirus or AVG, but in return, Malwarebytes Premium is capable of removing malicious code, adware, … very powerful, something that can not be done by other online antivirus tools or anti-virus software. Of course, it would be lame compared to online antivirus software, but Malwarebytes Premium has a huge advantage thanks to its user-friendly interface, compact and the purchase price is not too expensive. If it is not required to install the top 10 best antivirus software, Malwarebytes Premium is definitely enough to meet your needs.
https://thuthuat.taimienphi.vn/trai-nghiem-malwarebytes-premium-12676n.aspx
In addition, for Android users, you can also download and install an Android antivirus application called Malwarebytes Anti-Malware, this Android antivirus application provides professional anti-malware scanning and removal. importance is highly valued by the user.
.