Summary of the latest IT news that will be the story of the story
Summary of the latest IT news that will be the story of the story
Expansion module " Moto Mods " that makes smartphones a Polaroid camera appeared
"Summary of the latest IT news to be the story of the story" is a series that mainly introduces the news that was talked about last week in the overseas IT industry. We will provide you with a variety of news, from the latest information that you can afford to know, to what might be a story.
" MotoMods " that can take Polaroid photos just by attaching it to a smartphone is released
Motorola has announced the Polaroid Insta-Share Printer, a new model of the MotoMods expansion module that can be used with the flagship smartphone "Moto Z" family, which allows you to print out photos taken with a smartphone on the spot.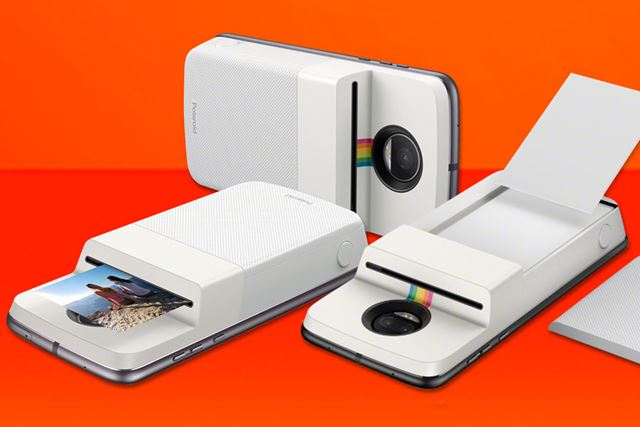 " Polaroid Insta-Share Printer " that can print out Polaroid photos just by attaching it to a smartphone
"MotoMods" is a function expansion module developed by Motorola for "Moto Z". Various "MotoMods" have been added to expand the functions, such as a 10x optical zoom camera, projector, and speaker, but a new "Polaroid Insta-Share Printer" has been added.
"Polaroid Insta-Share Printer" is an extension module created through a partnership with Polaroid. If you attach a photo to the "Moto Z" family smartphone and take a photo, you can print out the photo as it is. The printing paper used is 2 x 3 inch "Polaroid Premium ZINK Paper", which is a photo paper sold in Japan.
Of course, you can print out not only the photos you have taken, but also the photos stored in the camera roll and the photos posted on Facebook and Instagram. It costs $ 199.99 and is available in the United States. It is said that the sales area will be gradually increased, so it is expected to be released in Japan.
Source: Motorola
Firefox releases explosive and lightweight browser " Firefox 57 "
The latest version of the browser "Firefox" "Firefox 57″ was released on November 14, 2017. " Firefox 57 ", which has been promoted as the project name " Firefox Quantum ", is called " the biggest update since the launch of Firefox 1.0 in 2004 " by the developer Mozilla, stabilizing and speeding up operation like never before Has been done.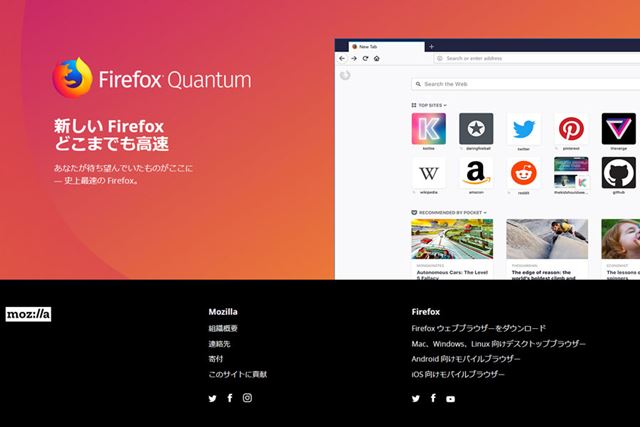 " Firefox 57 " became the largest major update since launch
"Firefox 57" realizes unprecedented processing speed by replacing "Gecko" which has been used so far with "Quantum", a web rendering engine that draws sentences and images, and achieves unprecedented processing speed. Consumption has also been reduced. The processing speed is almost twice as fast as "Firefox 52". In the comparison video below with "Chrome", you can see that it is slightly faster than "Chrome".
Firefox, by optimizing parallel processing, is able to allocate processing tasks to multiple cores for the first time in the browser, greatly improving performance. The UI has also been redesigned to be modern, and the look has changed significantly.
There is abundant extension functions as a major feature of Firefox, but " Firefox 57 " has a drastic change in design from the previous version, so many of the extensions that were available in versions before " Firefox 56 " can not be used . It seems that many users continue to use Firefox 56 and earlier versions, at the expense of extension compatibility instead of acceleration.
It seems that users who have been away from Firefox for a while may try " Firefox 57 ", but existing users are better to update after checking the support status of the extension used by themselves . Once updated, you will not be able to downgrade to a previous version, but if you install a new version of "Firefox 56," you can continue to use it.
Source: Mozilla
Boston Dynamics robots acquired by Softbank are too amazing
Boston Dynamics, an American robotics research and development company acquired by Softbank in June 2017, has released a new video of the atlas, a bipedal humanoid robot. In the video, it shows how to decide the backflip like a human.
Boston Dynamics is a company that develops multiple robots with the support of the US Defense Advanced Research Projects Agency (DARPA). Although Google announced the acquisition in December 2013, Softbank acquired it in 2017, and it has become a hot topic in Japan.
One of the robots handled by Boston Dynamics is the atlas, a bipedal humanoid robot. You may have seen a video of the Atlas, which was released in 2016 and rises even when a human is killed, has been viewed on TV.
"Atlas" is a 1.8m-high robot developed as a search and rescue robot. In previous videos, people walked on bumpy ground without falling or climbing up and down slopes, but the new video shows how crazy the air is. The sight of jumping from one platform to the next while balancing and determining the tapir is not surprising. The appearance of failing the tapir at the end of the video is no longer a human reaction. Boston Dynamics has also developed other quadruped walking robots, so if you are interested, check out the other videos.

Yuji Mizukawa (Editor)
An omnivorous writer with the latest gadgets and games. I'm interested in health care goods because it's recently become metabolic. On holidays I play games and watch movies.
.