#Expanding #research #development #innovative #orthopedic #products #Kangsheng #Medical #completed #million #yuan #financing


It is reported that "Kangsheng Medical" has recently completed a series C financing of more than 100 million yuan. This round of financing was led by Tongchuang Weiye, followed by Dongfang Fuhai, Jiuquan Development, Shanghai Yuhan, and Suzhou Weikang. This is the company's another round of strategic financing after Shenzhen Venture Capital's B round of financing in January 2020.
This round of financing will be used to: continue to increase investment in spine minimally invasive products, such as intervertebral foraminoscope equipment and supporting tools, under-lens consumables, spine, traumatic new materials, new technology products, such as cobalt chromium molybdenum, hydroxy phosphorus R&D and production of innovative products such as greystone-enhanced PEEK; expand and optimize the construction of marketing network channels, enhance the brand influence of Kangsheng, and break the monopoly of multinational companies in the high-end orthopedic medical market; for the domestic The capital market IPO process laid the foundation.
Picture from Pixabay
"Kangsheng Medical" was established at the end of 2010 and began to sell in the domestic market in 2016. It is an orthopaedic company mainly engaged in the research and development, production and sales of orthopedic medical devices. The company's main products are divided into 3 series:
Orthopedic trauma series products (including: metal locking bone plate series products, metal locking bone screw series products; metal universal locking bone plate series products, metal universal locking bone screws series products; hollow bone screws series products; locking intramedullary nails Series products).
Orthopedic spine internal fixation system products (including: anterior cervical nail plate internal fixation system; posterior spine nail rod internal fixation system; thoracolumbar anterior nail rod system; cervical and thoracolumbar fusion system (material: PEEK material) and Titanium mesh series products).
Artificial joint products (including: artificial hip joint products; artificial knee joint products; artificial unicondylar knee joint products).
According to reports, as of the end of 2019, "Kangsheng Medical" has achieved revenue of over 100 million yuan, and its products have entered more than 1,000 general and orthopedic hospitals across the country, including West China Hospital of Sichuan University, Qilu Hospital of Shandong University, and Xiangya Hospital of Central South University. Covering 28 provinces, municipalities and autonomous regions.
The "Market Investment Analysis and Development Trend Research Report of China's Orthopedic Implantable Medical Device Industry 2020-2026" issued by Zhiyan Consulting believes that in the past 30 years, the entire orthopedic medical device industry has experienced a rapid development worldwide. At this stage, the increase in the elderly population, breakthroughs in therapy concepts, and advances in materials and mechanical processing technology are the main driving forces for the development of this industry. Data show that the market size of China's orthopedic implanted medical device market was 30.4 billion yuan in 2019, a year-on-year increase of 16%. The overview of some orthopedic medical device companies is as follows: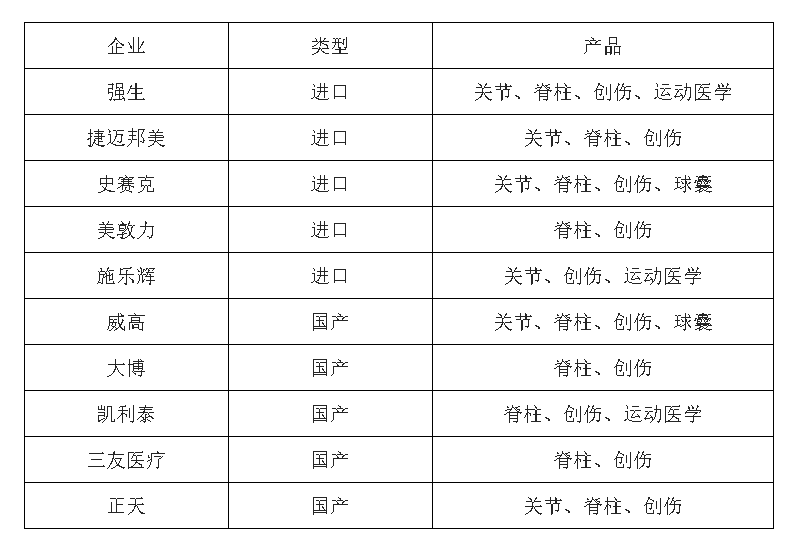 Source: Zhiyan Consulting
Editor: Cai Shuning
.