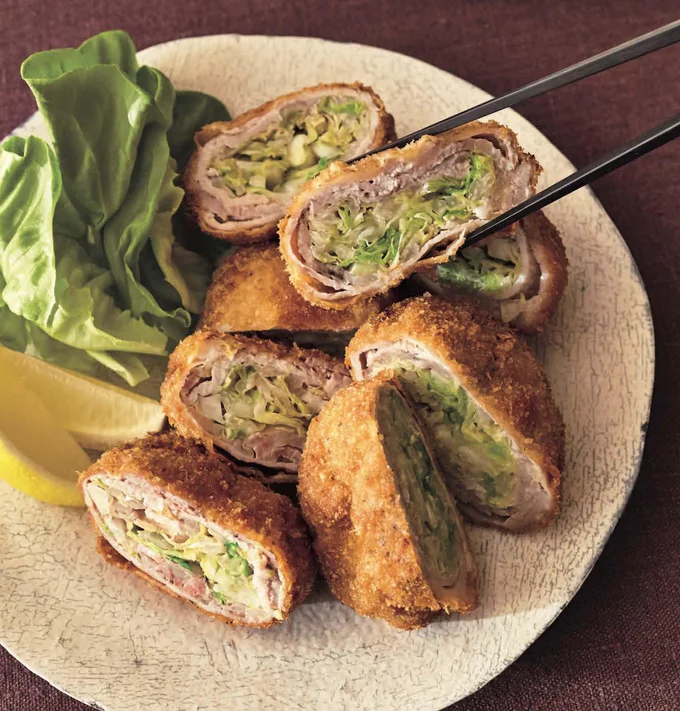 Quiche style of cabbage
Boiled and cabbage plums
Steamed cabbage with meat
Cabbage in pork cutlet
Stir-fried cabbage and minced meat
When I buy the whole thing, I tend to leave it behind … Let's teach you the tips to eat deliciously and plenty to solve such "there is cabbage" problem!
The third part of the "Cabbage Eating Recipe" series is a volume side dish of cabbage. If you heat it well or add salt to it, it will be less bulky and you can eat a lot.
* When using a microwave oven, the standard is 600W. Please heat 1.2 times for 500W and 0.9 times for 700W. Also, there are differences depending on the model, so please heat while watching the situation.
* * *
Quiche style of cabbage
It's full of volume and has a satisfying taste!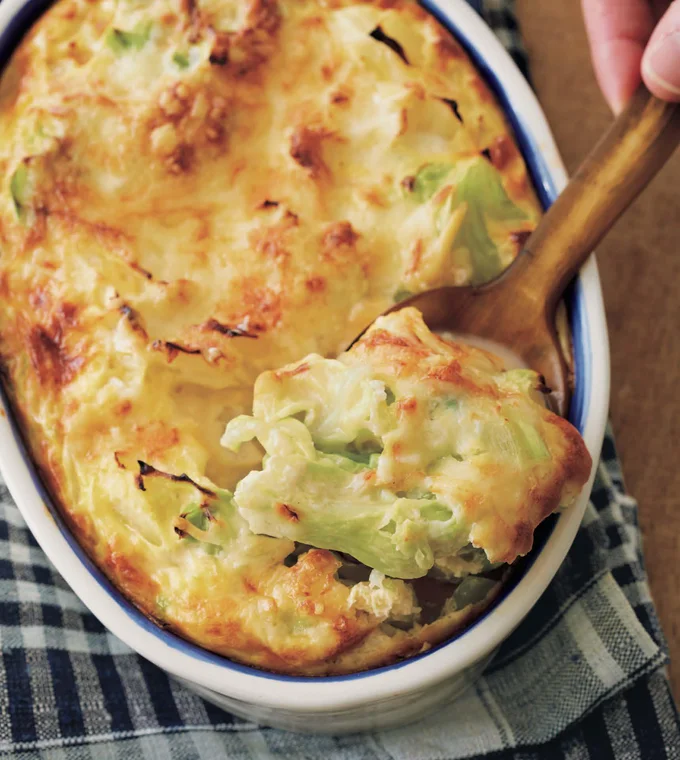 [Materials for 2 people]* 1 person 299kcal / salt 2.1g
・ Cabbage … 1/2 small (approx. 400g)
・ Eggs … 3
・ Milk … 3/4 cup
・ Pizza cheese … 50g
・ Onions … 1/4
·salt
·Pepper
[How to make]
1. Cut the cabbage into 3 cm squares. Finely chop the onions.
2. Put cabbage and onions in a heat-resistant dish, wrap it gently, and heat it in the microwave for about 6 minutes. When the heat is removed, squeeze the water well and sprinkle with 1/4 teaspoon of salt.
3. Melt the eggs in a bowl, add a little milk, half the cheese, salt and pepper and mix.
4. Put 2 in a heat-resistant container, pour 3 and sprinkle the rest of the cheese. Place in a warm toaster oven and bake for 20 to 25 minutes until browned (if it's about to burn, cover it with aluminum foil).
POINT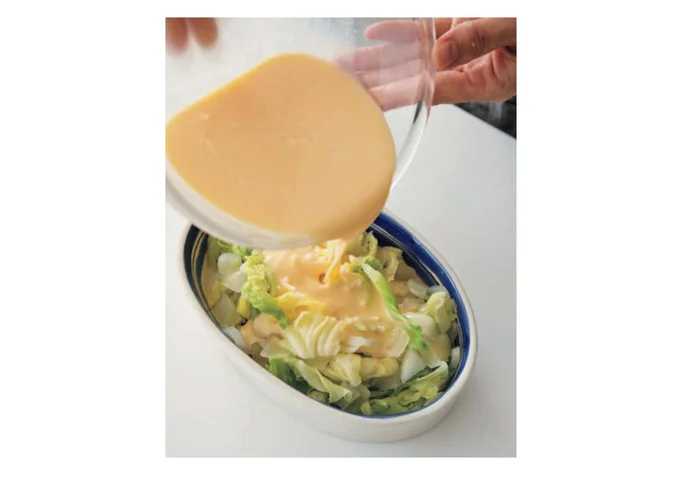 Pour the egg liquid over the cabbage and leave it to the toaster oven!
Boiled and cabbage plums
Add some sharpness to the taste with plum sauce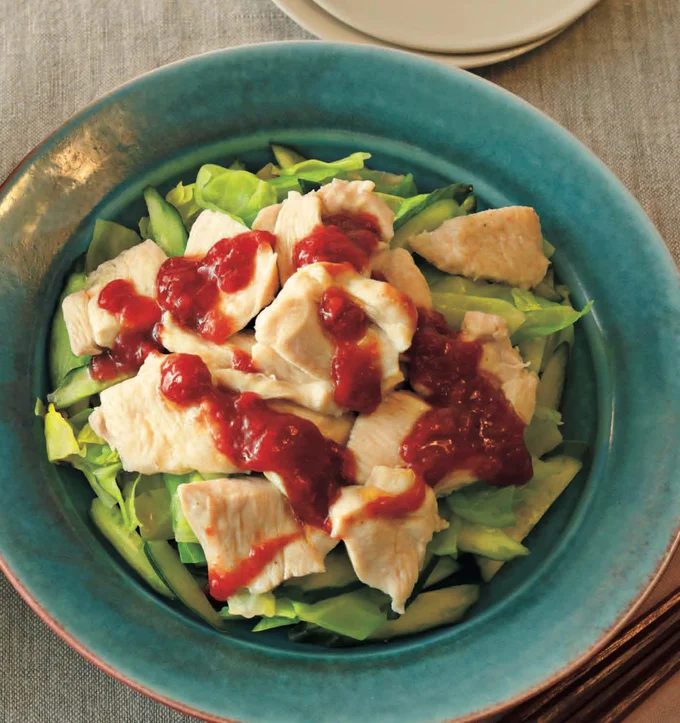 [Materials for 2 people]* 256kcal for 1 person / 3.4g salt
・ Cabbage … 1/4 small (approx. 200g)
・ Breast meat … 1 piece (approx. 250g)
・ Under taste
∟ Potato starch, sake … 1 teaspoon each
∟ Salt, pepper … a little each
・ Cucumber … 1
・ Plum dripping
∟ Umeboshi … 2 pieces
∟ Ponzu Joyu … 1 tbsp
∟ Sesame oil … 2 tsp
[How to make]
1. Cut the cabbage into small pieces and cut the cucumber in half vertically and slice it diagonally. For dried plums, take the seeds and beat them with a kitchen knife, and mix them with ponzu sauce and sesame oil to make umeboshi. Cut the chicken meat into bite-sized pieces and squeeze in the flavor.
2. Boil the water in a pan and boil the cabbage on medium heat for about 1 minute. When it becomes soft, raise it in a colander, add the meat and boil it for about 2 minutes. If it's cooked
3. Mix cabbage and cucumber, serve in a bowl, put chicken meat on it, and sprinkle with plum sauce.
Steamed cabbage with meat
Leave the crispy feeling of cabbage by heating in the microwave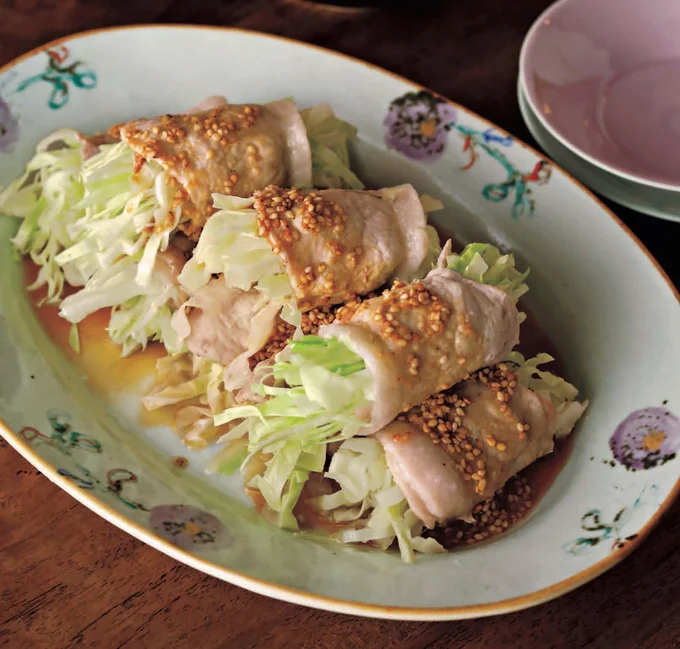 [Materials for 2 people]* 311kcal for 1 person / 1.8g salt
・ Cabbage … 1/4 piece (approx. 250g)
・ Pork loin shabu-shabu meat … 150g
・ Sesame vinegar
∟ White ground sesame, vinegar, soy sauce, sesame oil … 1 tablespoon each
∟ Sugar … 1 teaspoon
·salt
·Pepper
·Liquor
[How to make]
1. Cut the cabbage in half vertically and chop it horizontally. Sprinkle a little salt and pepper on the pork, place one vertically and put the cabbage evenly. Roll one by one from the front and squeeze it lightly to make it adhere.
2. Roll 1 on a heat-resistant plate, place it with the end facing down, and sprinkle 2 tablespoons of sake. Cover with plastic wrap and heat in the microwave for about 4 minutes, then leave for about 2 minutes.
3. Serve in a bowl and sprinkle with sesame vinegar ingredients.
..