How do users rate the old Kia Forte 2012 after 7 years of use? Is a cheap C-class sedan from South Korea durable?
Introduction of Kia Forte / Cerato
Kia brand, owned by Hyundai Group, launched Kia Forte (also known as Kia K3 or Kia Cerato) for the first time in Vietnam market in 2008. In fact, a lot of "big guys" of the automobile industry is changing, Hyundai has launched a completely new name is Kia Forte.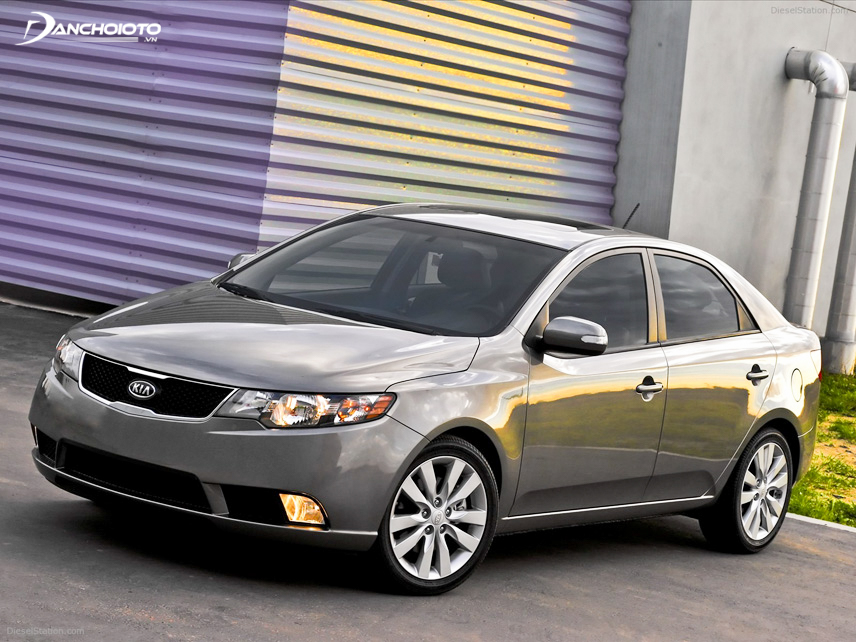 Kia Forte 2012
Kia Forte / Cerato 2012 all 4 versions:
Kia Cerato hatchback

Kia Forte 1.6 SXAT

Kia Forte 1.6 SXMT

Kia Forte 1.6 S MT
Reviewing the old 2012 Kia Forte in exterior
Review the old Kia Forte 2012 first to mention the exterior. Still bring the typical European style, Kia Forte 2012 also has certain changes compared to the old version to meet the needs of users.
Here are specifications of 2012 Kia Forte on size:
| | |
| --- | --- |
| Parameter | That Forte 2012 |
| Specifications (length x width x height) (mm) | 4,530 x 1,775 x 1,460 |
| Wheelbase (mm) | 2,650 |
Top car
Kia Forte 2012 cars are equipped with a tiger-shaped grille – an unmistakable feature for Kia models. The two sides are two headlight clusters with turn signals that create a seamless curve in front of the car. The bottom is equipped with fog lamps and wind vents, creating a harmonious whole, giving people the feeling of excitement at first sight.
According to many users, Kia Forte has a younger, more dynamic and modern design than Japanese C-class sedans like Toyota Altis or Honda Civic.
See also: Should you buy an old Toyota Corolla Altis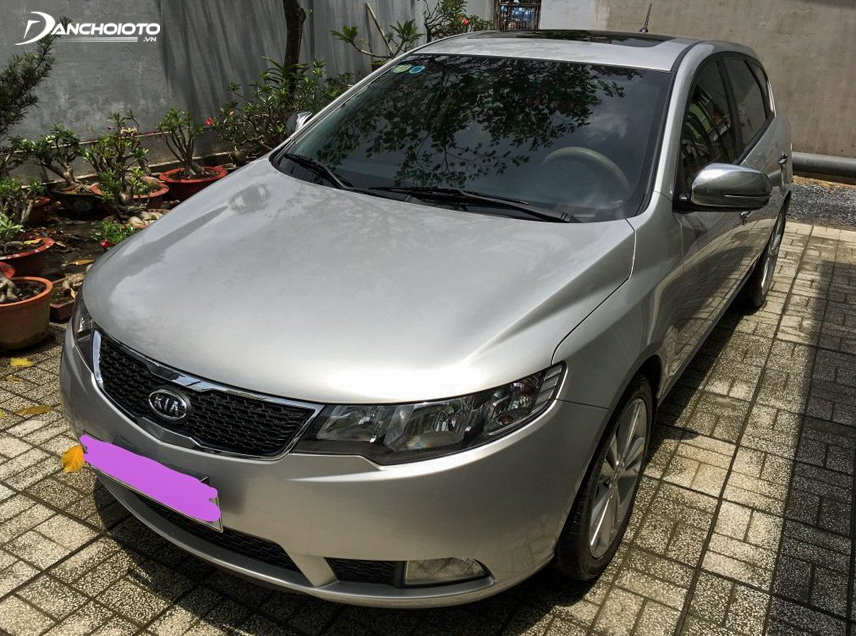 2012 Kia Forte grille has tiger face
Vehicle body
Stretching from the sides of the headlight cavity down to the body of the Kia Forte 2012 are embossed ribs designed in the form of soft, delicate curves and based on aerodynamic model with the goal of increasing the feeling of speed. for the controller. Side view mirrors with integrated electric folding and turn indicator lights. Door handle is chrome plated shiny and luxurious.
Rear
Overall, the 2012 Kia Forte car's rear end tends to be square and higher than the front. System lights turn signals and brake lights create attractive accents for the tail. 2012 Kia Forte is equipped with 17-inch wheels, front and rear tires are sized 215 / 45R17.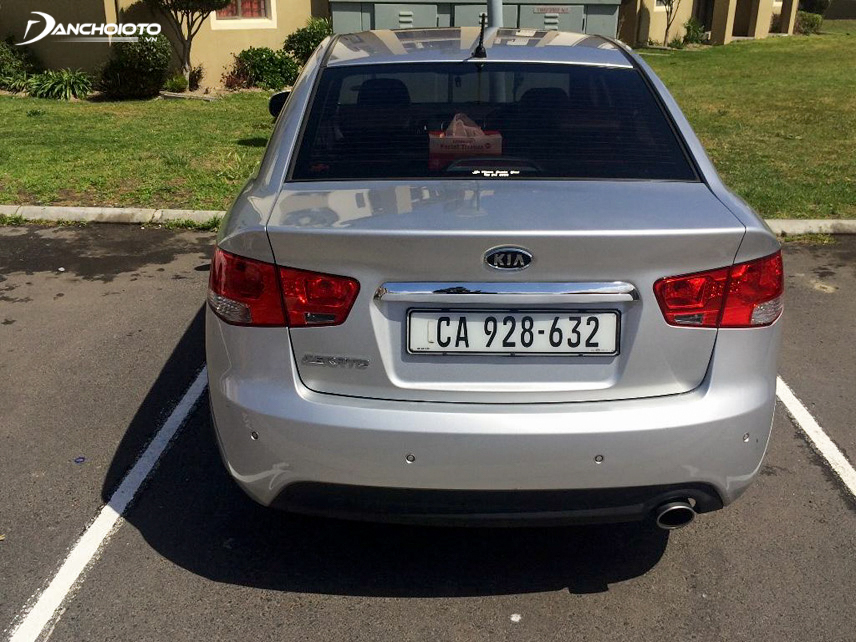 The tail section of Kia Forte 2012 is slightly square and higher than the front
Review Kia Forte 2012 old on the interior
Interior space
The next point not to be missed when evaluating an old 2012 Kia Forte is the interior of the car. Interior space of Kia Forte 2012 is quite spacious and comfortable, equivalent to the Hyundai Elantra model of the same life. With sophisticated and luxurious leather-wrapped designs, users will experience new sensations on the vehicle. The interior of the car is designed to be sophisticated and harmonious and convenient for the user in the process of vehicle control.
Equipped with amenities
Entertainment technology is quite modern and is also one of the highlights of the old Kia Forte 2012. With the detailed design and large buttons, the driver can easily fit in the driver's seat just adjust arbitrary without affecting the driving process. Taplo boards are mostly designed with plastic details, not leather or chrome like some other cars.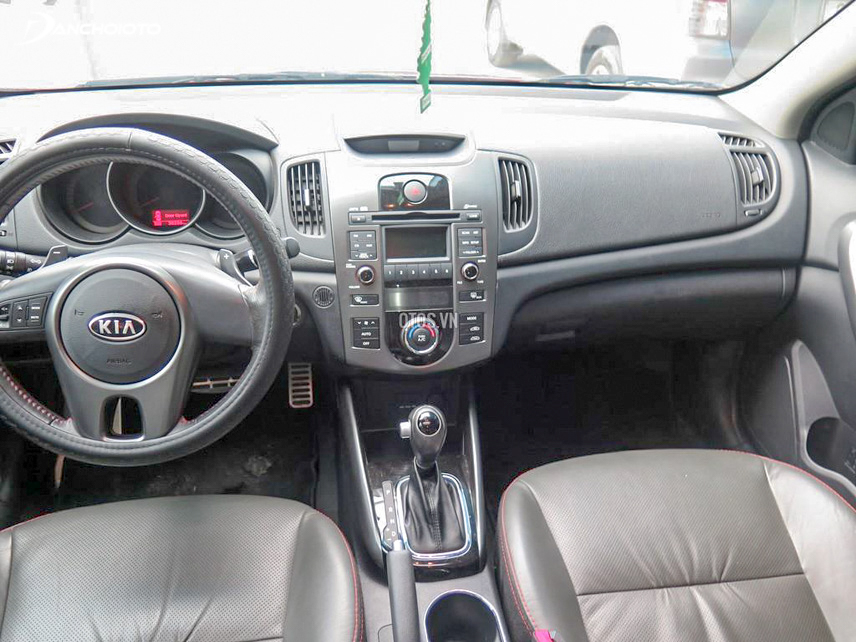 Interior of Kia Forte 2012 is fully equipped
The clock display on Kia Forte 2012 is still designed with the main color palette and especially has the function of displaying the fuel consumption of the car: white – the car is quite consuming gasoline, blue – the car Go at the most fuel efficient rate. 3-spoke steering wheel integrated buttons for operator convenience.
Review the old Kia Forte 2012 in terms of engine / performance
2012 Kia Forte cars use Gamma 4-cylinder gasoline engine with a capacity of 1.6L, giving a maximum capacity of 123 horsepower at 6,300 rpm, maximum torque at 4,200 rpm /minute. Fuel consumption of old Kia Forte 2012 cars is about 7.1L / 100km.
According to the old Kia Forte user, this Korean C-class sedan has a relatively suspension system, stable road handling and power steering, so Kia Cerato 2012's performance is quite good, smooth operation in the range. low and high speed. However, compared to rival models from Japan such as Honda Civic or Toyota Corolla Altis, the ability to operate hard to compare.
See also: Should I buy an old Honda Civic?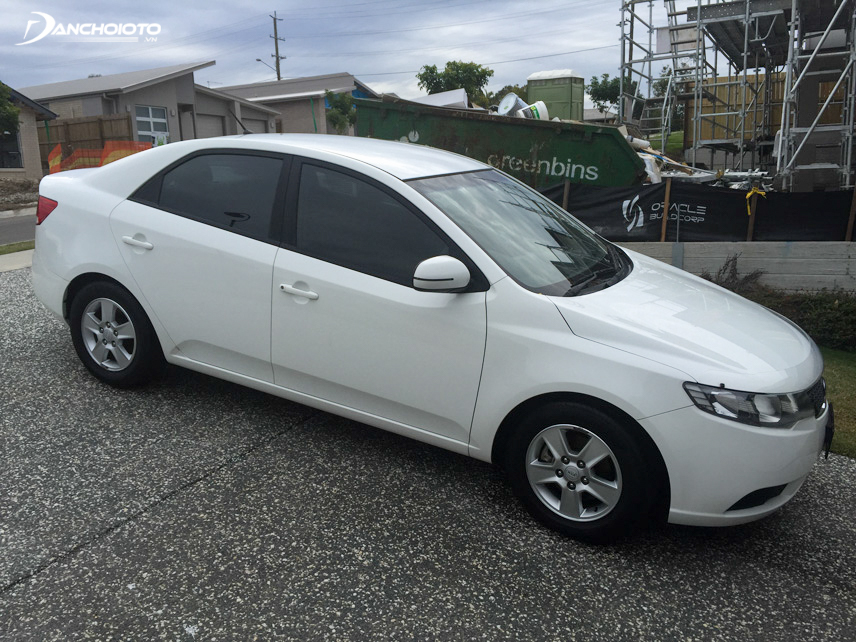 2012 Kia Forte car operates stably and strongly
Review Kia Forte 2012 old about safety equipment

If asked if you should buy the old Kia Forte 2012, another factor for you to decide is the car's safety equipment. 2012 Kia Forte is equipped with almost all the safety equipment of a sedan: cruise control, temperature display outside the car, 2 airbags for front seats, 4 disc brakes in front and rear , reversing camera system and reversing sensor for the car, smart key, electric glass door adjustment, Cruise Control autopilot mode …
Should I buy a Kia car? Forte 2012 old?

Currently, the old Kia Forte 2012 is being sold on the market with prices ranging from 350 to 450 million. Depending on the 4 versions of the 2012 Kia Forte and the new old condition of the car, the old Kia Forte 2012 price will have different differences. Ignoring the slightly older model life, this is a worth considering option for those who are in need of buying a car that costs about VND 300 million.
See also: 300 million to buy used cars what
The ability to operate to meet basic travel needs, equipped with features and features are quite well invested, the price is quite "soft" compared to rivals in the old C-segment sedan, old Kia Forte 2012 is suitable for buying a car for personal, family or service trips.
Minh Hung