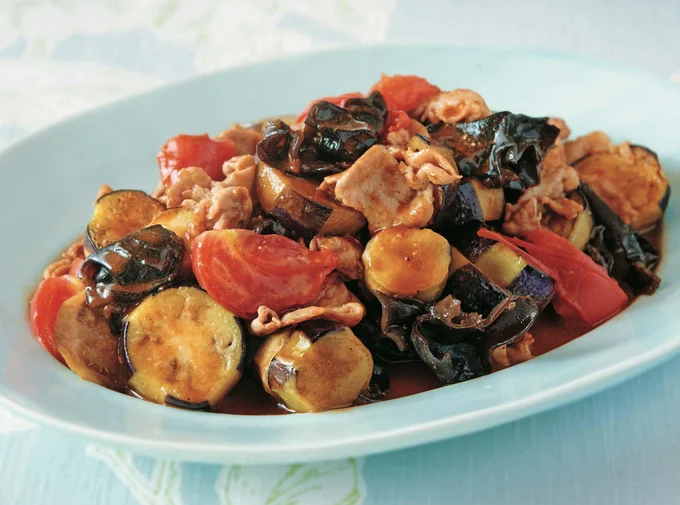 Eggplant meat roll grilled plum flavor
Boiled eggplant and pork ginger
Stir-fried eggplant and pork with black vinegar and soy sauce
Fresh eggplant that has reached the season. Bake, boil, stir fry. Let's enjoy it with various cooking methods!
"Eggplant recipe that can be used for a summer" This time, a stamina side dish that combines pork with plenty of umami. Let's eat refreshingly with dried plums, black vinegar, and ginger.
* * *
Eggplant meat roll grilled plum flavor
The stick-shaped eggplant is easy to cook and has a soft texture.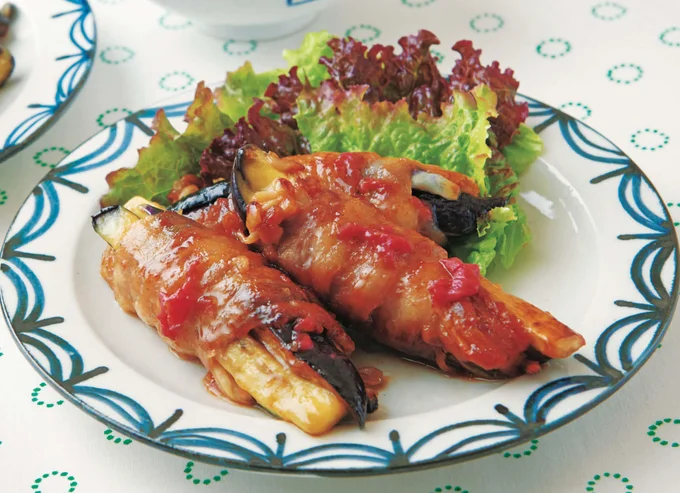 [Materials for 4 people]* 348kcal for 1 person
・ Eggplant … 4 pieces
・ Pork ribs (thin slices) … 12 pieces (280g)
・ Enoki mushroom … 1 bag (200g)
・ Umeboshi (Large) … 1 piece
∟Salty sauce … 1 and 1/2 tablespoons
∟Sake, sugar … 1 tablespoon each
・ Sunny lettuce … appropriate amount
·salt
·flour
·oil
[How to make]
1. Remove the calyx from the eggplant and cut it into 1 cm square rods. Mix 2 cups of water and 2 teaspoons of salt in a bowl, add eggplant, cover with a paper towel, leave for 7 to 8 minutes to lightly soften, and wipe off the water.
2. Remove the roots of enoki mushrooms. Cut the pickled plums into small pieces except for the seeds.
3. Spread the pork ribs vertically, put 1/12 of the eggplant and 1/12 of the enoki mushroom in front of you, roll them in a spiral, and sprinkle them with flour.
4. Heat 1 tablespoon of oil in a frying pan and line up 3 with the end of the roll facing down. Bake for about 2 minutes, turn it upside down when the end of the roll is baked, cover it, and steam it over low heat for about 4 minutes.
5. Wipe the fat from the frying pan with a paper towel, mix with soy sauce, sake, and sugar, entangle while boiling, add dried plums, and mix.
6. Serve in a bowl and serve with sunny lettuce.
(Recipe by Etsuko Ichise)
..