The Lunar New Year is an occasion where a hundred things have to be taken care of. I lose hundreds of thousands of money for parking a day, which makes me "panic".
In big cities like Hanoi or TP. In Ho Chi Minh City, the cost of "raising" the car is much higher than in the provinces or rural areas. Many people using cars are not unfamiliar with "sweating" to manage and find a place to park their cars in the inner city, especially on the days before the Lunar New Year.
Here is the story of Mr. Nguyen Nam Phuong (residing in Dong Da district, Hanoi) just shared with VietNamNet:
I am 36 years old this year, I have a house in Hanoi and a job with a good income. Since both husband and wife are far away from home, the children are still young, so we decided to buy a car 4 years ago. The car is not only a means of transportation, serving my wife and children, but also a great assistant for me in my work.
For my family, the monthly cost to "feed" the car ranges from 6-8 million VND. In which the cost of parking at home and the company lost 4 million / month, sometimes I have to go to see a partner or coffee with my friends, I will lose more money to deposit the car outside. I find those costs acceptable.
However, it is true that going to the car on Tet days is making me "panic" because the cost of sending a single car each day has cost me several hundred thousand, not to mention other costs.
Not to say far away, right on the last weekend, taking advantage of the warm sunny weather and not preparing anything to welcome the New Year, the whole family decided to go shopping at the end of the year.
In the morning, I take my wife and children up the street to have breakfast and buy some Tet things to give to grandparents on both sides. After "releasing" my mother and daughter at a pho restaurant on Hang Muoi street, I had to turn around my car to send it temporarily at the door of a hotel near Tran Quang Khai dyke for 30,000.
After breakfast, we went to Hang Ma area to let my wife buy some altar and Tet decorations. The street is narrow, I have to park my car for an iced tea shop a short distance away.
When he got out the car, the owner scratched his head and scratched his ear: "May I ask for a dozen, near Tet, the price increase". Seeing the high price but I also clicked my tongue. Yes, Tet is, everyone needs money to have a big pot of banh chung.
After shopping in the old town, I took my wife and children to have coffee with my wife's family, the location was a shop on Nguyen Chi Thanh street. This shop does not have a place for a car, so I have to send it outside, losing another 40 thousand.
Finished coffee with you, some families excitedly went out to eat Pizza, fried chicken according to the wishes of the "little lovers". So the dragon families went to a familiar shop on Kim Ma Street. And I continued to spend 50,000 more for more than 1 hour of parking for a nearby car park.
After lunch, my friend called and invited me to go to the hospital to visit another friend in the group who had had an appendectomy. I took my wife and children home and ran away. The hospital was crowded with few parking spaces, so I had to send it outside, and "flew" another 50,000 parking lot.
After visiting my friends in the hospital, I never returned home, my best friends invited me to have coffee at the end of the year. So we dragged each other to a shop on Lieu Giai Street. Fortunately, in this shop, there is a wide road in front, allowing "free" parking. In my heart I am very happy because from morning until now, just leaving the car is the default to lose money.
However, the joy "is short and hard", while sitting still not hot, the owner apologized and asked me to drive away because the ward police came to clean up. I clumsily sent it a bit further away, costing me another 40 thousand.
When I got back, I "took orders", my wife stopped by the supermarket to buy some candies and Tet jam to bring back home to give to relatives in the next few days. This supermarket is free to park every day, but on New Year's day there is no room. I had to rely on the parking lot of a nearby restaurant. When going out, the old guard "asked" for 30,000.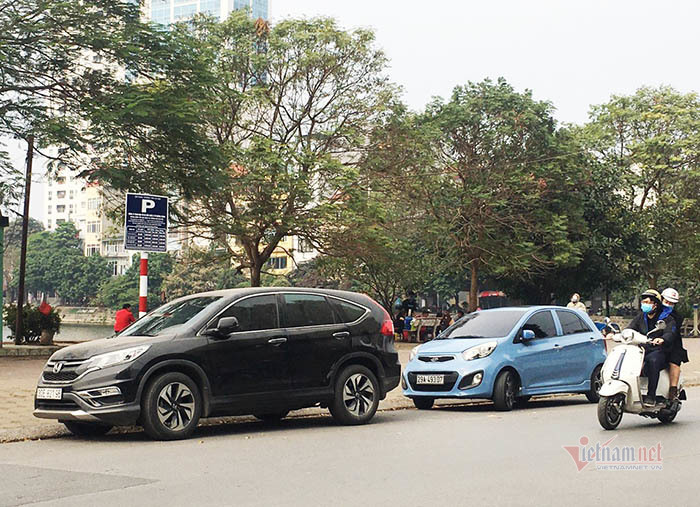 In the evening, the couple took each other to her boss's house to present Tet gifts. It is a fairly modern apartment complex and the way to calculate the parking fee in the basement is also very "damaging" – 30 thousand / block 1 hour. When I left, I received a bill of 60 thousand dong because I had just moved to the second block.
The day is finally over and that is the last amount of money I have to spend on the parking lot. I was "panicked" when counted that day, I lost "some" 350 thousand. If including the car deposit at home and the company paid by month, I had to "withdraw my wallet" to nearly 500,000 VND / day just to park the car.
Car ride is not happy!
.