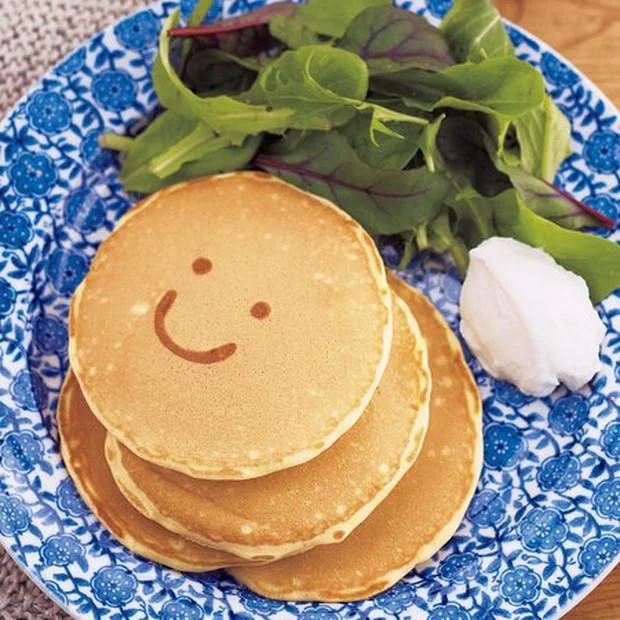 Yogurt mini pancake
Orange pancakes
Baked potato sweet potato pancakes
Luncheon meat egg pancakes
Parsley pancakes
Moist and fluffy pancakes are perfect for holiday brunch and snacks! If you make it at home, you can draw a face, add fruits and arrange it, add scrambled eggs, and so on. There are endless ways to enjoy it. It looks fun to make with children ♪
Yogurt mini pancake
[Material: 8 to 10 sheets with a diameter of 12 cm]
Plain yogurt … 200g, dough (2 eggs, milk … 1/2 cup, butter (without salt) … 30g, soft flour … 130g, baking powder … 2 teaspoons, granulated sugar … 30g, salt … a little), maple syrup … As appropriate
[How to make]
1. Make yogurt to accompany. Double the paper towels on the colander and place them on the bat. Add half of the plain yogurt and leave it in the refrigerator for at least 2 hours to drain.
2. Make the dough. Break the egg into a bowl, beat it, add granulated sugar and salt, and mix well with a whisk. Add the remaining yogurt and milk and mix further.
3. Switch to a rubber spatula, put the cake flour and baking powder together, sift into 2 and mix.
4. Put butter in a heat-resistant container, wrap it gently, and heat it in the microwave for about 15 seconds to melt it. Add to 3 and mix.
5. Roll the oven paper into a cone and fasten it, then add 2 tablespoons of 4. Cut the tip a little, draw eyes and mouth on a fluororesin-processed frying pan without oiling, and put it on low heat. When the surface is dry, pour a little less than a glass of dough from above and bake. When there are holes on the surface, turn it upside down and bake it, and when it is lightly browned, take it out. Bake the rest in the same way.
6. Place 5 in a bowl and add 1. Add maple syrup in a container. Add baby leaf and sprinkle with salt if you like. Eat 1 while dipping it on pancakes or baby leaf.
(615kcal for 1 person)
For pancakes with a cute smile, make a squeeze bag using oven paper, draw eyes and mouth directly on the frying pan, and pour the dough from above with a time lag. Try drawing various pictures with your child ♪ The drained yogurt sauce that accompanies the pancakes has a smooth taste like cream cheese. If you have time, make it!
..