Say, you knew it's been a while since Disgaea 6: Defiance of Destiny is available in Japan? Yes, since January 26 already, Japanese players can go to the shops of their choice to grab the software, both for their PlayStation 4 and their Nintendo Switch. Not cool, especially when we are still waiting for a release date… That was until today, since NIS America has FINALLY announced the date to be marked with a cross on our calendars.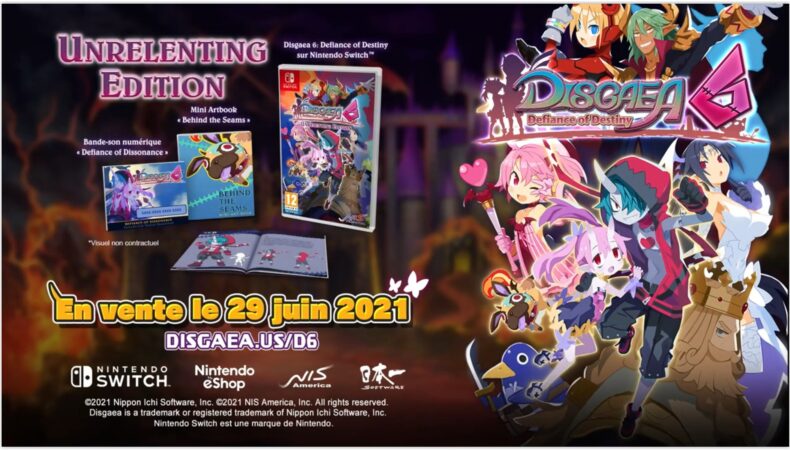 Well, okay, we're exaggerating … It's been some time now that we know that the release of this game is scheduled for this summer. However, we must admit, it remains a fairly wide window. Having said that, you can now calm your grieving hearts since Sohei Niikawa, president of NIS, dressed as Prinny for his appearance at the New Game Plus Expo, has finally dated the end of our wait: Disgaea 6: Defiance of Destiny releases June 29.
Eager to follow Zed's fight against the God of Destruction? What if we told you that you could do it with panache? Indeed, during this same presentation, the trailer that accompanied the announcement specified thata collector's version of the game would be offered to Western players. It will notably allow you to get your hands on the game, an artbook and the soundtrack in digital format (so probably a code). First-time buyers will also receive the first wave of DLC for free, offering four new characters (Adel, Laharlette, Asagi and Rozalin) and additional content.
Now, a shadow on the board: if we recalled in the introduction that Nippon Ichi Software offers its Japanese players PlayStation 4 and Nintendo Switch versions, so far, as far as the West is concerned, it seems that the western branch is turning a deaf ear when it comes to a PlayStation 4 edition… Indeed, even at the end of the segment devoted to the game of the presentation (segment that you can discover below), the legal notices make no mention of the Sony console, a point which therefore does not bode well. for fans of the series at the Japanese giant …
So what do you think, dood? Are you going to add the title to your collection or are you chilling with the switch from the series to 3D? Feel free to spit your venom in the comments! Disgaea 6: Defiance of Destiny sortira sur Nintendo Switch (exclusively, until proven otherwise) June 29.


LD4K4